A full overview of all adventure games released in the Reversion Series. These can be episodes, remakes/remasters or sequels, created by either one or several companies. As long as the IP is used, we'd quantify this as part of a 'series'.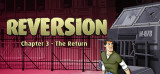 In this final chapter of the Reversion series, you must join the Resistance to defeat the evil Sergio. Buenos Aires is in ruins, but you have a chance to reverse history. Will you have what it takes to save your city before it's too late? Your adventure is almost at an end, or is it just begin...
» Full game details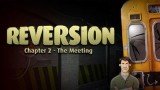 After escaping from a Buenos Aires hospital in year the year 2035, your new friend Victoria is helping you find the person in a photo you possess, which you hope will provide the key to recovering your memories and understanding who you are and why you are here.
» Full game details
A young man wakes in a hospital in Beunos Aires with no recollection of how he got there. Sure that the year is 2015, he is horrified to find that 20 years have passed him by. Worse, Buenos Aires has long since fallen into the hands of a paramilitary organization for whom the hospital is serving as ...
» Full game details