The Tales of Bingwood Series
A full overview of all adventure games released in the The Tales of Bingwood Series. These can be episodes, remakes/remasters or sequels, created by either one or several companies. As long as the IP is used, we'd quantify this as part of a 'series'.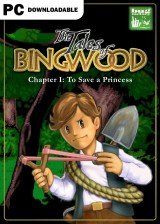 In this first installment of the series, Tom the fisherman's son is thrown in the middle of a nefarious scheme as the Royal Princess is kidnapped by the formidable Evil Wizard and his henchman. Tom takes on the rescue effort but he needs the help of the villagers to begin the pursuit of the malefact...
» Full game details