Mysterious Journey Series
A full overview of all adventure games released in the Mysterious Journey Series. These can be episodes, remakes/remasters or sequels, created by either one or several companies. As long as the IP is used, we'd quantify this as part of a 'series'.


Initially believing that you alone have escaped a destructive was that destroyed your entire race, you soon discover a hidden region left untouched by conflict. Further exploration reveals a thriving civilization locked in struggle and the desolate world which surrounds their living oasis. It is h...
» Full game details
Amia and Bogard are tourists on the beautiful planet of Argilus, hoping for a enjoyable and relaxing rest. However, their idyllic vacation is interrupted when they encounter some unexplained dangerous phenomena across two parallel dimensions of this world. There are rumors of a machine called the &...
» Full game details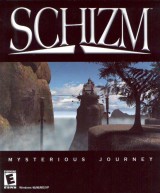 Several exploration attempts of Argilus have failed to reveal the secrets behind its mysterious abandoned condition. Previous exploration teams had reported unusual findings, prior to them mysteriously going missing themselves. Their garbled messages speak of a world containing large habitable o...
» Full game details