The Adventure Games - Point and Click Database
Adventure Games starting with the W-TITLE-ASC
We have 123 adventure games in our database that start with the
W
. If you're looking for a specific game, try using our
adventure game search
page. You're currently on page
11
(of 11).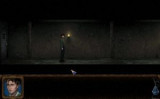 Alan Van Drake
A famed archaeologist commits a murder-suicide, or so the police say, leaving behind his mansion and all of its possessions in the hands of his niece Aileen.
Live in the Game (2020)
Experience numerous dark tales from the master of macabre himself- Edgar Allan Poe.