Adventure Gamers - Forums
Welcome to Adventure Gamers. Please Sign In or Join Now to post.
You are here: Home → Forum Home → Gaming → Adventure → Thread
Post Marker Legend:
New posts
No new posts
Currently online
"Secretly the greatest and also funniest cyberpunk point and click adventure game on Steam."
"It's not only a game, it's Art."
"Simply Perfection for any Sci fi Point & Click adventurer."—Steam Reviewers
Neofeud is 70% off this week on Steam!
"Neofued or "Karl Carbon is one bad day away from doing the right thing."
90 Sierra Style Adventure game style.
Better humor.
Better writing.
Hippy Terminator Dad.
Flawed characters you learn to love.
Existential crisis
Thoughtful non-judgemental analysis of current events And it challenges the systems it brings up.
Cheeky one liners.
Even good old references to the 80s.
Everything you need for a good time honestly."—Steam Reviewer
Grab it and help me finish the sequel! (Pictured below)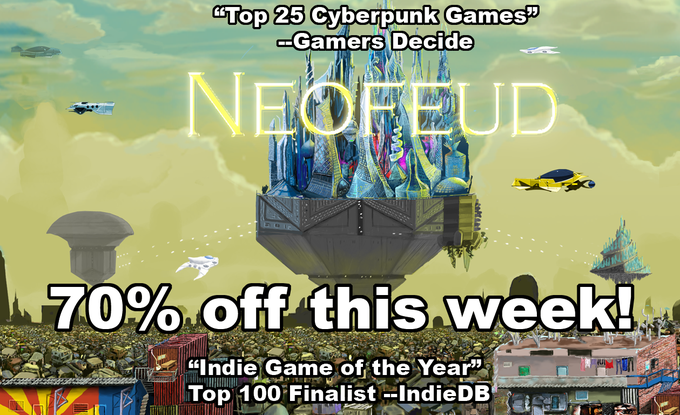 "Of all the point and click adventure games I've played, which over the years is quite a few, I enjoyed Neofeud the most."—Steam Reviewer
https://store.steampowered.com/app/673850/Neofeud/
Dear Silverspook, you seem to have a lot together for the sequel to Neofeud - why don't you do a kickstarter to finish the game. It doesn't have to be elaborate but have a look - I'll donate.
so Mr.Silverspook, you ve been filling your thread with promotions and advertisements for the past three years, but i see you dont really care about the real investment in fans and posters; which is interacting with the members here whom actually only here to support you and your game.
Be fair Advie, Silverspook has responded to posters.
Be fair Advie, Silverspook has responded to posters.
yeah, sometimes, but not always, not really 'keen' is the word.

but however, you re right somehow, its not really my business in any way, just that i still can't quite get used to the endless threads of devs; nit even for announcing or updating only but promoting all the way, turning the thread into a literal sales thread or page.
Add: but dont mind me, it seems it is just me whos bothered by it.
Silverspook has responded to all but one or two posts.
Yes, but it's just one thread that you can avoid if you want to - Silverspook is an Indie developer so who else is going to promote his game?
Welcome to the Adventure Gamers forums!