Adventure Gamers - Forums
Welcome to Adventure Gamers. Please Sign In or Join Now to post.
You are here: Home → Forum Home → Gaming → Adventure → Thread
Post Marker Legend:
New posts
No new posts
Currently online
Hi everyone, I'm the creator of an adventure game called Neofeud. I've been working on this game for the past 2 1/2 years or so, and Neofeud has just been released a few weeks ago. I regret not posting about it here earlier, but I admit I am not very good about spreading the word and I'm pretty much working alone here as an indie developer.
At any rate, here's what Neofeud is all about:
Trailer:
Neofeud is a Dystopic Cyberpunk adventure game in the vein of Blade Runner, but with an overlay of Game of Thrones-like political intrigue, and 1366x768, hand-painted, stylized visuals.
Synopsis:
2033 - We create AI. Sentient robots arrive, but not as our Terminator overlords or our Singularity saviors—conscious machines are humanity's unwanted bastard children. A few are geniuses who design flying cars, beat cancer, invent teleportation, but millions of defective prototypes roll out of factories—mentally challenged, motivationally-challenged, criminally-inclined. Legally conscious, but unhirable, these "Defectives" are shuffled through public housing and welfare assistance, straining the already overburdened back of the meager social safety net. The robots who don't end up in prison are dumped, as a last resort, into a massive landfill known as "The Pile".
Humans engage in perfection of their species—or at least the powerful and well-connected—genetically engineering children with human and animal DNA. The failed eugenics experiment "Frankenpeople" are discarded into "The Pile" as well. The new dynasties, 'Neofeudal Lords', live in towering neon glass castles, shuttle around in pristine nanotech-enabled pods, minds and bodies full of cyberware, spending most of their time taking selfies and "optimizing their monetization schemes". A race of supermen concerned only with their own status, their prestige, their success. Where machines have become all too flawed and human, people have become flawless, perfect, cold machines.
Karl Carbon is an ex-cop, dishonorably discharged from Coastlandia PD for disobeying an order to shoot an unarmed sentient humanoid. Karl is exiled to "The Pile" as a lowly social worker. There he counsels gangbanging foster-kid robots and confiscates chimera-children from deadbeat half-wolf parents. Till one day a case goes horribly sideways and Karl is drawn into a sordid conspiracy that could threaten the strained fabric of Human-Robot-Hybrid civilization—or save it.
Neofeud can be bought here:
Silver Spook Games website: silverspookgames.com
Thanks for checking it out!
i tried to look at Steam greenlight to vote for it but it says that it's been removed by the author. Looks interesting though, I'll add it to my backlog
Thanks, Giom! Oh, and the Steam Greenlight page should be back up now.
I've voted on Greenlight. Good luck!
Interesting project, I like the art, creepy and fascinating at the same time.
Adrian, 25 yo, Massachusetts
Thanks guys for the votes and support!
I just figured out that you can also vote for Neofeud on GOG as well, if you want.
Also, does anyone know if developers get free Steam keys to give away? I'd like to give Steam keys to anyone who has already bought Neofeud at the Itch.io or the Gamejolt store already.
Here's all the sites again:
Thanks again!
Hi guys, here's some updates on Neofeud.
Neofeud gets some glowing praise from this guy in his indie game highlight!
Neofeud has an official review! "Neofeud offers 10 hours of gameplay… great for any SF or point-and-click fan." It is in French, but thank the techno-gods for Google Translate!
https://cabinetdechaologie.wordpress.com/seances/treizieme-seance/neofeud-au-futur-imparfait/
And finally, you can get the Neofeud Short Story Collection for *free* this week when you buy Neofeud.
Thanks again, everyone who upvoted! I'm crossing my fingers that Neofeud will be Greenlit before Steam shuts Greenlight down!
Voted. As someone said, it seems kind of creepy and interesting.
Hi guys, just a heads up: Neofeud's bonus content is free with the game until June 13!
https://silverspook.itch.io/neofeud
(Bonus content includes the soundtrack - 2 1/2 hours of music + the original script)
In addition, Neofeud merchandise is now available.
And finally, I will be livestreaming development of the next Silver Spook Games title, tomorrow, 6/10 at 3 PM EST!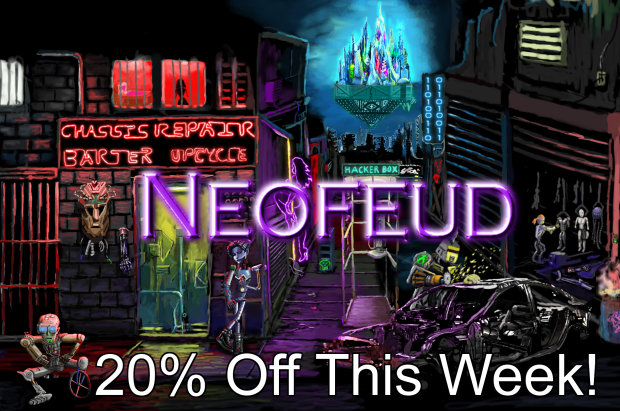 Hey guys, just letting everyone know that my game, Neofeud, is on sale for the next week! If you like sci-fi, satire, adventure games or cyberpunk it may be of interest.
Here's a great review of Neofeud that was just published yesterday:
http://www.indiegamenews.com/2017/07/review-neofeud.html
"From the makeshift, provisional, use-what-you-can-find architecture of the slums, through the neon-lit gangland underworld to the obscenely green grass of the skyborne islands, the art in Neofeud follows the modern trend of saturated dystopias such as Fury Road…"

"The conspiracy runs deep and is quite massive in scope. Politics meet technology, philosophy meets madness. But even beyond the intrigue itself the world of Neofeud is quite a detailed and intriguing construct, with its own history and lore…"

"Everything about the game just oozes the love for sci-fi: the literary cyberpunk and the 80's and 90's movies…."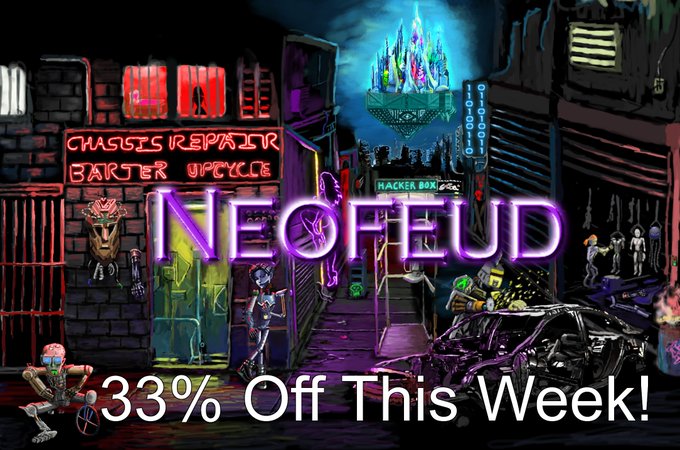 Hey guys! So the big news is Neofeud is just $10 for the next week! You'll also get a Steam key for free when Neofeud hits Steam, September 19th!
That's right, at long last, Neofeud will be coming to Steam September 19th!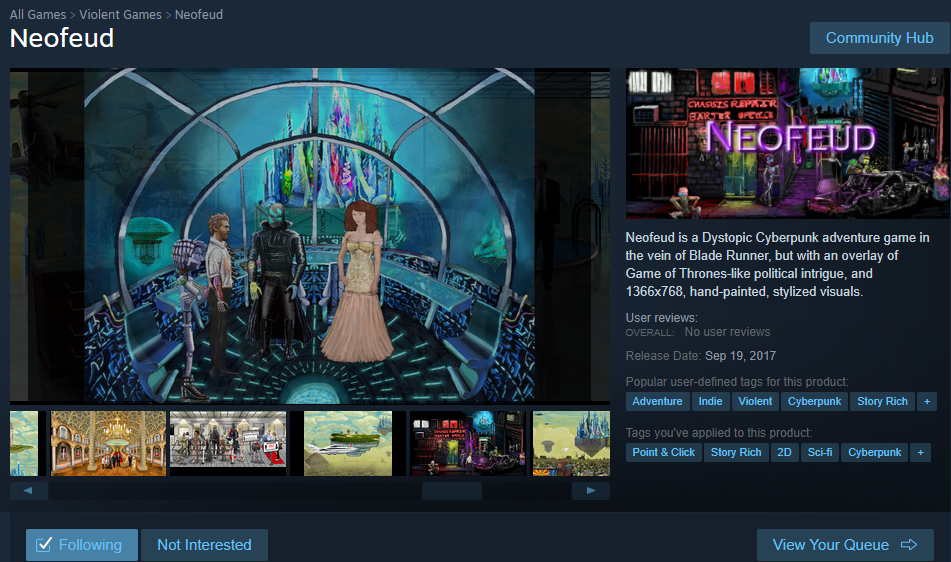 As I am a one-person indie developer, I'm my best to get the word out about Neofeud for the Steam release, but have basically no marketing budget. So, proceeds from the Itch.io sale will be used to help pay for publicity of Neofeud's release, and app submission fees for the next Silver Spook Game! I'm hoping to raise at least $200 which would help to cover the costs of some social media promotions, as well as the $100 submission fee for the next Silver Spook game, Dysmaton.
Here's a rundown on the work I've been doing over the past month or so:
X Create Version 1.2 build of Neofeud - with 30+ bug and glitch flixes
X Onboard Neofeud to Steam (And wrap my head around being a Steamworks developer, generally!)
X Create art, coding, and test 37 new Steam Achievements
X Create the Neofeud Steam Storefront
X Research and begin working on promoting, increasing visibility, and preparing a successful game release campaign (I really need Neofeud to do well with this Steam release to keep making games!)
X Test the latest Neofeud version with Steam achievements, send out to closed-beta testers and implement fixes as needed
X- Finish several more speed-runs and stress-tests through of Neofeud to ensure stability of the Steam version
Some of the Neofeud achievement artwork:
Simultaneously, I've also been working on writing the game story for Dysmaton, creating art assets, and implementing into the game itself as well. While I am somewhat used to taking on many or all of the jobs of game development, at this point I notice that working on successfully rolling out a game, and handling the business and marketing end of it, whilst trying to develop *another* game is proving to be the straw that's breaking this camel's back. Which is one reason why I'm hoping this Itch.io sale will be able to raise a reasonable amount of funds that I could then use to pay for help with the business and marketing end, as I basically have zero budget that isn't earmarked for groceries, the roof over the family's head, and other essentials.
So if you were considering picking up Neofeud at some point, now's definitely the time, and I'd greatly appreciate it!
Special thanks this month to Frank from Utomik (AKA "From Frank w/ Love") for all his help with so many aspects of Neofeud especially in the promotion department - https://twitter.com/_kaassouffle
As well as Mark J. Lovegrove for his invaluable advice as a veteran of the indie game industry - https://twitter.com/Screen7uk
Finally, have a look at this brand-spanking-new Silver Spook Podcast I just recorded today with amazing science fiction author, Brandon Hovey!
In this episode, Silver Spook and Brandon discuss insider-tips on bring a game to Steam, how to promote your indie game, book, or other artwork, and more!
If you're an indie game developer, a cyberpunk or science fiction writer/fan, or generally just a cool person, definitely hit me up, as I'd love to talk to you!
Hey there Silverspook,
I have just learned of your game, checked out all the media you posted and read the accompanying text… Immediately I got flashbacks to when I brought home and started Dark Seed II - your character animation definitely has something of that 90's style (especially the walk cycles), not to mention the overall looks which for me at least is a good thing. A mish-mash of graphics coming from a lot of different sources and influences creates a feeling of a bizarre and essentially "wrong" world and that actually creates the type and level of uneasy-ness that (for me) not a single specifically horror game could ever create.
The component that really caught my attention however is the story. While I cannot say how you developed it and how you worked with the set premise until I play the game (obviously!), I am glad that I have read something NEW. Your idea that machines are imperfect has made me remember His Dark Materials trilogy and the humanoids which were smaller and lived for shorter than average humans (forgot their name), which is already something that catches attention in comparison to standard eternal Elves and immortal Dwarves tropes… Also the palaces you show are a nice touch (reminds of the setting to Russian Victor Pelevin's S.N.U.F.F. novel) in contrast to the dystopia below.
If I would have to list some things that could maybe use improvement, I would note perhaps a more consistent art style or more defined idea of what you're pushing for - but then again, you have to be careful not to lose your "special touch" and drown in the sea of one-and-the-same… However, judging by that one image you posted of Dysmaton, it seems like you're handling this one issue pretty well on your own already
Well then, I will be checking this out very very soon! Glad to hear of a COMPLETED one man effort, world needs more such occasions nowadays
Thanks very much for your in-depth feedback! And I'm glad that the art and story has struck chords in this way. Neofeud does draw from a fairly diverse array of inspiration, and yes, I intentionally set out to NOT redo, rehash, repeat, etc. any genre tropes if I could help it. I have not read S.N.U.F.F. but I am a big fan of Neil Blomkamp, and you could draw some direct comparisons to, say, Elysium's 'Elysium' orbital 1%-er paradise above the LA/Mexico third-world shantyland below. I also was very into the Bourbon King and French Revolution era, and the levitating 'Stratoplex' palaces with their obscenely grandiose decor have Palace of Versailles in their DNA.
Thanks again for having a look, and I hope the game lives up to the hype, for you, when you play it!
Welcome to the Adventure Gamers forums!