Adventure Gamers - Forums
Welcome to Adventure Gamers. Please Sign In or Join Now to post.
Spring Tournament Coming Soon!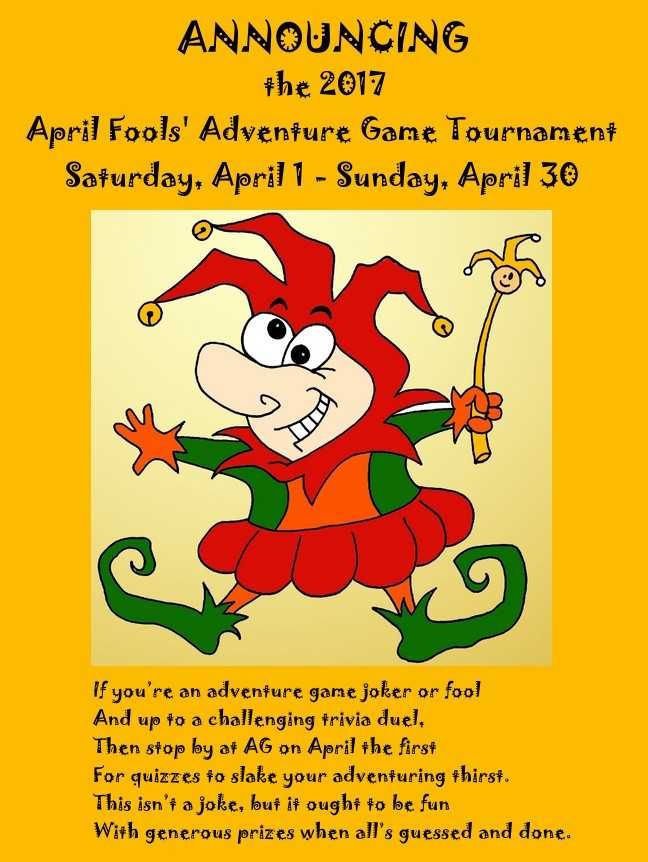 There's never enough time to do all the nothing you want. -Bill Watterson
The cold winter has passed and now comes Spring
April Fools' Tourney is here, a new challenge to bring!
The warm sun comes out, little cherry blossoms are in bloom.
What games have Lady Kestrel made, for us to consume?
The winds soft breeze passes through the tall trees.
There will be plenty (and that's an understatement!) of work for the busy honey forum-bees.
From puzzle to puzzle, we'll fly & buzz all day.
If Fall Tournament hasn't already, the April Fools' will sure turn you grey!!
Recently finished: Four Last Things 4/5, Edna & Harvey: The Breakout 5/5, Chains of Satinav 3,95/5, A Vampyre Story 88, Sam Peters 3/5, Broken Sword 1 4,5/5, Broken Sword 2 4,3/5, Broken Sword 3 85, Broken Sword 5 81, Gray Matter 4/5\nCurrently playing: Broken Sword 4, Keepsake (Let\'s Play), Callahan\'s Crosstime Saloon (post-Community Playthrough)\nLooking forward to: A Playwright's Tale
Heh, your doggerel is better than mine, Diego.
There's never enough time to do all the nothing you want. -Bill Watterson

Yaaaaaaaaaaaaay I am psyched
Ignorance + Poverty = Crime, Ignorance + Wealth = Corruption, Ignorance + Freedom = Chaos, Ignorance + Authority = Tyranny, Ignorance + Religion = Terrorism
Replace Ignorance with Knowledge:
Knowledge + Poverty = Satisfaction, Knowledge + Wealth = Civilization, Knowledge + Freedom = Creativity, Knowledge + Authority = Justice, Knowledge + Religion = Integrity
This has to be just what we gamers need -
A month of being baffled and bemused.
We'll stare at screenshots 'til our eyeballs bleed
And scratch our heads, by anagrams confused,
And stay - awake - to - find - one - answer - more,
And try hard not to bend or break the rules,
And strive to best Zobraks or Chrissie's score -
And by the end we'll all be April fools!
Very funny, Phlebas, and a much classier rhyme scheme than mine!
There's never enough time to do all the nothing you want. -Bill Watterson
Two words: Awe. Some.
Can't wait…
Now playing: Blade Runner (post-CPT) | The Witcher: Enhance Edition (on hold) | Danganronpa: Trigger Happy Havoc (on hold) | Professor Layton and the Azran Legacy (3DS)
Recently finished: Whispers of a Machine (CPT) - 4/5 | Beneath a Steel Sky (CPT) - 3/5 | 3 in Three - 3.5/5 | Puzzle Gallery: At the Carnival - 2.5/5 | The Fool's Errand (replay) - 3.5/5 | The Dig (replay) - 4.5/5 | Return of the Obra Dinn (CPT) - 4/5 | Beavis and Butt-Head in Virtual Stupidity - 3.5/5 | League of Light: The Game (CCPT) - 3/5 | realMyst: Masterpiece Edition - 2.5/5 | Contradiction - 3/5 | Tex Murphy: Mean Streets - 2/5 | The Last Express - 3.5/5 | South Park: The Fractured But Whole - 4/5 | Indiana Jones and the Fate of Atlantis (replay, CPT) - 5/5
I am marking my calendar!! Thanks Lady K.
Hoping I can become sufficiently poetic in time for the tournament!
I am also looking forward to complete frustration and fun!
Thanks a lot Lady Krestel for bringing fun and a smile into my face, during a very crappy day!
Welcome to the Adventure Gamers forums!