Adventure Gamers - Forums
Welcome to Adventure Gamers. Please Sign In or Join Now to post.
Challenge Week 4 - Creature Care ENDED
You are an intern at the Hospital for Magical Creatures, located in a secret and secure cave system in the Mysterious Mountains. You have studied hard, and this is your final examination prior to becoming a full-fledged Veterinarian Mage.
Below is a floor plan of the hospital and directions that you must follow carefully. You will be visiting 10 patients and picking up spells and potions to cure their ailments. Make sure you note the symbols you see as you make your rounds. Also, please note the room color of each creature.
Pictured above the floor plan are important inventory items you will use when visiting these often dangerous creatures, and below it are the door symbols which represent each of the creatures you will encounter. Both the inventory items and the door symbols are arranged in random order.
You will submit your answers to Chairperson of the Acceptance Committee, Lady Kestrel, who will review your answers and score your test, which must be handed in by 10:00 PM GMT on Sunday, November 8. (Please note that this is a change from the original schedule because of a delayed starting time.)
Please submit your answers in numerical order from 1-10 based on the order you visit the creatures according to the directions. Include all the following information:
Number
Creature
Description of door symbol for that creature
Inventory item used when entering chamber
Color of chamber
Creature's ailment
Name of spell or potion used to cure ailment
Description of symbol associated with spell or potion
Each complete 8-part answer is worth 24 points. Any part you get wrong will be a 3 point deduction from you score. However, you may earn back 1 of those points with a correct second guess. You get only 2 guesses for each of the 10 answers, and the maximum number of points you can earn is 240.
Please note that a few of your inventory items and cures may seem to suit more than one creature at first, but you must give the best answer for each one. All of the items are used only once.
Also, the number of letters for the creature's names are shown on each chamber of the floor plan. If you need a hint, you can buy a letter for the price of one point off your score.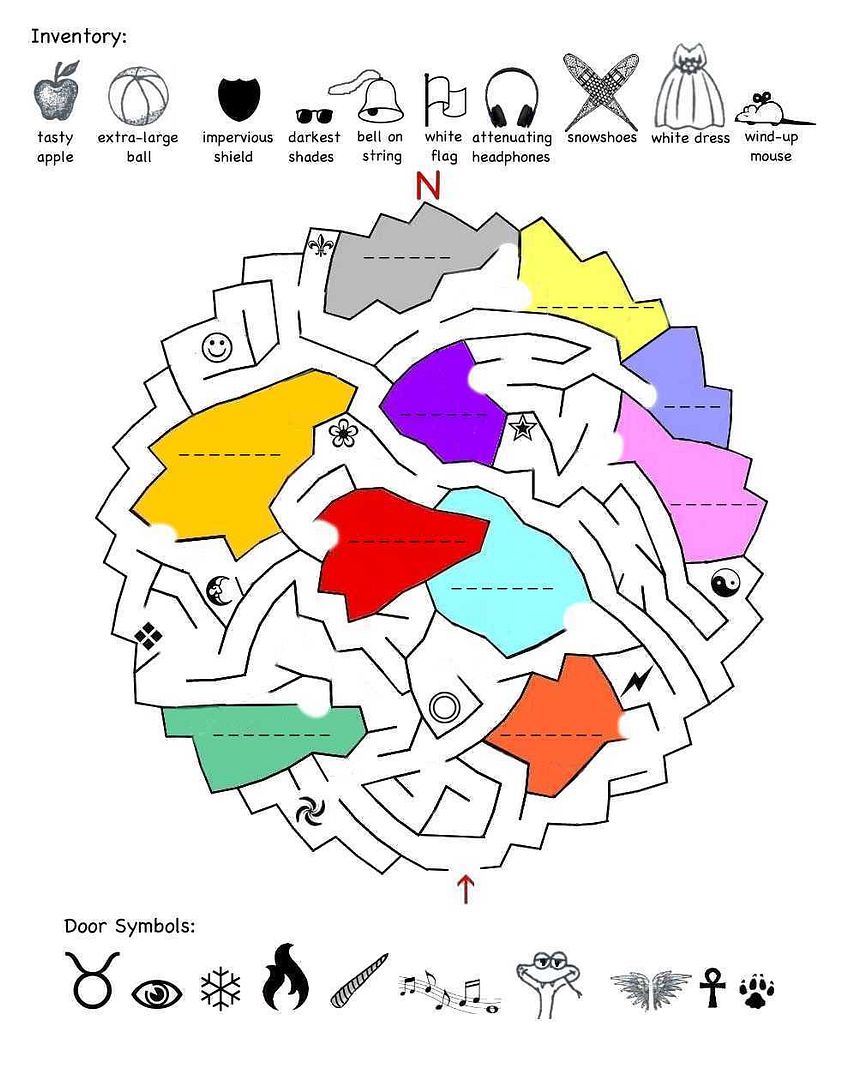 Please right click the picture to view the entire image.
As you enter the hospital, you step N, E & N to the opening in the E wall. You step E, N, E, N, E & N again to a small alcove by the entrance to the first chamber. Noting the symbol on the sign by the entrance, you use one of your inventory items on yourself, which will allow you to approach this shy creature. You then step into the room to examine her. You note that her usual pristine and sparkling coat and horn have turned dull and gray. She says that she feels quite drab and unmagical, especially against the cheerful walls of her chamber. You tell her you'll be back soon to help her feel magical again.
You exit the chamber and step S, NE, then slightly NW to a small room. You note the symbol and pick up the bottle of Memory Zap potion.
You step SE & NE and follow a long NW corridor to the opening in the NE wall. You walk NE & SE, passing two small rooms. Near the end of the hallway, you walk NE & NW to pick up scroll that says Spell of Balance.
From there you step SE, SW, NW & SW until you are back the main NW corridor again. You continue to walk NW until you reach the door in the SW wall. You step SW & NW to pick up the Growfast Potion.
You then head SW, SE & NE to the next chamber. After checking the door symbol, you hold and wave an inventory item as you walk into the room. You talk to the creature, who is sitting in a corner, and he tells you that he is very sad about getting old. His horns aren't as sharp as they once were, and he hardly feels up to charging anymore. Even his favorite color doesn't cheer him up. You tell him you'll do your best to make him feel better.
From his chamber you step SW, NW, NE, SE & NE to the main NW hallway again. You continue NW, NE, NW, & SW until you come to an opening in the NW wall. You enter the room and find a potion called The Lifting of Spirits.
You then step out of the room again and walk NE & N to an opening in the E wall. You step E & N and find the Marvelous Magical Moisture potion.
You walk S, SE, and NE to a door in the SE wall. You enter and proceed NE, E, S then SE to another chamber. After viewing the door symbol, you use an inventory item on yourself and slog into the chamber. You can see your breath as you talk to this creature, and she tells you she's been itching for days. You see that she has red sores in the white fur all over her body, caused by the rare but aggressive arctic flea. You promise her relief and exit her chamber. [Continued in next post]
Not only did I fall off the diet wagon, I dragged it into the woods, set it on fire, and used the insurance money to buy cupcakes.
You head NW, SW & W to the next chamber. Because you know that this creature tends to pounce first and ask questions later, you use this inventory item on the floor and allow it to enter the chamber first. It occupies the creature while you examine her. When she turns to you, you see frustration and confusion on her face, and she confesses that she can't remember the riddles she's supposed to ask. You tell her you will help her as soon as you can. She goes back to playing with the inventory item as you exit.
From the chamber door, you head SE, E, SE, NE, S & E to the next chamber. The door symbol causes you reach quickly into your inventory bag and use something on yourself. As you enter, you see and hear a trio of lovely women singing, but you note that one of them is terribly off-key. When they realize that you are unaffected by them, the other two explain that their sister has a nasty and persistent frog in her throat. You tell them you should be able to help her get her voice back soon.
Leaving their chamber, you walk W, SW & NW to pick up the Eye Bright spell, and then you go SE, NE, SW, NW, W, N, E, NE, W & SW. You step N through the doorway and head east to the next chamber.
This time you bounce something inside to keep the creature occupied, and you witness a game of keepaway taking place with fierce growls and a baring of teeth. When they calm down a bit, you realize that they're all on edge because they're all awake at the same time. Usually, one would be awake and standing guard for 8 hours, one would be eating and playing during that time, and the other would be sleeping. It seems that the middle one, who was on guard last, can't settle down and has messed up all of their cycles. You promise to return with a cure, and they answer with a trio of yelps and whines that mean thank you.

From their chamber, you step W, then N to the next chamber. You smell smoke and hold a protective inventory item in front of you as you enter the chamber. The creature inside keeps burping, and the walls are charred and sooty. She can't help herself, poor dear, because her digestion is just not the way it used to be. You promise to return with something to help her.
You step S, then make your way back to the main entrance of the hospital. From there you head W, NW & SW through a door to pick up the Potion of Unsouring.
You exit the room, cross the entrance hallway, and continue NE to the end of a short corridor. You then go NW & S to pick up the Amphibian Begone spell.
From there you walk N, SE, NE & NW to the next chamber. Because the creature inside can be very skittish, you take something from inventory that he likes. As you exam him, he munches contentedly. You note that his feathers have been very slow to grow back since his most recent molt and that being grounded makes him anxious. You promise to help him soon.
You step SE, SW, SE & SW, then N, NE, & NW to the end of a wide hallway. You walk S, E & S to the next chamber. Here you use an inventory item on yourself for protection and enter the room. The patient is wrapped around and around a scratching post and looks pretty miserable. Instead of shedding his skin in one piece, it's flaking off in dry scaly patches. He's feeling so bad he doesn't even look at you. You tell him you'll be back with something to help him.
You exit and step N, W, N & W to find a Departure of Pests spell.
You then step further W, NE, NW, NE, SE & N to the next chamber. Since the creature inside is very large and has enormous feet, you use something on yourself to let him know where you are so you won't get stepped on. You climb a ladder in order to check his face, and you see that he is having trouble seeing because of the infection known as conjunctivitis. You shout to him that you'll return soon with a cure.
You step S & SE to pick up a Spell of Whitening, and find that you now have everything you need to help all the creatures. You hand in your results and hope you pass the test.
Not only did I fall off the diet wagon, I dragged it into the woods, set it on fire, and used the insurance money to buy cupcakes.
Creature Care Scores:
Trunkyo 240
Zobraks 240
Phlebas 238
SoccerDude28 238
TimovieMan 238
Becky 237
Eddyc 234
Chrissie 231
Not only did I fall off the diet wagon, I dragged it into the woods, set it on fire, and used the insurance money to buy cupcakes.
Answers for Creature Care:
1.
Creature: Unicorn
Door Symbol: horn
Inventory Item: white dress
Chamber Color: orange
Ailment: dull gray coat and horn
Cure: Spell of Whitening
Potion/Spell Symbol: moon
2.
Creature: Minotaur
Door Symbol: Taurus zodiac sign
Inventory Item: white flag
Chamber Color: red
Ailment: depression
Cure: Lifting of Spirits potion
Potion/Spell Symbol: smile face
3.
Creature: Yeti
Door Symbol: snowflake
Inventory Item: snowshoes
Chamber Color: blue
Ailment: flea bites
Cure: Departure of Pests spell
Potion/Spell Symbol: 4 diamonds
4.
Creature: Sphinx
Door Symbol: ankh
Inventory Item: wind-up mouse
Chamber Color: purple
Ailment: memory loss
Cure: Memory Zap potion
Potion/Spell Symbol: lightning bolt
5.
Creature: Sirens
Door Symbol: musical notes
Inventory Item: headphones
Chamber Color: pink
Ailment: frog in throat
Cure: Amphibian Begone spell
Potion/Spell Symbol: concentric circles
6.
Creature: Cerberus
Door Symbol: paw print
Inventory Item: ball
Chamber Color: yellow
Ailment: irregular sleep cycle
Cure: Spell of Balance
Potion/Spell Symbol: yin-yang symbol
7.
Creature: Dragon
Door Symbol: flame
Inventory Item: shield
Chamber Color: gray
Ailment: indigestion
Cure: Potion of Unsouring
Potion/Spell Symbol: pinwheel
8.
Creature: Pegasus
Door Symbol: wings
Inventory Item: apple
Chamber Color: cyan
Ailment: slow-growing feathers
Cure: Growfast potion
Potion/Spell Symbol: flower
9.
Creature: Basilisk
Door Symbol: snake
Inventory Item: shades
Chamber Color: green
Ailment: dry and flaky skin
Cure: Marvelous Magical Moisture potion
Potion/Spell Symbol: fleur-de-lis
10.
Creature: Cyclops
Door Symbol: eye
Inventory Item: bell
Chamber Color: yellow-orange
Ailment: conjunctivitis
Cure: Eye Bright spell
Potion/Spell Symbol: star
Not only did I fall off the diet wagon, I dragged it into the woods, set it on fire, and used the insurance money to buy cupcakes.
Welcome to the Adventure Gamers forums!