Adventure Gamers - Forums
Welcome to Adventure Gamers. Please Sign In or Join Now to post.
You are here: Home → Forum Home → Gaming → Adventure → Thread
Post Marker Legend:
New posts
No new posts
Currently online
Challenge Week 2 - Yard Sale
Yard Sale
Fall is a great time to clear out our old useless junk to make room for new and hopefully more useful paraphernalia. My neighbor is having a yard sale with items that you may recognize from adventure games, and some of the browsing customers may be familiar as well.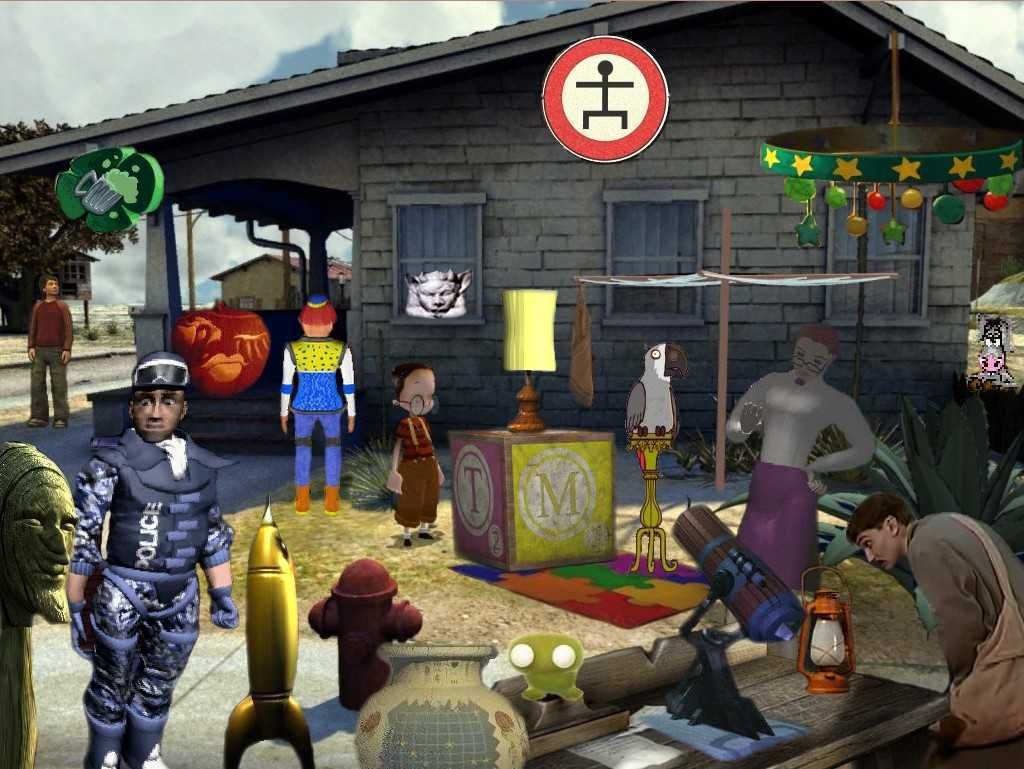 Your task is to identify the 21 different games in which the items and characters appear. You have 3 chances to guess each one and will earn 10, 8 or 6 points for a correct first, second or third guess respectively. You can earn a maximum of 210 points. Give a brief description of each item and character and the game title. Character names are not necessary.
Bonus: If you can identify the game that has the original scene used as background for the yard sale, you will earn an extra 15 points. However, you have only one chance to guess this.
Please note that there are several individual items in the picture that are part of the original scene. They do not count as part of the 21 items that were cut and pasted into the scene.
Have fun browsing and send your answers to me via PM by 10:00 PM GMT on Saturday, October 24.
Please right click the picture to view the entire image.
I keep hitting the escape button, but somehow I'm still here.
Scores for Yard Sale:
Zobraks 175
DarkEye 145
Trunkyo 145
Chrissie 125
TimovieMan 125
Phlebas 95
Becky 75
Kurufinwe 65
Diego 55
Eddyc 55
TechnoSpike 55
Karlok 40
Abnaxus 35
SoccerDude28 25
I keep hitting the escape button, but somehow I'm still here.
Answers for Yard Sale:
Wooden head carving - The Longest Journey
Policeman - Zero Zone
Rocket - RealMyst or Myst
Pot with star grid - Riddle of the Sphinx
Frog - Botanicula
Telescope - Celtica
Lantern - Zork Grand Inquisitor
Man with bag at desk - Viy: A Story Told Anew
Donkey - Discworld
Mobile with stars and balls - Broken Age
Woman in skirt and white blouse - Y2K
Parrot on stand - Bertram Fiddle, Ep. 1: A Dreadly Business
Puzzle rug - Still Life
Block with letters - Scratches
Table lamp - The Arrangement
Stickman sign - Rhem 4
Gargoyle - The Vampire Diaries
Clownish man - Zabugorie: The Fairy Planet
Jack o' lantern - Goosebumps: Escape from Horrorland
Irish pub sign - Toonstruck
Boy in street - Everlight: Of Magic and Power
Bonus: Tony Tough 2: A Rake's Progress
I keep hitting the escape button, but somehow I'm still here.
Welcome to the Adventure Gamers forums!