Adventure Gamers - Forums
Welcome to Adventure Gamers. Please Sign In or Join Now to post.
Challenge Week 2 - Snake in the Grass
Snake in the Grass
While raking up piles of leaves before his yard sale, my neighbor yelled, "Look! Down in the grass! Is it a hoop? Is it a ring?"

"No, it's an ouroboros!" I replied, recognizing a tail-eating reptile, the ancient symbol of the circularity of life, the universe, and everything.
Peering closer, I detected writing all around the the creature's body.
"Ah-ha!" I exclaimed. "That's an ancient adventure game puzzle, and I know just where to use it."
Yes, you guessed it. Your task is to decipher the 23 game names all around the snake. Each title shares its last two letters with the first two letters of the next title in the ring. Some of the titles have been shortened to fit the puzzle, and the spaces within a title have been removed. Each title is worth 10 points for a correct first guess, 8 points for a second guess, and 6 points for a third. The maximum number of points is 230.
Please note that you don't have to send me the complete versions of the titles, just what's written in the ring. Also, the mistake in #18 has been corrected.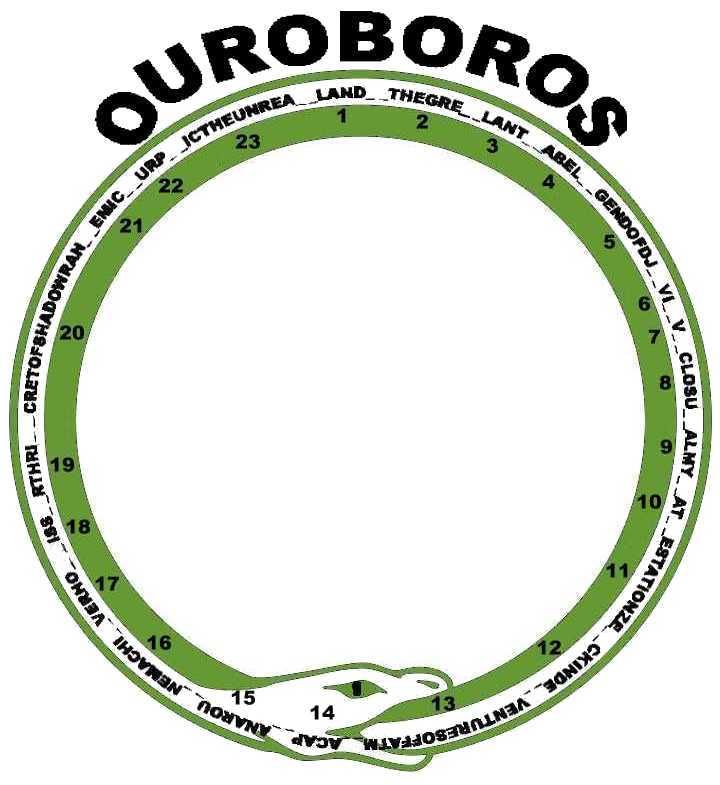 Bonus: You can earn an additional 10 points if you can identify the game in which this ouroboros can be found: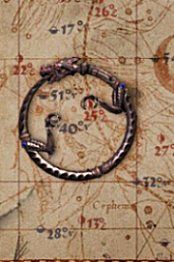 You get only one chance to guess this one.
The deadline for this puzzle is 10:00 PM GMT on Saturday, October 24. Now slither off and get started!
Sorry, Santa. There were just too many options.
Scores for Snake in the Grass:
Abnaxus 240
Chrissie 240
DarkEye 240
Diego 240
Eddyc 240
Kurufinwe 240
Lucien21 240
Phlebas 240
TechnoSpike 240
TimovieMan 240
Trunkyo 240
Wilco 240
Zobraks 240
Becky 230
Skeeter_93 230
SoccerDude28 230
Karlok 210
Sorry, Santa. There were just too many options.
Answers for Snake in the Grass:
1 - DYLAN DOG
2 - OG THE GREAT
3 - ATLANTIS
4 - ISABELLE
5 - LEGEND OF DJEL
6 - ELVIRA
7 - RAVEN
8 - ENCLOSURE
9 - REALMYST
10 - STATIC
11 - ICE STATION ZERO
12 - ROCKIN DEAD
13 - ADVENTURES OF FATMAN
14 - ANACAPRI
15 - RIANA ROUGE
16 - GENE MACHINE
17 - NEVERHOOD
18 - ODISSEA
19 - EARTHRISE
20 - SECRET OF SHADOW RANCH
21 - CHEMICUS
22 - USURPER
23 - ERIC THE UNREADY
Bonus - Dracula Resurrection
Sorry, Santa. There were just too many options.
Welcome to the Adventure Gamers forums!