Adventure Gamers - Forums
Welcome to Adventure Gamers. Please Sign In or Join Now to post.
You are here: Home → Forum Home → Gaming → Adventure → Thread
Post Marker Legend:
New posts
No new posts
Currently online
Let's Play: Paradise aka Last King of Africa ***SPOILERS***
BTW: What do you think of the animated gif's, would you rather I just cut out and post the extra subtitles under the first image?
I'd prefer it if you'd just post the extra subtitles under the image. Wouldn't that be easier on your part as well?
Now it's a little hard to see where the animated gif starts, and that panther story is going quite fast to read comfortably…



As an aside, the first screen of the new part of town you can access is (if my memory serves me right) where I got that game-breaking bug…
Last played: Marvel's Spider-Man - 4.5/5 | Freddi Fish 3: The Case of the Stolen Conch Shell - 3/5 | There Is No Game: Wrong Dimension (CPT) - 4/5 | There Is No Game (replay) - 4/5 | Broken Sword: The Shadow of the Templars (replay) - 3/5 | Lighthouse: The Dark Being (CPT) - 2.5/5 | Anna's Quest (CPT) - 4.5/5 | Simon the Sorcerer II: The Lion, the Wizard and the Wardrobe - 4/5 | Florence - 4/5 | Alice Trapped in Wonderland - 1/5 | The Hunt for the Lost Ship - 1.5/5 | The Talos Principle - 4/5 | Tex Murphy: Martian Memorandum - 3/5 | Danganronpa: Trigger Happy Havoc - 3/5 | Simon the Sorcerer (replay) - 4/5 | Portal 2 - 4/5 | Murder By Numbers - 3.5/5 | Heavy Rain - 3.5/5 | Disco Elysium - 4.5/5 | Freddi Fish 2: The Case of the Haunted Schoolhouse - 3/5
Now it's a little hard to see where the animated gif starts, and that panther story is going quite fast to read comfortably…
Point taken, in fact I agree, so I have removed the gifs from my last post, and replaced them with static images with extra subtitles.
As an aside, the first screen of the new part of town you can access is (if my memory serves me right) where I got that game-breaking bug…
Me too

Unfortunately I can't remember the exact bug, but I do remember that I had to replay from the beginning of the town, to avoid it.
I will probably see if I can find an exact description of it before moving on, so I don't run into it again.
You have to play the game, to find out why you are playing the game! - eXistenZ
As an aside, the first screen of the new part of town you can access is (if my memory serves me right) where I got that game-breaking bug…
Lucky for me, the bug that stopped me was 85% into the game. I did play a fully patched version in the day - twice from the beginning.
There was going to be an ipad version - but whitebirds went under before that project was completed.
I enjoy playing adventure games on handheld systems- PS VITA, Nintendo DS and ipad mini.
Time to explore the beautiful town of Madargane, which is unfortunately more or less deserted as the majority of the population has fled. Only those that either support the rebels, believe that the King will swoop in and save the town, or are trying to squeeze out a few more bucks before leaving, are still hanging around.
Basically all we need to do is find some kind of transportation, which shouldn't be too hard, right? Also our camera with a roll of film was recovered from the crash, it could be interesting to see what is on those pictures, so a 1-hour photoshop should also be a priority, and we might as well look up Aicha's brother Moktar, perhaps he can give us a hand or two.
Which would have been extremely useful if it had been open, but it seem likes its owner is one of the many that has fled town.
A truck with the back out on the street, apparently used as some kind of stall, with the front inside what seems to be some kind of mechanic workshop. Probably the best place to look for some transportation, but we can't do anything from here, we have to find the front door.
Cut to a rebel camp.
Colonel I have got some news, one of our patrols shot down a light aircraft, and Rodan's daughter was aboard.
- What! Is she dead?
We checked the crash site, we found only the pilot.
- The stupid irony .. Christ, I told her to stay where she was!
So you knew this women colonel?
So apparently "Ann Smith" and the colonel know each other, and he warned her to stay in Geneva and not to get involved. Hmm… not sure what to make of this, especially since we know so little about her and her motives, but it seems like the plot is thickening.
Find Rodan's daughter captain, whatever it takes. She must not make that rendezvous with her father!
*Gulp* That sounded ominous!
And why is he so worried about her making contact with her father? Perhaps he is afraid she can gain the popular support that her father has lost, and turn the tide of the war, or is there something else going on?
[Insert rant about pushy sellers that won't take no for an answer]
He's got a point there.
Anyway he is not too worried, apparently the prince is a very smart man and good at "adapting". Which makes me wonder about the prince's motives and what role he believes we might play in all of this.
We might as well listen to the news on the radio (If only we could hear it properly over that noisy fan!) - All about the war of course… and sports, always time for sport.
No words from the official government.. Rumours of the sovereign being seriously ill.. Reports from the north of bloody reprisals by the rebel forces against population loyal to the king.
We might as well also check the news in the newspaper.
The rebels have captured the capital even though it was defended by the king's elite troops. Their next target is this town and they are already only a few miles outside of town! Supposedly they are also supported by foreign forces.
We have made the news, which I don't think is good news for us, but apparently the aircraft have been dragged into town, so we might want to take a look at it if we can find it.
So the real Ann Smith is also in Maurania, I hope that she doesn't get into any trouble because we "borrowed" her name.
EDIT: I just realized the the museum exhibition is in France and not Maurania, so Ann Smith is in France and should be safe.
Also an add for a garage that rents out cars, and another for a photoshop, just what we needed.
Heavy storms expected, that will probably not make it any easier for us *sigh*.
The rebels have taken oven the TV-station, and is broadcasting an appeal to all loyalist troops to lay down there weapons and surrender, promising that they will be treated fairly and justly if they do so. And at the same time encouraging the people of Maurania to rise against the despotic tyranny of King Rodan, and join the democratic movement for freedom and justice for all. I guess the news depends entirely on who control the medium.

And wasn't that the voice of the colonel from the rebel camp cutscene? Perhaps he is one of the leaders of the revolution.
I love all these background things, easy to miss if you don't pay attention, and not necessary to complete the game, but it gives a real feeling of being in a war-zone, and gives us some extra bits of information. Also it is a nice change from the harem, where only few knew and cared about what was going on with the war.
According to the café owner, the rebels have already infiltrated the town and have spies everywhere. We better be careful.
You have to play the game, to find out why you are playing the game! - eXistenZ
The photographers place, unfortunately he has also skipped town.
Our friendly carpet seller, I have a feeling it won't be the last time we run into him.
A garage, probably the one we saw from the outside of the truck.
So all we need is a few spare parts and we are good to go. I even think I already know where to get the fan.
Lets inspect the truck - It doesn't exactly look like something I would chose to cross the country in if I had a choice, but I don't, and if Hassan thinks he can get it running again then who am I to argue.
On the plus side it does have a radio.
So this is where the plane ended up - Lest have a closer look.
Some spare parts to be salvaged, and some documents.
Where all the interesting bits have been burned away.
Don't pay attention to me, I'm nobody - Look a butterfly.
Perhaps it senses that I'm more of a cat person?
Not sure what kind of animals those are?
A mix between a T-Rex, a camel and .. Goofy?
You have to admire all the work that have been put into the graphics here. It not only looks beautiful, but I can't remember the last time I played a game that put this much effort into so many scenes that contain absolutely nothing to interact with or any story elements, but is simply there to add some depth, atmosphere and size to the setting.
Seems like we can't leave town without a pass with photo and a signature from the prince. Well getting the princes signature shouldn't be a problem, and he gave us the blank pass, so all we need is a photo of ourself.
So it seems like Rodan have basically been controlling the country from a gigantic gunboat, but that this approach has one serious fault.
Lets let them argue among themselves, and instead talk to Aicha's brother Moktar.
That's actually not a bad point, sooner or later we will have to pick a side, we can't just continue to pretend that it doesn't involve us.
Anyway Moktar don't mind giving us a hand, and there are plenty of tires hanging at the pier… So all we need now is the fan.
He is only too happy to get rid of that noisy electrical fan, only problem is that his normal manually operated feather fan is broken. But if we can fix that, the fan is ours.
Easy fix with some spare parts we salvaged from the plane.
Meanwhile elsewhere in town
Seem like someone doesn't want us to leave town.
You have to play the game, to find out why you are playing the game! - eXistenZ
As I play along with my Nintendo Ds version - I can't notice how major the changes were from the PC version - puzzles have been redone to take advantage of the DS touch screen and of course additional graphics created for the DS second screen.
The plot is also very easy to follow in this version and this game is more interesting to play overall due to the revisions made.
Amazingly, this is my favorite PC to DS game - Secret Files 2 being a close second.
I enjoy playing adventure games on handheld systems- PS VITA, Nintendo DS and ipad mini.
Cut to the Black Vault
Her plane was shot down by the rebels .. But she is still alive .. She's coming .. She's at Madargane.
There is also talk that .. she's found The Black Leopard.
The Leopard! It can't be true .. it's just not possible!
Okay now I'm intrigued, why is it not possible, and what is the significance of the panther/black leopard? Perhaps some ancient prophecy? Perhaps some symbol of royal power? Or perhaps it is something entirely different.
Back to "Ann Smith"
And I really liked Hassan, he was such a nice guy!
I guess we will have to repair the truck ourself now.
Well at least he had put the wheels on before… you know, before he was killed for helping us.
So all we need to do is attach the battery and the fan.
Get her off the blocks and fill her up with gasoline, and we are good to go.
And look, it has tracks instead of rear wheels, perhaps this is actually the ideal vehicle for crossing the country, especially since the rainy season is approaching.
Just need a few more things before we can leave town.
Well that was fortunate, not that he has left town and closed shop I mean, but that he has left the key with his brother in law, and that the café-owner doesn't mind that we use the equipment to develop the photos ourself.
The photographers studio.
A handy easily understandable manual with pictures and everything, not that I need it! I actually took a photography class once where we developed our own pictures, but for anyone less knowledgeable in this area, I'm sure it will be handy.
The Saboteur
Trying to destroy the negatives, by turning on the white light at the wrong time, or the right time from his point of view.
Well it could have been much worse, at least he is only trying to sabotage our progress to keep us in town, and not trying to kill us. I guess the rebels wants us alive, which we should probably be grateful for.
And he failed to actually destroy the pictures. Nothing interesting though, but at least we now have a photo of ourself we can use for the pass.
Time to pick up the cat and get the prince's signature.
First we need the key to the cage, which the prince gives us without any trouble.
Drain the water from the big pond.
Remember the puzzle I solved earlier, where I moved the fish from the big pond to the small one? They are still there, so no fish or other animals were harmed during this playthrought! (yet)
Operate these controls to move the drawbridge into the right position. I have no idea of what the system is here, but a bit of trial and error and the bridge is in position.
And the big guy voluntarily walks into the cage at the back of our truck.
Say our goodbyes and get the prince's signature on the pass, and we are ready to leave the town.
It's starting to rain, we better drive carefully.
Especially here in these narrow mountain roads.
Some refugees.
Is that people hanging on those sticks?
Hopefully it is just some ancient burial ritual, and not because the rebels and/or the loyalist army have started crucifying anyone supporting the wrong side.
WATCH OUT! Some gazeline on the road in front of you.
Too late, she drove right of the edge of the cliff. I sure hope both "Ann" and the panther is all right.
This is beginning to become a pattern, first she crashes in an airplane, and now she is in a carcrash, if I was "Ann" I would stay away from any mechanical vehicles from now on.
You have to play the game, to find out why you are playing the game! - eXistenZ
Incidental I just noticed that you can actually read Ann Smiths book (the real Ann Smith), and I won't cheat you for its content, so here it is:
Note the book was written in 1910, given the fact that Ann smith is still alive and well enough to participate in the opening of a museum exhibition, and the fact that they have colour TV, then I would estimate that the game most likely takes place during the 70's and no later than the early 80's. Any earlier and the TV would have been black and white, and any later Ann would either have been too young in 1910 to write the book or too old/dead to participate in a public event.
You have to play the game, to find out why you are playing the game! - eXistenZ
Incidental I just noticed that you can actually read Ann Smiths book (the real Ann Smith), and I won't cheat you for its content
Thanks for this - I'll have to look into this - very interesting to say the least!
I enjoy playing adventure games on handheld systems- PS VITA, Nintendo DS and ipad mini.
I just realised that Last King of Africa has also been released for the IOS, so I was curious to see how that turned out and looked up some information.
Based on what I have seen I certainly wouldn't recommend the IOS version. I don't know how close it is to the DS version, but I believe the DS version is much closer to the PC version, Mikekelly can probably tell us more on this.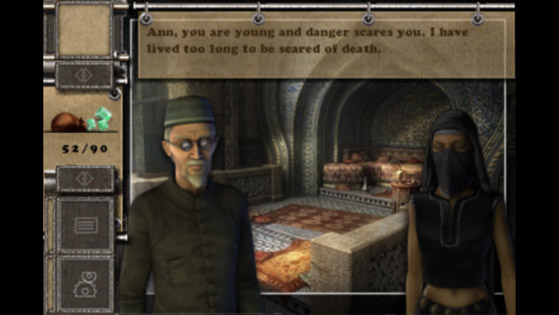 It has static one-picture or slide-show backgrounds, all the dialogue are done between cut-out cardboard figures, and even the dialogue itself has been dumbed down, for example the prince doesn't say anything like the above in the PC version, nor would he even dream of saying anything like that.
They seem to have also added a lot of small mini-games like the above, which is something that I definitely don't think suits the game or adds anything to it.
Ironically the Metacritic score for the IOS version is higher than for both the PC and DS version, which just shows how useless Metacritic is.
Anyway with that little sidestep it is time I get back to actually playing the game.
You have to play the game, to find out why you are playing the game! - eXistenZ
Chapter 2 - The Molgrave
Fortunately we survived the crash without any injury, but we are now stranded out in the middle of nowhere, and what is worse, the panther has also escaped from its cage and is nowhere to be seen.
Finding the panther should probably be our first priority here, and of course to find some other means of transportation.
A few branches isn't enough to stop us.
Seems like we have to practice our skill at climbing trees.
WATCH OUT!
That branch just snapped off right under our feet, luckily "Ann" has good reflexes. But now we need to find another way down.
Some lianas, we just need to untangle them.
WATCH OUT - A SNAKE!
Unfortunately no matter how fast her reflexes are, then she is not faster that the snake .. and it did bit her!
Scratch what I said earlier about our priorities, our first priority should now be to find a hospital with a good supply of anti-venom!
At least we now have a way down.
Some palmette better stay clear of them.
Luckily a palmette falcon swoops in hunting for prey, and scares them underground.
This is by far my least favourite puzzle in the game, the trick is simple, wait for the falcon to scare them underground, and make a run for it. Unfortunately the mouse control and lag in the response doesn't make it quite as easy as it sounds, but a bit of perseverance and we are through.
Pushing the tree trunk gives us a way further down.
Where there are more palmette *sigh*
A simple "find the right path on the most buoyant water-lilies without sinking into quicksand"
Again I must mention how much effort has gone into creating a lot of different background scenes, purely to add depth, size and atmosphere to the game. The whole trip from the crash-site to where I am now, probably didn't take more than about 15-30 minutes, and only had a few relative easy puzzles, yet they bothered to make all this graphics and a small cut-scene just for that small part of the game.
Yeah, given the fact that she "borrowed" her name, I think Ann is fully aware of that.
Anyway running in to a British major here in the middle of nowhere is probably not a bad thing, surely he can and will help us.
Oh Oh! There seems to be little doubt about who the culprit is, and to make things even worse a Molgrave boy was riding the gazeline when it was attacked.
We better come clean and tell the major about our panther.
We should probably also find the Molgrave and explain the whole situation to them, though the major doesn't think they will be very understanding, especially since touching the ground is a bit of a taboo among the Molgrave, and even if the boy aren't injured, he has now touched the ground.
They even bury their dead above ground. Well at least it explain what we saw earlier by the side of the road.
There is our cat, unfortunately it just looks at us and continues on it's own way.
BATS! ...erhm… I mean Polopolo, I hate Polopolo!
Nothing a little bonfire can't solve.
And we are up in the Molgrave treehouses, though apparently not the part they are actually using.
In fact it seems to be in a bit of disrepair.
A dead end.
But nothing a bit of ingenuity can't solve.
A treestump we can use to climb onto the roof.
Clumsy Ann - Lets try something else instead.
Perhaps we can make some hand- and footholds in the clay.
WATCH WHERE YOU ARE GO… Arhh why do I bother, this is obviously not Ann's day, and she was clearly not meant for climbing around in trees!
But at least our little… mishap, let us straight to the populated area.
Does anyone around here speak English?
(You can actually ask them all sorts of questions, you just won't be able to understand the answers)
Finally someone who speaks English, well not the matriarch herself, but the witchdoctor who acts as translator here.
Oh Oh - Not good news.
The boy is the matriarch's son, and they have already sent out hunters to kill the panther. We however manage to persuade her to give us until dawn to catch the panther alive, before they kill it.
Ultimately the snake venom however gets to us and we pass out!
You have to play the game, to find out why you are playing the game! - eXistenZ
I just realised that Last King of Africa has also been released for the IOS, so I was curious to see how that turned out and looked up some information.

Based on what I have seen I certainly wouldn't recommend the IOS version. I don't know how close it is to the DS version, but I believe the DS version is much closer to the PC version, Mikekelly can probably tell us more on this.
I've heard from many sources that the ios version is a casual game - not an adventure game.
The DS version - although slightly different than the PC version is still an adventure game. And a good one.
There are a few good PC to DS conversions - Secret Files 1 and 2, Runaway 2 and 3.
I enjoy playing adventure games on handheld systems- PS VITA, Nintendo DS and ipad mini.
*Pheeew* Good thing the venom is not deadly, but I wonder what strange and powerful effects the witch priest-doctor are talking about? Perhaps we will start seeing visions, or perhaps the whole game will turn psychedelic, or perhaps Ann will start remembering things she has forgotten?
We of course already knew that she is Rodan's daughter, there has been several not-so-subtle hints to this already, but this is the first time that it is said directly out loud. More importantly it seems the panther or leopard has some symbolic meaning that is linked to King Rodan.
(I think I will call it leopard or black leopard from now on as that is the term the game uses)
I must confess that her persistence in not remembering anything has made me waver in my conviction that she is faking her amnesia. I still don't buy her complete amnesia story, and I believe that it is pretty obvious that she remembers more than she is willing to admit, not just to others but perhaps more importantly also admit to herself!
But I guess that it is possible that the accident and subsequent dehydration has caused her to become.. erh.. confused about certain things.
Either way, the priestdoctor obviously knows more than he has told us, and he has a story he wants to tells us.
Oh goodie, I love stories.
Time to explore the Molgrave tree-village.
A little warning here, the place is actually quite large, and it is also a bit of a maze to navigate, so make sure to take your time exploring everything.
Fortunately Ann is a pretty fast runner, so it shouldn't take us long to explore the whole place.
We might as well pick up some herbs, and other interesting things while exploring.
Some polopolo-fat.
Once again, no luck. It seems that the only one who knows more than a few words in English is the priestdoctor.
Bungee-jumping instructions?
Make the cord too thin relative to your weight, and you will get a hard landing and a broken neck, too thick and you wont be able to reach the ground, just right and you can pick up items underneath without actually touching the ground.
Remember touching the ground is taboo for the Molgrave, so I guess it all makes sense.
For making the bungee-cord I bet.
But there are also other mechanical contraptions here, in fact it seem to be the village's workshop.
More herbs.
A hook and some nuts.
Some gazeline.
Whenever the Molgrave needs to travel on the ground, they use the gazeline so that they don't have to touch the ground themselves.
I remeber the frist time I played this game, I was stuck here for quite a long time, because I didn't realize that you could go through the gazeline enclosure and get to this part.
Finally someone who speaks a bit of English.
It seems like all we need to do is repair the drum, and we will get some bait to trap our leopard.
Some kind of hoist-system for getting things up in the trees?
Some sand-dab skin would be perfect for repairing the drum.
Seem like clumsy Ann just dropped something on the ground below, though as far as I can tell I still have all my inventory items?!? Either way I guess a bungee-cord is just what we need to retrieve it.
This also seem like the perfect place to set up a trap to catch the leopard.
I think I have explored the whole village now, so I guess it is time to actually start doing something.
Some quicksand-fishing is probably the best place to start.
And while I do that, why don't you take a look at this map of the country.
I must confess this map confuses me a bit. I thought Madargane was in the northern part and that we have been travelling south, but according to the map we have been travelling north?!? Perhaps they just draw their maps upside down, so up is south and down is north.
And what is that big X on the map, a hidden treasure perhaps?
You have to play the game, to find out why you are playing the game! - eXistenZ
Just fishing a bit, don't mind me
And finally about 3 hours later
Not really, but they are not that easy to catch and it did take me some time before I got everything right.
We get our just reward for our patience.
Unfortunately we can't just put the raw sand-dab on the drum, we need to skin it and cure the skin first.
Perhaps the angler can help us, if we can find him again - And guess who we also bump into, no other than Major Goodmorning.
(I wonder if he is perhaps related to Mary Goodnight from The Man with the Golden Gun.)
Which I guess makes sense.
He also tells us that some years ago he designed a leopard trap based on his experience from India where… It just needs a new hook, which we found earlier.. and lost again because of Ann's clumsiness, and obviously we also need some bait.
Fortunately we already have not only the sand-dab, but also all the other ingredients he need.
And a short while later, we have a perfectly serviceable drumskin.
And a few minutes later we can pick up a PoloPolo from the young princeling.
Did I forget to mention that the you boy helpings us, is the same one that was attacked by our leopard, and that he is now staying at Major Goodmorning's place because he has touched the ground? Well I only just realized it myself.
So now we have our bait, but we also need to get that hook back. I guess it is time to make some bungee-cord.
Our weight is exactly 2 1/2 nut.
A juicemaker to extract the juice from the nuts.
Unfortunately it can only make whole or 3/4 nuts, but 1 + 3/4 + 3/4 = 2 1/2 so no problem.
Let it cool a bit, twist it and we have a bungee-cord perfectly adjusted for our weight.
*Phew* It worked, no broke necks or other injuries, and we have recovered the hook without the tedious trouble of finding another way down and searching for the right spot where we dropped it - Okay that is probably what I would have done, but I am also a bit of a chicken, and I can see that this way is much faster.
Time to set the leopard trap.
And wait.
*Yawn* and wait.
We might as well take a little nap.
And dream a little dream about a cat.
The object here is to guide the leopard into the trap - Fortunately it is skippable, which I happily did after a few minutes.
And the beast is trapped, which he doesn't seem to be too happy about.
You have to play the game, to find out why you are playing the game! - eXistenZ
Rise and shine.
And I really liked the Major, he was such a… stout fellow.
This is the second person that has been killed because of us *sigh*
There is also some good news though. Apparently the little prince has taken credit for capturing the leopard and has been accepted back into the tribe, technically it was Ann that captured it, but he helped, and since it was our fault he got ostracized in the first place, it is only fair he gets all the credit.
Everything is ready and we are good to go, but first the priest-doctor had a story he wanted to tell.
(Unfortunately the rest of the story isn't subtexted, so I had to transcribe it to the best of my abilities.)
For many years Rodan was the best king Maurania ever knew, but then things started to change little by little.
Many people today say that he is not a good king.
He has become moody and inward looking, as unpredictable as an old leopard with a toothache.
It is said that his wife ran away some twelve years ago, and took their only daughter with her. Rodan send people all over Maurania searching, but they were never found them.
Soldiers even came here to look.
They told us: The young girl we're looking for, has a scar on her shoulder like the scratch of a leopard
Then the soldier kneeled down and drew in the sand the same mark, that you carry over your heart.
The soldiers left, and the wind swept the tracing in the sand away.
But I will carry the image in my memory forever.
So Ann Smith, this is why today I say: You are the daughter of the king Rodan!
Hmm… His story has given Ann some things to think about.
And me too…
Okay I admit it, I was wrong about Ann faking her amnesia!
But I still maintain that she haven't been suffering from complete amnesia.
If you think about it, it all makes perfect sense.
Her mother ran away from Rodan and fled to Switzerland when Ann was only a small child. Rodan had people looking for them, so her mother probably changed their names and background story, and never told Ann anything about her father, that she is a princess or even that she is from Maurania. At best Ann would only remember fragments from her childhood, but without anything to put it into context, she had no way of knowing who she really is.
12 years later her father's spies track her down in Geneva, tells her she is a princess and her father, who she probably thought was dead, is king of a country in Africa that she has never heard of, or perhaps they don't even tell her that, perhaps they tell her some other story. Either way, they persuade her to come with them to Maurania, her plane is shot down and she almost dies of dehydration.
No wonder she ends up.. erh.. confused as to who she is and what she is doing in Maurania.
Of course we still don't know the full story, we don't know how the rebel colonel fits into all of this, what he has told her and how they know each other.


BTW since we already knew that Ann was 6 years old when she left Maurania, and the priestdoctor has just told us that it happened 12 years ago, simple math tell us the Ann must now be 18 years old, which also sounds plausible and consistent with her behaviour (to the best of my knowledge).
You have to play the game, to find out why you are playing the game! - eXistenZ
Welcome to the Adventure Gamers forums!