Adventure Gamers - Forums
Welcome to Adventure Gamers. Please Sign In or Join Now to post.
Group H - The BAG VS Tournament
**********************************************
Points 7pt 5pt 3pt 2pt 1pt
1. The Longest Journey 211 21 9 4 4 1

************************************************************************************

2. Gemini Rue 139 7 11 9 3 2

************************************************************************************

3. Sherlock Holmes
:Case
of the Serrated Scalpel 84 4 6 6 3 2

************************************************************************************

4. Zork
:
Nemesis 68 6 3 1 4 0

************************************************************************************

5. L
.
A
.
Noire 67 3 5 5 3 0

************************************************************************************

6. The Cat Lady 61 3 2 6 5 2

************************************************************************************

7. Danganronpa 49 5 2 1 0 1

************************************************************************************

8. The Journeyman Project 2
:
Buried in Time 43 0 6 2 2 3

************************************************************************************
p62
Vote for up to five games you'd like to see advance to the next round.
First choice (7 points)
Second choice (5 points)
Third choice (3 points)
Fourth choice (2 points)
Fifth choice (1 point)
Voting for this group will end on 24th December at 23:59 GMT. The four games with the most points will advance.
Not sure what this tournament is all about? See the Overview thread here. Join in and have fun!

The Longest Journey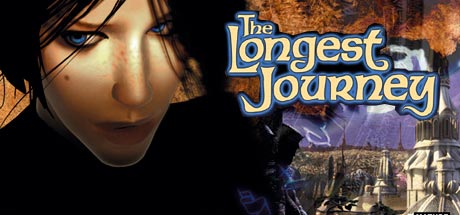 In this classic third-person graphic adventure you play the role of April Ryan, a struggling student artist in the year 2209, recently arrived in the big city of Newport. April is afflicted with strange nightmares, but her nightmares are starting to affect her waking world as well. Only the strange old man Cortez seems to know what's happening. He sends April to another world where magic is real. There, April learns that what she thought were nightmares are real, and that she must save not just one, but two worlds. It's a huge game, spanning 13 chapters, plus a prologue and epilogue, spread out over 4 CDs. All the usual graphic adventure elements are present, including lots of fairly challenging inventory-based puzzles, pages of dialogue, and bunches of places to explore. To help keep track of things, the game includes a diary, where April records her thoughts about important events, and a conversation log that records the text of every conversation.

The Lost Files of Sherlock Holmes: The Case of the Serrated Scalpel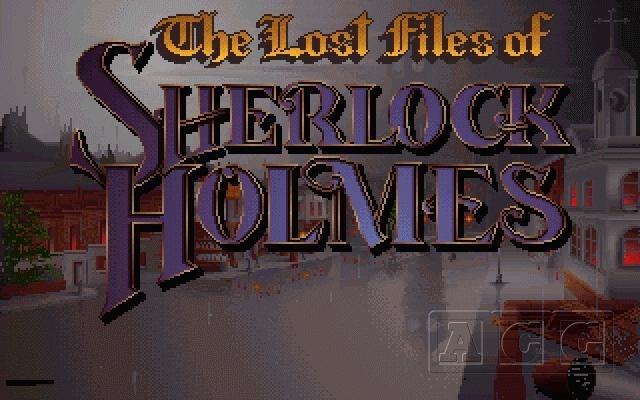 London, 1888. Sherlock Holmes, the world's most famous private investigator, and his faithful companion Dr. Watson, are called to the scene of a gruesome crime: a young actress has been murdered in an alley behind her theatre. Not surprisingly, Scotland Yard's Inspector Lestrade is clueless. Was it the work of the Ripper? Sherlock Holmes is not so sure - the circumstantial evidence indicates a much more intricate crime. The game is a classical crime story with two distinguished, sympathetic protagonists. In the role of Sherlock Holmes, you travel through London in the search for clues. Interesting locations are gradually added to a city map. Your most important source of information are dialogues with suspects, witnesses and other people – and with Dr. Watson, who will readily comment on the situation. When talking to persons, you may chose one of several lines that seems most appropriate. Watson notes down all conversations in his journal, where you can access them if needed. Pleasingly true to the novels, Holmes will solve many puzzles through sharp observations and thorough searches of every location (thus discovering clues and deducing connections) as well as clever interrogations. The handling of the game by means of verbs is simple and accurate. Readers of the Sherlock Holmes stories will recognize many acquaintances, from Lestrade to Miss Hudson, from Inspector Gregson to Toby the hound. The game's introduction, cut-scenes and ending feature digitized speech. All the old Victorian London backdrops, including 50 authentic locations, are drawn in full 256 color VGA graphics.

L.A. Noire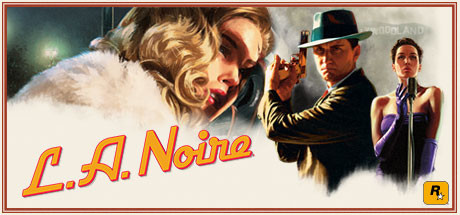 Amid the post-war boom of Hollywood's Golden Age, Cole Phelps is an LAPD detective thrown headfirst into a city drowning in its own success. Corruption is rampant, the drug trade is exploding, and murder rates are at an all-time high. In his fight to climb the ranks and do what's right, Phelps must unravel the truth behind a string of arson attacks, racketeering conspiracies and brutal murders, battling the L.A. underworld and even members of his own department to uncover a secret that could shake the city to its rotten core. The game draws heavily from both the plot and aesthetic elements of film noir, stylistic films made popular in the 1940s and 1950s that share similar visual styles and themes, including crime and moral ambiguity. The game uses a distinctive colour palette, but in homage to film noir it includes the option to play the game in black and white. Various plot elements reference the major themes of gum-shoe detective and mobster stories such as Key Largo, Chinatown, The Untouchables, The Black Dahlia, and L.A. Confidential.
Zork Nemesis: The Forbidden Lands

Zork Nemesis is a graphical first person adventure game in the style of Myst or Shivers, mixing logic puzzles with live-action FMV sequences which advance the story. You view each location from a first person perspective, and can rotate 360 degrees to get a full view of your surroundings. It does contain some of the classic humor of the Zork universe, but unlike the other games in the series it has a very dark story and atmosphere with everything ranging from decapitated heads to human sacrifice. If you like horror stories, this one is extremely well done and is disturbingly realistic. The graphics are detailed and realistic, the atmosphere is foreboding and oppressive, and the mood is deadly serious, with eerie sound effects and music. The story is morbid and engrossing, with numerous subplots, and it will keep you guessing until the very end. There is a full hour of dramatic live-action video included, with 14 Hollywood actors, all directed by Joe Napolitano. It is an unusually long game, with 5 different 'worlds' to visit (Temple, Conservatory, Monastery, Asylum and Castle), any one of which is as long as some other entire games. The complex and absorbing puzzles are logic or mechanical, and are either part of the setting or serve to develop the plot.

Gemini Rue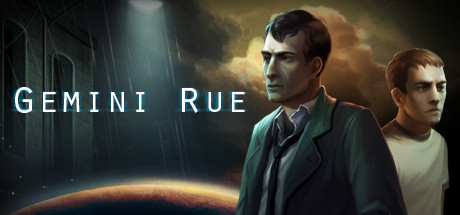 Azriel Odin, ex-assassin, arrives on the rain-drenched planet of Barracus to find someone. When things go horribly wrong, he can only seek help from the very criminals he used to work for. Meanwhile, across the galaxy, a man called Delta-Six wakes up in a hospital with no memory. Without knowing where to turn or who to trust, he vows to escape before he loses his identity completely. As fate brings these two men closer together, we discover a world where life is cheap, identities are bought and sold, and a simple quest for redemption can change the fate of a whole galaxy. It has over 60 hand-drawn backgrounds, and a moody, film noir atmosphere. Control both Azriel and Delta-Six with full voice acting and use an innovative investigation system in a gripping sci-fi mystery.

Journeyman Project 2: Buried In Time

The second game of the Journeyman Project series finds you traveling through time to clear yourself of a false accusation of altering history. Your future self materializes before you, tells you you've been framed for changing the past and gives you a time travel suit before being arrested by other members of the Temporal Security Agency. Now you must warp back to a variety of time periods and collect the evidence that proves your innocence. The Jumpsuit or the Time Displacement Unit fits like a skin tight spaceship, with an onboard computer, extendable with biochip enhancements, a null space pocket (for infinite inventory), limited life support, and an invisibility cloak to hide you from the locals. With this suit, you travel to the space laboratory of Dr. Farnstein, a future genius who has created advanced artificial intelligence. Once you have assembled all the evidence, you must pursue the culprits to an alien world to retrieve the artifacts. You then present the evidence, acquit your future self, and bring the true culprits to justice.

The Cat Lady

This is a gory horror adventure game not for the faint hearted from designer R. Michalski, the creator of successful adventure game Downfall. A gripping story, pumping soundtrack, high-resolution artwork and voice acting will engross you on your journey through this strange and often terrifying world, it's an adventure not to be missed! Susan Ashworth, known in her neighbourhood as the crazy Cat Lady, is a lonely 40-year old on the verge of suicide. She has no family, no friends and no hope for a better future. One day she discovers that five strangers will come along and change everything… But those five, "The Parasites", are also the most ruthless, deranged and cold-blooded bunch of psychopats the city has ever known. They will stop at nothing to hurt Susan. Unless, she hurts them first. She has little faith in others and hardly even cares about herself. She can't fight and has never fired a gun in her life. But she's hanging onto that thin thread of hope, that in the end, as promised, there's an ilusive reward waiting for her. Something worth trying for. Something that'll help her find an unlikely friend. Something that'll give her life a purpose. Susan's journey takes her on a rollercoaster ride between the world of the living and the world of the dead, where the only way to survive is to overcome her biggest weakness: her own self.

Danganronpa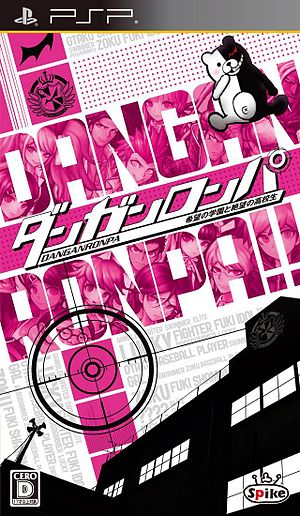 The series revolves around the elite high school, Hope's Peak Academy which, every year, selects several "Ultimate" students, talented high school students who are in the top of their field, along with one average "Ultimate Lucky Student" who is chosen by lottery.
There, a sadistic remote-controlled teddy bear by the name of Monokuma announces that the students will be forced to live in the school forever,unless murder another student and get away with it. When a crime scene is discovered, a "class trial" is held, in which the remaining students must discuss amongst themselves who the murderer is. If they can successfully figure out who murdered the victim, the culprit alone will be executed. However, if they guess incorrectly, the culprit will be able to leave the school and everyone else will be executed.
1) Dangan Ronpa
2) L. A. Noire
3) Gemini Rue
4) The Longest Journey
5) The Cat Lady
You gotta play Dangan Ronpa!
I enjoy playing adventure games on handheld systems- PS VITA, Nintendo DS and ipad mini.
7 - dangan ronpa
5 - la noire
3 - the cat lady
2 - Gemini rue
First choice (Gemini Rue)
Second choice (The Longest Journey )
Third choice (The Cat Lady )
Fourth choice (The Journeyman Project 2: Buried in Time)

7 - LA noire. Amazing facial animation, great atmosphere, setting and music. One of the best main themes I've ever heard.
The Longest Journey.
Duckman: Can you believe it? Five hundred bucks for a parking ticket?
Cornfed Pig: You parked in a handicapped zone.
Duckman: Who cares? Nobody parks there anyway, except for the people who are supposed to park there and, hell, I can outrun them anytime.
7 - Zork: Nemesis
5 - Sherlock Holmes: Case of the Serrated Scalpel
3 - The Journeyman Project 2: Buried in Time
2 - Gemini Rue
PC means personal computer
1. Danganronpa
2. The Longest Journey
3. Gemini Rue
4. Zork Nemesis
7 - Gemini rue
5 - zork
3 - la noire
7 - Danganronpa
5 - Gemini Rue
3 - L.A. Noire
7 - Sherlock Holmes & The Serrated Scalpel
5 - Journeyman Project 2
3 - Zork Nemesis
2 - The Longest Journey
7 - The Longest Journey
5 - Danganronpa
3 - Sherlock Holmes: Case of the Serrated Scalpel
2 - Gemini Rue

(I'd give LA Noire -1000 points if I could. I'm in the minority, but I really didn't like that game.)
1) DanganRonpa
2) GeminiRue
3) LANoire
4) TLJ
5) Sherlock Holmes
1) The Longest Journey
2) Gemini Rue
3) Sherlock Holmes
4) Zork
7- The Longest Journey
Ignorance + Poverty = Crime, Ignorance + Wealth = Corruption, Ignorance + Freedom = Chaos, Ignorance + Authority = Tyranny, Ignorance + Religion = Terrorism
Replace Ignorance with Knowledge:
Knowledge + Poverty = Satisfaction, Knowledge + Wealth = Civilization, Knowledge + Freedom = Creativity, Knowledge + Authority = Justice, Knowledge + Religion = Integrity
Welcome to the Adventure Gamers forums!