Adventure Gamers - Forums
Welcome to Adventure Gamers. Please Sign In or Join Now to post.
Group G - The BAG VS Tournament
**********************************************
Points 7pt 5pt 3pt 2pt 1pt
1. Gabriel Knight 2
:
The Beast Within 203 20 7 6 4 2

************************************************************************************

2. Sanitarium 137 7 9 11 4 2

************************************************************************************

3. Still Life 95 2 7 12 4 2

************************************************************************************

4. Brothers
-
A Tale of Two Sons 81 5 7 2 2 1

************************************************************************************

5. Kings Quest
:
Quest
for
the Crown 68 5 3 0 6 6

************************************************************************************

6. Colonel's Bequest
:
A Laura Bow Mystery 40 0 5 2 3 3

************************************************************************************

7. Star Trek
:
Judgment Rites 35 3 2 0 2 0

************************************************************************************

8. Corpse Party 34 4 0 1 1 1

************************************************************************************

9. Nancy Drew
:
Curse of Blackmoor Manor 14 0 1 1 2 2

************************************************************************************
p61
Vote for up to five games you'd like to see advance to the next round.
First choice (7 points)
Second choice (5 points)
Third choice (3 points)
Fourth choice (2 points)
Fifth choice (1 point)
Voting for this group will end on 24th December at 23:59 GMT. The four games with the most points will advance.
Not sure what this tournament is all about? See the Overview thread here. Join in and have fun!
Gabriel Knight 2: The Beast Within



The Beast Within" is a direct sequel to Sins of the Fathers, the first in the "supernatural mystery" adventure series that tells us the story of a bookstore owner and writer Gabriel Knight, the last offspring of generations of "Schattenjaegers" (shadowhunters), whose task is to fight the evil forces that abound in the world. After leaving New Orleans, Gabriel moves to the Ritter Castle in Bavaria, Germany, his family heritage. One day, a group of peasants approach the castle, and the elder tells you about a terrible death of a little girl, who was killed by a vicious wolf. Suspecting the wolf could be a supernatural creature, the peasant asks you, the Schattenjaeger, to purge the evil. The investigation brings Gabriel and his assistant Grace Nakimura to the mysterious Hunter Society and to Bavaria's dark past. "The Beast Within" utilizes a cast of live actors and full-motion video technology: the actors are filmed over photorealistic images of Munich and its surroundings, and nearly every interaction with the environment leads to a FMV sequence. However, unlike most "interactive movies" that were popular in this era, "The Beast Within" is a full-fledged adventure game, with a lot of dialogues, detective work to do, and puzzles to solve.

Still Life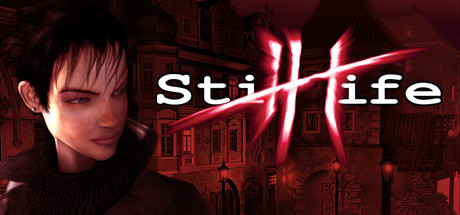 Two separate murder cases, in two separate lifetimes - so alike… so similar in the smallest of details that one could believe they were performed by the same person. One of the crimes took place 75 years ago, while the other just happened. Is someone copying an old serial killer .. or is it remotely possible that the same murderer is still alive and committing more crimes? Victoria McPherson is an FBI agent investigator based in Chicago. While visiting her father and talking about their family, they discuss her grandfather, former P.I. Gustav McPherson (from Post Mortem). Finding Gus' diary in an old attic trunk, she picks it up and begins to read. In this point and click mystery adventure, you'll play both Victoria in modern Chicago as well as her grandfather, Gus, in Prague in the 1920s. Meet and talk with over 20 characters, explore Chicago and Prague and solve puzzles while investigating in two time periods. The game is rich in detailed characters; has gameplay rooted in real life logic, but with a story that twists its way into the classics; cinematics among the best of any game. This game has some related characters to Post Mortem but is not a direct sequel.

Sanitarium

Doubtless one of the very best "serious" adventure games ever made. In this psychological rollercoaster ride, you find yourself a patient in a strange sanitarium, with no memory of who you are. Slowly but surely, as the game progresses, you gather clues and insights into the past that give you the whole picture. Each new chapter represents another step in Max's search for his sanity. The game uses a bird's-eye view perspective and a non-tiled 2D navigational system. Each world and setting carries a distinct atmosphere that presents either the real world, the imaginary world, or a mix of both of the main protagonist. In many cases, it is unclear to the player if the world the character is currently in is real or a product of Max's own imagination. This indistinction underlines much of the horror portrayed in the game. A true classic, and must-have for every adventure gamer, especially fans of psychological thrillers.
Star Trek: Judgment Rites

Sequel to the award-winning Star Trek: 25th Anniversary, Judgment Rites brings back the entire Enterprise crew in 8 all new episodes. Strange things are happening in distant space, such as dead planets spawning life and WW1 planes in outer space. You need to survive these situations. You must navigate your way through space, and send away teams onto planets to investigate situations, communicate with other characters and solve puzzles. Unlike the previous game, action sequences are optional. It's an even better and longer sequel to 25th Anniversary. Although gameplay remains the same, the plot this time is more complex and puzzles more difficult, which means that "optimal" solution is less obvious. Unfortunately, frustrating combat is also back, and dialogues are tedious at times. It's still a great game worthy of every adventurer's collection.

Kings Quest: Quest for the Crown



This is one of the most important games in terms of impact on the adventure game genre. It was the first adventure game where you directly controlled the main character and defined the adventure genre for the next decade. The story and the general design of the game was developed by Roberta Williams. In King's Quest, you play Sir Graham, a brave knight who is sent on a quest to retrieve three treasures that were stolen by deception and stealth: a shield that protects its bearer from invaders, a mirror that foretells the future, and a treasure chest that is forever filled with gold. If Graham takes these treasures back to the royal castle, then the ailing King Edward the Benevolent will hand over the crown. During his travels, Graham will meet characters that will either help or hinder him. You perform actions by entering commands into the game. Some of the puzzles in the game rely on fairy tales, and a good knowledge of them is needed to complete them. King's Quest managed to revolutionize adventure games and its descendants would completely replace text adventures in a few years' time. It was also the first Sierra Entertainment game to use the Adventure Game Interpreter (AGI) engine. The game sold over 500,000 copies on all platforms, a huge amount considering how small the computer market was compared to today.

Colonel's Bequest: A Laura Bow Mystery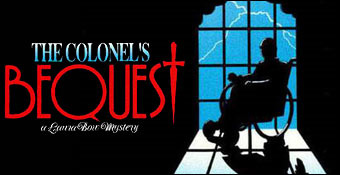 This first game in the Laura Bow series created by Roberta Williams using SCI0. It uses 4-bit color (16 colors) and a typing interface. It's set in the 1920s, which gives the game a unique, Art Deco style. Laura Bow, a Tulane University student, is invited by her friend Lillian to spend a weekend at the decaying sugar plantation of Colonel Dijon. When the reclusive, childless Colonel gathers his quarrelsome relatives for a reading of his will, tensions explode and the bickering leads to murder. Laura remains stranded on the island surrounded by suspects and potential victims in a classical Agatha Christie manner. The game will be finished no matter how Laura solves the puzzles and time advances by a quarter-hour when new plot elements are witnessed. This is the only Sierra game which is more character-driven than puzzle-driven. Although solving puzzles is crucial for obtaining a high score, discovering information about the characters' backgrounds and their relationships with each other is more important to the game. It features two different endings, a right one and a wrong one, based on your final action. The game closes with a detective rating, dependant on how much of the mystery you actually solved.

Nancy Drew: Curse Of Blackmoor Manor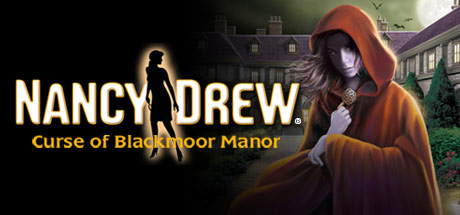 This interactive mystery-adventure game lets players become teenage super-sleuth Nancy Drew as she travels to an English manor to solve a mystery rooted in the 14th century. Nancy Drew packs her bags for Blackmoor Manor, the estate of the Penvellyn family, to visit her neighbor's recently married daughter Linda who refuses to let anyone see her. Nancy agrees to visit in an effort to discover the truth behind Linda's mysterious malady. The Penvellyns are an old, eclectic family with a long history of fascinating ancestors along with more recent additions include: Jane, the youngest member of the current Penvellyn household, is a precocious 'tween girl (the youngest character to appear in a Nancy Drew game to date). There's also the new bride, who hides behind a bed curtain and refuses to be seen. In addition, Loulou the parrot makes an appearance. This is the first english setting for a Nancy Drew game and has twenty plus hours of sleuthing in expansive outdoor environments. New puzzles are based on heraldry, astronomy, and alchemy.

Brothers: A Tale of Two Sons

A man, clinging to life. His two sons, desperate to cure their ailing father, are left with but one option. They must set out upon a journey to find and bring back the Water of Life as they come to rely on one another to survive. One must be strong where the other is weak, brave where the other is fearful, they must be… Brothers. This is a story-driven adventure made with Unreal Engine 3.

Corpse Party

This PC-98 horror adventure game is about a group of high school friends in Kisaragi Academy which was built on the grounds of Tenshin Elementary School, where the murders of others trapped before them have continued unabated.
1) Corpse Party
2) Gabriel Knight 2: The Beast Within
3) Still Life
4) Sanitarium
5) Brothers - A Tale of Two Sons
If U haven't played Corpse Party, you need to!
I enjoy playing adventure games on handheld systems- PS VITA, Nintendo DS and ipad mini.
7 - corpse party
5 - sanitarium
3 - gabriel knight 2
2 - kings quest
First choice (Kings Quest: Quest for the Crown)
Second choice (Colonel's Bequest: A Laura Bow Mystery)
Third choice (Sanitarium)
Fourth choice (Still Life)
Fifth choice (Gabriel Knight 2: The Beast Within)
First choice - Kings Quest: Quest for the Crown)
Second choice - Gabriel Knight 2: The Beast Within.
Duckman: Can you believe it? Five hundred bucks for a parking ticket?
Cornfed Pig: You parked in a handicapped zone.
Duckman: Who cares? Nobody parks there anyway, except for the people who are supposed to park there and, hell, I can outrun them anytime.
7 - Kings Quest: Quest for the Crown
5 - Colonel's Bequest: A Laura Bow Mystery
3 - Gabriel Knight 2: The Beast Within
2 - Sanitarium
PC means personal computer
7 - kings quest
5 - colonels bequest
3 - sanatarium
2 - judgement rites
1 - Gabriel Knight
7 - Corpse Party
5 - Brothers - A Tale of Two Sons
7 - Star Trek: Judgement Rites
7 - Gabriel Knight 2: The Beast Within
5 - Star Trek: Judgment Rites
3 - Colonel's Bequest: A Laura Bow Mystery
2 - Corpse Party
1 - Sanitarium

Toughest group of the tourney.
1) Brothers
2) Sanitarium
3) GK2
4) StillLife
5) KingsQuest
7 - Sanitarium
5 - GK2
3 - Still Life

7- Gabriel Knight 2
5- Brothers
3- Still Life
Ignorance + Poverty = Crime, Ignorance + Wealth = Corruption, Ignorance + Freedom = Chaos, Ignorance + Authority = Tyranny, Ignorance + Religion = Terrorism
Replace Ignorance with Knowledge:
Knowledge + Poverty = Satisfaction, Knowledge + Wealth = Civilization, Knowledge + Freedom = Creativity, Knowledge + Authority = Justice, Knowledge + Religion = Integrity
7 - Brothers A Tale of Two Sons
5 - Sanitarium
3 - Gabriel Knight 2
2 - Still Life
1 - Colonel's Bequest
I had so much with Sanitarium when I played it for the first time last year.
Welcome to the Adventure Gamers forums!