Adventure Gamers - Forums
Welcome to Adventure Gamers. Please Sign In or Join Now to post.
Group B - The BAG VS Tournament
**********************************************
Points 7pt 5pt 3pt 2pt 1pt
1. The Curse of Monkey Island 235 22 11 6 3 2

************************************************************************************

2. Indiana Jones
and
the Fate of Atlantis 198 12 16 10 2 0

************************************************************************************

3. Quest
for
Glory IV
:
Shadows of Darkness 100 6 6 7 3 1

************************************************************************************

4. Shadow of Destiny
(
aka Shadow of Memories
)
64 5 3 2 4 0

************************************************************************************

5. Valiant Hearts
:
The Great War 54 2 4 3 4 3

************************************************************************************

6. Titanic
:
Adventure Out Of Time 51 3 3 3 2 2

************************************************************************************

7. Ripley's BioN
!:
The Riddle of Master Lu 31 0 2 5 1 4

************************************************************************************

8. In Memoriam
(
aka MISSING
:
Since January
)
13 0 1 1 2 1

************************************************************************************
p54
Vote for up to five games you'd like to see advance to the next round.
First choice (7 points)
Second choice (5 points)
Third choice (3 points)
Fourth choice (2 points)
Fifth choice (1 point)
Voting for this group will end on 24th December at 23:59 GMT. The four games with the most points will advance.
Not sure what this tournament is all about? See the Overview thread here. Join in and have fun!
Indiana Jones and the Fate of Atlantis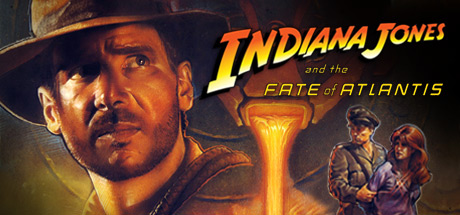 Indiana Jones is back! The great archaeologist and adventurer has to solve a grand mystery once again, aided by his trusty whip, his sharp wit, and his courage. Gathering clues from all over the world, Indy and Sophia embark on their greatest journey. "Fate of Atlantis" is not a movie spin-off, but an independent adventure with a brand new story. The gameplay utilizes LucasArts' famous SCUMM system, with action verbs the player chooses from a menu; the objects that can be interacted with are highlighted. The game contains many puzzles of various kinds (mostly inventory-based) and dialogues with multiple choices. There are also a couple of hand-to-hand fights against the Nazis. The middle part of the game can be played in three "modes": co-operation (Indy and Sophia), adventure (Indy alone), and action (Indy alone, with less puzzles and more action). In each mode there are different locations to visit, different puzzles to solve, and different characters to meet. One of the best adventure games ever made and highly recommended for everyone.
Quest for Glory IV: Shadows of Darkness

This is an adventure game/role-playing game hybrid and the fourth installment in the series. Drawn without warning from victory in Tarna, the Hero arrives without equipment or explanation in the middle of the hazardous Dark Caves in the distant land of Mordavia. Upon escaping from the closing cave mouth, he meets a mysterious young woman named Katrina who assists him again several times in his journey. He encounters several old foes, including the not-quite-dead Ad Avis and the ogress Baba Yaga, and makes several bizarre new allies. It's easily the darkest of the game series with its dark cult and numerous undead and Lovecraftian monsters. This was also the first game in the series to feature voice actors, and John Rhys-Davies provided the voice for the narrator.

The Curse of Monkey Island

This is the third game in the Monkey Island series of popular comical computer adventure games released 6 long years after the previous game. It's the twelfth and last game to use the SCUMM engine, which was extensively upgraded for its last outing before being replaced by the GrimE engine for the next game in the series, Escape from Monkey Island. It's the first Monkey Island game to be voiced, and has a graphic style more cartoon-ish than the earlier games. After the vague and surrealistic ending of Monkey Island 2, Guybrush Threepwood is inexplicably found on the sea, after an undefined adventure he had, and his escape from the Big Whoop where he was trapped for an undisclosed period of time. He eventually approaches Plunder Island and and is startled to find that he has drifted right into the middle of a raging ocean battle between the demon pirate LeChuck and Elaine, his lost love! But unfortunately before he can join her, LeChuck captures him and here we go again, off on another "rollicking tale of swashbuckling adventure with dull blade and rapier wit"!

In Memoriam (aka MISSING: Since January)

Jack Lorski, a journalist, and his girlfriend Karen Gijman have gone missing while investigating a serial killer. The only clue to their whereabouts is a CD-ROM made by somebody calling themselves the PHOENIX. Can you de-code the CD and find Jack and Karen before it's too late? The game is a series of challenging puzzle games that must be completed to progress through the clues and reveal the rest of the story. Some of the games stand alone, some require internet access to research the solutions, and a few of the puzzles require e-mail help from other game characters.
Shadow of Destiny (aka Shadow of Memories)

A young man named Eike Kusch strolls through the quiet patriarchal German town Lebensbaum. Suddenly, a tremendous blow darkens the sight of his eyes, and the next thing he can see is a very strange room filled with bizarre objects, and a voice talking to him from nowhere. "Who are you?" - asks Eike - "Perhaps the Satan himself? And where am I? Am I dead?". "You are dead, indeed", - answers the mysterious voice. - "But you can prevent it. Destiny can be changed, you know". And with this, the voice disappears, leaving Eike in the strange room with a mysterious time-traveling device. Eike doesn't quite understand what's going on. He knows one thing: in order to survive, he has to change the past, to make it impossible for the murderer to kill him. And so, the battle for survival begins. The murderer will find many ways to kill Eike, and in order to prevent this, Eike will have to travel thirty years ago, to the beginning of the 20th century, and to the Middle Ages. But the connections between the past and the present are stronger than Eike thinks. With no guidance but the mysterious voice, Eike has to explore Lebensbaum in various time periods, and solve the mystery. This is a pure adventure game. There are no action elements in the game, but each chapter has a time limit, during which Eike has to find a way to prevent the murderer from killing him.

Ripley's Believe it or Not!: The Riddle of Master Lu

The remarkable world of Robert Ripley, adventurer and famed collector of the bizarre, is brought to life in this 1930's-period graphic adventure. You are thrust into the year 1936, the planet is on the brink of a world war. A talisman of enormous power, the Imperial Seal of the First Emperor of China, becomes the focus of a plot to rule the world. Now it's up to you, Ripley, and his companion Mei Chen to stop the seal from falling into the wrong hands. But time is running out. An incredible true-life mystery, live video characters, spectacular graphics, dynamic sound, and advanced gameplay merge together to deliver staggering realism like never before. Outwit an evil nemesis and search the globe for clues to unlock a 2,000 year old mystery. A richly textured soundtrack evokes the mood and romance of the 1930's. Unique cinematic techniques create emotional character interaction. You get to explore over 200 authentic and historically accurate environments.

Titanic: Adventure Out Of Time

A British secret agent is sent on board the HMS Titanic on her maiden voyage in 1912 for a top secret mission. He is to receive his instructions from a contact on board the ship and has been ordered not to leave his cabin until then. Finally, on the evening of 14th April, 4 days after leaving Southampton, British agent Penny Pringle, his contact, arrives and orders him to watch a shady German diplomat. While there, he meets up with an old friend, Lady Georgia Lambeth, and helps her get away from her drunken, bankrupt husband Lord Charles Lambeth, uncovers a scandalous secret about one of the ships financers, and discovers that the steel used to construct the ship is not as safe as everyone thought. Then, the Titanic collides with an iceberg and starts to sink rapidly. Will you survive? Will you complete your mission? If you do, you could prevent Hitlers rise to power, World War I, even the Bolshevik Revolution.

Valiant Hearts: The Great War

This is the story of 5 crossed destinies and a broken love in a world torn apart. All of them will try to survive the horror of the trenches following their faithful canine companion. The lives of all these characters are inextricably drawn together over the course of the game. Friendship, love, sacrifice and tragedy befall each one as they help each other to retain their humanity against the horrors of war. War may be hell, but this unique WWI-themed side-scrolling adventure brings out the best of its dramatic potential. Set in a rich historical period that's rarely explored in games, varied gameplay relies on logic, pattern recognition, and stealth rather than reflexes, great co-op puzzles involving dog/person teamwork, touching story with a powerful, tearjerker ending.
7 - Curse of Monkey Island
5 - Quest for Glory IV
3 - Indie
CMI is battling Grim Fandango for the nr 1 spot in my personal top, so it's a no brainer. Even though it's an Ahern not a Schafer, it's everything an adventure game should be.
QFG is one of the few Sierra adventures I've played and replayed extensively. Weird, but fun, especially silly if you're from Transylvania.
And, well, Indie is Indie.
7 - quest for glory 4
5 - shadow of destiny
First choice (The Curse of Monkey Island)
Second choice (Quest for Glory IV: Shadows of Darkness)
Third choice (Indiana Jones and the Fate of Atlantis)
Fourth choice (Valiant Hearts: The Great War)
Fifth choice (Ripley's BioN!: The Riddle of Master Lu)
1 The Curse of Monkey Island.
2 Indy - Fate of Atlantis.
3 QfG4.
Duckman: Can you believe it? Five hundred bucks for a parking ticket?
Cornfed Pig: You parked in a handicapped zone.
Duckman: Who cares? Nobody parks there anyway, except for the people who are supposed to park there and, hell, I can outrun them anytime.
7 - QFG IV
5 - CMI
3 - FoA
2 - Ripley
7 - Quest for Glory IV: Shadows of Darkness
5 - Indiana Jones and the Fate of Atlantis
3 - Ripley's BioN!: The Riddle of Master Lu
2 - The Curse of Monkey Island
1 - Titanic: Adventure Out Of Time
PC means personal computer
7 - The Curse of Monkey Island
5 - Indiana Jones and the Fate of Atlantis
3 - In Memoriam / Missing: Since January

CoMI is imo the best AG of all-time, yet it saddens me that that means that I can only give 5 points to Indiana Jones and the Fate of Atlantis which is another of the only 6 games I've ever given a 5/5 rating. FoA is also the game that made me fall in love with the genre…
In Memoriam / Missing Since January was really innovative and was quite fun.
I haven't played the rest, but both Riddle of Master Lu and Shadow of Destiny are pretty high on my list of games to play. Especially Shadow of Destiny since I loved Time Hollow (by the same developer) so much…
Now playing: Blade Runner (post-CPT) | The Witcher: Enhance Edition (on hold) | Danganronpa: Trigger Happy Havoc (on hold) | Professor Layton and the Azran Legacy (3DS)
Recently finished: Whispers of a Machine (CPT) - 4/5 | Beneath a Steel Sky (CPT) - 3/5 | 3 in Three - 3.5/5 | Puzzle Gallery: At the Carnival - 2.5/5 | The Fool's Errand (replay) - 3.5/5 | The Dig (replay) - 4.5/5 | Return of the Obra Dinn (CPT) - 4/5 | Beavis and Butt-Head in Virtual Stupidity - 3.5/5 | League of Light: The Game (CCPT) - 3/5 | realMyst: Masterpiece Edition - 2.5/5 | Contradiction - 3/5 | Tex Murphy: Mean Streets - 2/5 | The Last Express - 3.5/5 | South Park: The Fractured But Whole - 4/5 | Indiana Jones and the Fate of Atlantis (replay, CPT) - 5/5
1. Quest for Glory IV
2. Indiana Jones and the Fate of Atlantis
3. The Curse of Monkey Island
4. Valiant Hearts: The Great War
7 - The Curse of Monkey Island
5 - Indiana Jones and the Fate of Atlantis
7 - Titanic: Adventures Out of Time
Not only did I fall off the diet wagon, I dragged it into the woods, set it on fire, and used the insurance money to buy cupcakes.
7 - Quest for Glory IV
5 - Riddle of Master Lu
3 - Indy Fate of Atlantis
2 - Titanic Adventure out of Time
1 - Curse of Monkey Island
7 - Quest for Glory IV
5 - Shadow of Destiny
3 - Indiana Jones and the Fate of Atlantis
2 - The Curse of Monkey Island

I've also played Ripley's, but didn't think it was a good game and don't think it deserves a point.
1) Shadow of Destiny
2) Curse of Monkey Island
3)QFG4
4)IndianaJones
5)ValiantHearts
7 - The Curse of Monkey Island
5 - Valiant Hearts
3 - Indiana Jones ant the Fate of Atlantis
Welcome to the Adventure Gamers forums!