Adventure Gamers - Forums
Welcome to Adventure Gamers. Please Sign In or Join Now to post.
You are here: Home → Forum Home → Gaming → Adventure → Thread
Post Marker Legend:
New posts
No new posts
Adventure Game Scene of the Day — Tuesday 08 July 2014

Stuffed toy bunny Harvey in one of my all-time favorite adventures, Edna & Harvey: The Breakout. Edna's aggressive, talkative anchor and friend, who can telemorph Edna to her memories and help her relearn abilities from her past. Her subconscious, always up to mischief: "Let's burn something!"
There's evil in Harvey, but he's the best sidekick ever.
The best adventure game I've never played.
Recently finished: Four Last Things 4/5, Edna & Harvey: The Breakout 5/5, Chains of Satinav 3,95/5, A Vampyre Story 88, Sam Peters 3/5, Broken Sword 1 4,5/5, Broken Sword 2 4,3/5, Broken Sword 3 85, Broken Sword 5 81, Gray Matter 4/5\nCurrently playing: Broken Sword 4, Keepsake (Let\'s Play), Callahan\'s Crosstime Saloon (post-Community Playthrough)\nLooking forward to: A Playwright's Tale
Great (ocassionally awkward) humo(u)r, I loved it, and the story, puzzles, voice acting were above par. There were quite a few moments when I jumped and exclaimed "WTF!!!," though.
Still have loads of screenshots with funny quotes from E&H somewhere.
I'd try to find that DVD, but…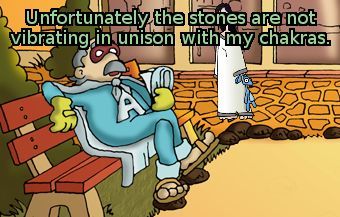 The human race is doomed to progress.
Tony Clifton
I've haven't played either of the Edna & Harvey games yet but just last week picked both of them up very cheap in the GoG 'Flash Sales' so Edna & Harvey here I come!
I must try it too
Shadow Of Nebula is an adventure game set in science fiction world mixed with cyberpunk that tells a story of lonely star courier - Coming soon on steam - http://www.shadowofnebula.com/
Very unique graphics, great voice acting, amazing interactivity with everything, a 50-50 humour (sometimes excellent, sometimes great fail), dialog that gets dragged off in the majority of the situations, mediocre story that comes interesting towards the end and smart riddles. I was very unfair towards it at the beginning, but I came to realize that it's one of the best Daedelic titles.
Oh, and Harvey is IMHO one of the most likable (if not the most likable) character in the game.
My prefect adventure is that opens in a single room but before you find your way out .
My prefect adventure makes run you freely in different locations don't know what to do or where to start .
It takes you suddenly out of this area of locations to another with as much interactions, to find yourself you still within that enormous place you have left.
It has all sort of puzzles, inventory , dialogue , Myst/Riven places orientation puzzles, syberia mechnical ones , mini games that never separated from the game story and immersion .
Every click has a response and every inventory interaction is acceptable even if a silly answer is the result .
Every spot is a hot spot.
10s of unforgettable characters/Npcs with 100s of different interactions and responses out of them.
The minimum artwork would do, 2d is enough, great music is a must and voice acting should be acceptable just great.
Yup ! this is my perfect adventure .
There no way this game is not at the top 100, No! there no way that this game is not at the top 10, there no way that this game is not at the top 5.
or at a Shorter Version: this game is not less than DoTT or Space QuestIV by anychance.
there no way that this game is not at the top 5.
You overdid it. As usual.
this game is not less than DoTT… by anychance.


You're out of your mind. As usual.
The human race is doomed to progress.
Tony Clifton
yea right, because it not old enough, and not much nostalgia for it, you guys don't know the good thing even if stares at you .
We agree that we don't agree.
The human race is doomed to progress.
Tony Clifton
Don't read this if you haven't played the game

The game is written quite good when it comes to the Harvey character, he is nothing but the sick mind of Edna, from the game start to the end , Edna wouldn't have committed anything bad from the escaping to the killings without her sick mind (Harvey) telling her or encouraging her to do so.
Edna and Harvey the breakout stands out as the same as many great movies with sick twists at the end that I always loved , Fight Club, Angel Heart, Usual Suspects..etc , were you get to know the truth at the final scene but when you repeat them you find the director leaving a lot of crumbs of bread along the way, and they get more, the more you repeat them.
I loved at the end and how Enda started to woke up of her sickness when Harvey wanted to ruin her dads image . Even with her sick mind always beside her, she would not give up on her dad, and also how Harvey gave up on her so easily when she confronted him by why is he trying to ruin her father image; she stood up for something good in her ALL lost memory!! ,the paradox was more complicated than ever, she either believe her sick mind or believe in what she had always believed in .. a great ending, sadly it doesn't resolve anything but that only happens at fairy tales and Edna and Harvey The breakout is no fairy tale.
Such a great game, though I know that most who tried to play get really annoyed and pushed away by the characters and the artwork look. .. but try to look at this way; a retro game in modern way that you will accept it more than just fine.
Welcome to the Adventure Gamers forums!