Adventure Gamers - Forums
Welcome to Adventure Gamers. Please Sign In or Join Now to post.
You are here: Home → Forum Home → Gaming → Adventure → Thread
Post Marker Legend:
New posts
No new posts
Currently online
Adventure Game Scene of the Day — Sunday 30 March 2014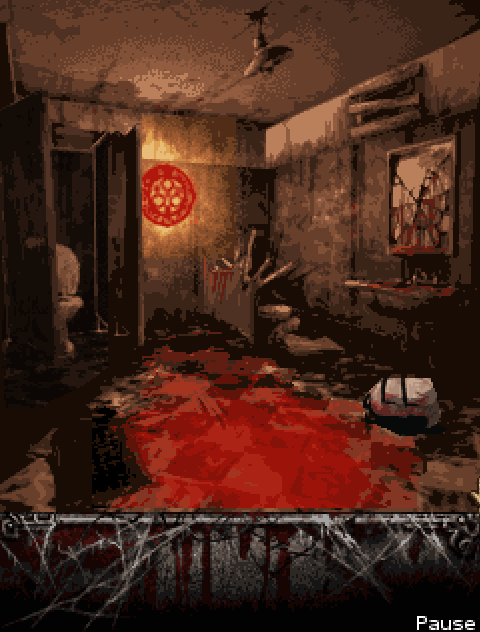 While Silent Hill: Shattered Memories is the one Silent Hill game that seems to get a nod on adventure game sites, the chase sequences are still rather intense in the action department. There are other games in the series that aren't quite as extreme such as Silent Hill: Play Novel which is just a visual novel (Japanese only, but with a partial fansub), or mobile games such as Silent Hill: Orphan (2007) (a.k.a. Silent Hill Mobile) which are closer to the typical adventure game.
Gameplay is pretty much like any other Silent Hill game in that you wander around exploring the environment for clues about the story and to find inventory items for generally simple puzzles, except in this game it utilizes static first person screens and the story plays out purely in text. There is some "combat", but it is no more challenging than any mini-game in a standard adventure and happens maybe 5 times throughout the entire game. They are over with in maybe 10 seconds and easier than the sections in Mean Streets or Rise of the Dragon for instance and definitely not like the crap you'll find in Manhunter: New York or, say Operation Stealth.
Anyway, a Silent Hill game just wouldn't be a Silent Hill game without something horrid or bizarre happening in a dirty bathroom or someplace similar and the above shot doesn't disappoint…
I only played Silent Hill 2 from the series, that is probably one of my favourite games ever, which makes it strange that I never played the others, but I doubt they would live up to it.
The puzzles on hard are really, well, hard, and setting the combat to easy makes it pretty light on the combat/survival horror aspect.
I've played 11 of the 15(?) Silent Hill games and SH2 is definitely my favorite so you've already played the best game in my opinion. Did you manage to unlock extra riddle mode in SH2? If you think the puzzles are challenging on Hard, you haven't seen anything until you've tried that. My brain still hurts from the coin puzzle in that mode.
It's been a few years since I played it but can't remember any extra riddle mode, so I probably didn't unlock it. I do remember going straight for hard puzzle mode thinking "it's an action game, how bad can it be?" and then being stumped a few times…
Welcome to the Adventure Gamers forums!