Adventure Gamers - Forums
Welcome to Adventure Gamers. Please Sign In or Join Now to post.
You are here: Home → Forum Home → Gaming → Adventure → Thread
Post Marker Legend:
New posts
No new posts
Currently online
Adventure Game Scene of the Day — Saturday 15 March 2014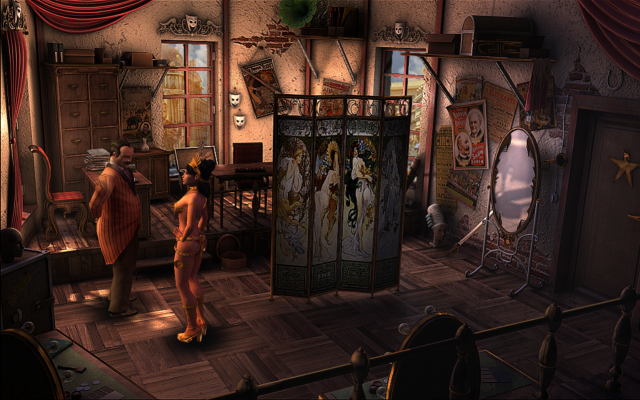 The thing I remember most about Mata Hari (2008) is that it had a bunch of mini-games, one of which involved dancing. I don't seem to recall much else though, so it couldn't have been a very exciting game.
I have to say that with all those theater masks hanging on the walls and her being a stripper, I kind of expected to see a Motley Crue poster somewhere.
There was actually some very good ideas in the game, like that you could have ideas and topics that could be used like inventory objects, and the story also wasn't bad.
The main problem was all those stupid mini-games, especially a repeated mini-game whenever you had to travel by train, which you constantly had to do.
You have to play the game, to find out why you are playing the game! - eXistenZ
Welcome to the Adventure Gamers forums!