Adventure Gamers - Forums
Welcome to Adventure Gamers. Please Sign In or Join Now to post.
You are here: Home → Forum Home → Gaming → Adventure → Thread
Post Marker Legend:
New posts
No new posts
Currently online
Adventure Game Scene of the Day — Sunday 9 March 2014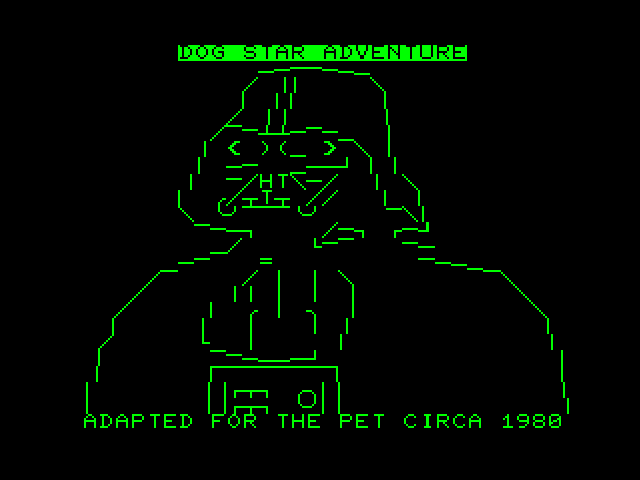 I'm going about as old school as it gets here with Dog Star Adventure (1979)*, a text adventure that takes place in the Star Wars Universe, although all the appropriate names were changed for the commercial releases for obvious copyright reasons. You play the role of a McDonald's cheeseburger loving droid that has to help repair the Millennium Falcon in order to rescue Princess Leia who has been captured by Darth Vader and Co.
Its source code was released in the May 1979 issue of SoftSide Magazine, it has a two word parser with a mere 21 verbs, and random Stormtrooper encounters can spell doom for your adventure due to limited ammo. It's a very short and primitive game, but what can you expect from something made 35 years ago for a computer with only 16k of RAM?
I don't know how many of you are old enough to remember, but you would buy magazines like the above and actually type the code into your computer yourself in order to play the game. This really sucked if you didn't have a tape drive to make a backup to. I remember spending a couple hours typing to play tiny 10 minute games back then and turning my computer off and losing it all. Talk about desperation…
*As is obvious, the screenshot is from the 1980 Commodore Pet version.
That's really interesting, Bastich. I'm not nearly old enough for anything of the sort, but I remember tales from others about typing in video games from magazines and it's certainly not something I feel like I've missed out on.
Well I am old enough
, and I do remember typing in codes on my trusty old ZX Spectrum, fortunately I did have a tape drive, so I didn't have to worry about loosing anything, but typos was a bit of a problem, especially when it turned out it was not my typo, but a typo in the magazine
You have to play the game, to find out why you are playing the game! - eXistenZ
Was before my time as well (hours of typing combined with the possible typos… I'd call that dedication, even if fueled by desperation), but my first "programming" experience was typing in the code for a lightning animation from some sort of manual or magazine like that, into my uncles Atari. Glorious!
He also told me how back in the day, there'd been tech-related radio broadcasts over here, which apart from regular talk and music, included sequences of (seemingly) random staticky sounds. These were actual programs (sometimes games), which you'd record onto tape cassettes and load into the computers. Radio broadcast file-sharing at it's best.
This was apparently quite a tense experience, with so many factors that could cause the recording to screw up (signal quality, interference, shoddy electrical installations, the fridge spazzing out during the recording etc. ;P). I kinda wish I was around for that (sometimes).
Here's an example of those broadcasts, with the first few squeeky seconds of the game "Feud" at the very end.
Welcome to the Adventure Gamers forums!