Adventure Gamers - Forums
Welcome to Adventure Gamers. Please Sign In or Join Now to post.
You are here: Home → Forum Home → Gaming → Adventure → Thread
Post Marker Legend:
New posts
No new posts
Adventure Game Scene of the Day — Tuesday 11 February 2014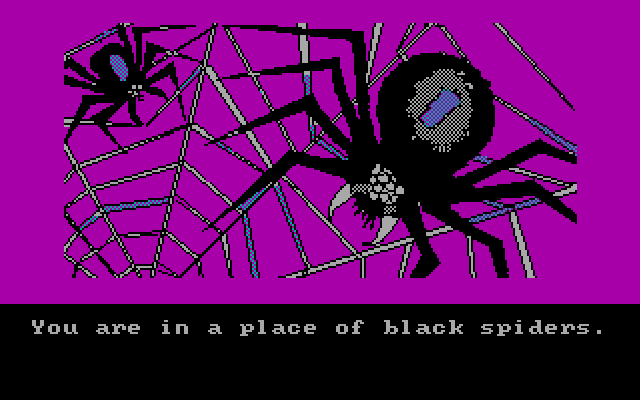 The Hobbit (1982)* is an old real-time text adventure based on a story by some obscure guy named Tolkien featuring creepy spiders and stuff. It was a pretty good game at the time, but it hasn't aged well.
*Screen is from 1983 PC version
Ahhh, my first ever adventure game!
I played this when I was around 5-6 years old or something. I don't think I ever got as far as that screenshot
Duckman: Can you believe it? Five hundred bucks for a parking ticket?
Cornfed Pig: You parked in a handicapped zone.
Duckman: Who cares? Nobody parks there anyway, except for the people who are supposed to park there and, hell, I can outrun them anytime.
Ahhh, my first ever adventure game!
Mine too
I played it on a ZX Spectrum that I had bought with the money I had made from a paper route. At this time I however didn't really know what an adventure games was, what it was all about and my written English wasn't nearly good enough to battle with the text parsers of the time, I however did manage to find a walkthrough in a magazine and finish the game.
At the time the game didn't really meant anything to me, it wasn't until many years later that I fell in love with adventure games. I think the only two reasons I played it was because I had read the book, and I would pretty much play any games for the Spectrum that I could get my hands on.
You have to play the game, to find out why you are playing the game! - eXistenZ
Welcome to the Adventure Gamers forums!