Adventure Gamers - Forums
Welcome to Adventure Gamers. Please Sign In or Join Now to post.
Adventure Game Scene of the Day — Monday 20 January 2014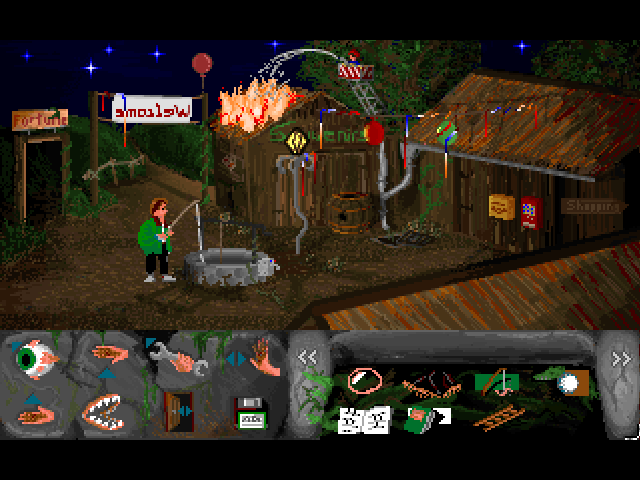 Graphics aren't really all that important to me but something about Escape from Delirium (1995) really rubs me the wrong way. The game is just really ugly to me and I'm not sure why it bothers me because I've played a lot of ugly games before without any issue. The interface is particularly dreadful looking.
Anyway, the story is completely nonsensical and it isn't because of the poor English translation. In fact, you'd be better off just downloading some of the better rated freeware AGS games. Most of them are better than this.
Ugh, I agree with the "ugly" part.
Now playing: Blade Runner (post-CPT) | The Witcher: Enhance Edition (on hold) | Danganronpa: Trigger Happy Havoc (on hold) | Professor Layton and the Azran Legacy (3DS)
Recently finished: Whispers of a Machine (CPT) - 4/5 | Beneath a Steel Sky (CPT) - 3/5 | 3 in Three - 3.5/5 | Puzzle Gallery: At the Carnival - 2.5/5 | The Fool's Errand (replay) - 3.5/5 | The Dig (replay) - 4.5/5 | Return of the Obra Dinn (CPT) - 4/5 | Beavis and Butt-Head in Virtual Stupidity - 3.5/5 | League of Light: The Game (CCPT) - 3/5 | realMyst: Masterpiece Edition - 2.5/5 | Contradiction - 3/5 | Tex Murphy: Mean Streets - 2/5 | The Last Express - 3.5/5 | South Park: The Fractured But Whole - 4/5 | Indiana Jones and the Fate of Atlantis (replay, CPT) - 5/5
Sure, this game brings "ugly" to a whole new level (never reached before).
On the bright side(?), EfD features Saddam Hussein (or his lookalike), whose screenshot has been used in many quizzes.
The human race is doomed to progress.
Tony Clifton
I don't know, I thought the graphics are not without its "charm" - it's like a messy Monkey Island.
On the bright side(?), EfD features Saddam Hussein (or his lookalike), the screenshot of whose have been used in many a quiz.
I thought that "the airplane wing that goes right through the streetlight" is the most iconic EFD image:
and the plane crash.
Recently finished: Four Last Things 4/5, Edna & Harvey: The Breakout 5/5, Chains of Satinav 3,95/5, A Vampyre Story 88, Sam Peters 3/5, Broken Sword 1 4,5/5, Broken Sword 2 4,3/5, Broken Sword 3 85, Broken Sword 5 81, Gray Matter 4/5\nCurrently playing: Broken Sword 4, Keepsake (Let\'s Play), Callahan\'s Crosstime Saloon (post-Community Playthrough)\nLooking forward to: A Playwright's Tale
Welcome to the Adventure Gamers forums!