Adventure Gamers - Forums
Welcome to Adventure Gamers. Please Sign In or Join Now to post.
You are here: Home → Forum Home → Gaming → Adventure → Thread
Post Marker Legend:
New posts
No new posts
Currently online
Adventure Game Scene of the Day — Saturday 4 January 2014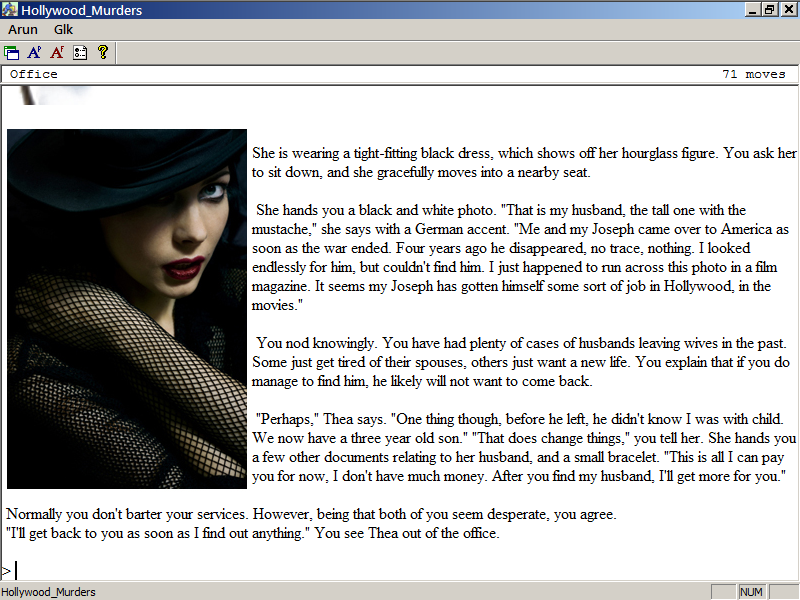 The Hollywood Murders (1997) is a text adventure with graphics by Michael Zerbo. You can read the screenshot to get the basic story premise. It's a game designed for novice players and hence is actually very playable even today. I thought it was a fun, albeit short diversion and is now available for free here.
I'm a fan of IF and there are many, many great ones around, with or without pics. So it's very nice to see some text adventures-with-pics in this thread, but I have to disagree that this particular one is "fun". It's simply awful. Totally linear. A bad parser (try typing "take all" when looking at the contents of a drawer). Hardly anything to do except opening doors, putting on glasses, and guessing what the developer was thinking. Certainly nothing like a real puzzle. The plot sucks. The writing is bland and uninspired.
Sorry.
Welcome to the Adventure Gamers forums!