Adventure Gamers - Forums
Welcome to Adventure Gamers. Please Sign In or Join Now to post.
You are here: Home → Forum Home → Gaming → Adventure → Thread
Post Marker Legend:
New posts
No new posts
Currently online
Adventure Game Scene of the Day — Thursday 2 January 2014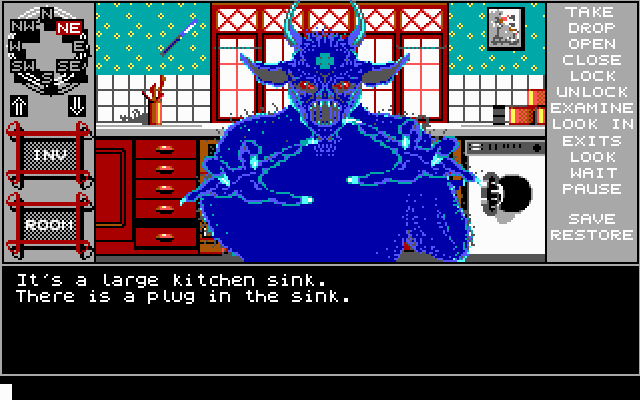 Personal Nightmare (1989) is the first Horrorsoft game, which would be followed by the Elvira games and eventually Waxworks. Unlike those latter games, this game doesn't have any RPG mechanics and is instead a real-time, timed adventure game. What that means is that events occur according to a clock and if you aren't there to see them or interact with them as they happen then you need to start the game over as finishing may become impossible. In traditional 80s fashion, the game won't let you know this though.
Despite that difficulty and some tedious inventory management, the game is kind of fun in its own way if you like horror games. It has some early attempts at depicting the gruesome deaths that would become the norm for their later games.
It's nice how the game focuses on the description of the sink. With this screenshot, I'd expect the more salient description would be to the effect of "holy shit there's a huge blue demon standing right in front of you run run run".
Welcome to the Adventure Gamers forums!