Adventure Gamers - Forums
Welcome to Adventure Gamers. Please Sign In or Join Now to post.
Adventure Game Scene of the Day — Thursday 14 November 2013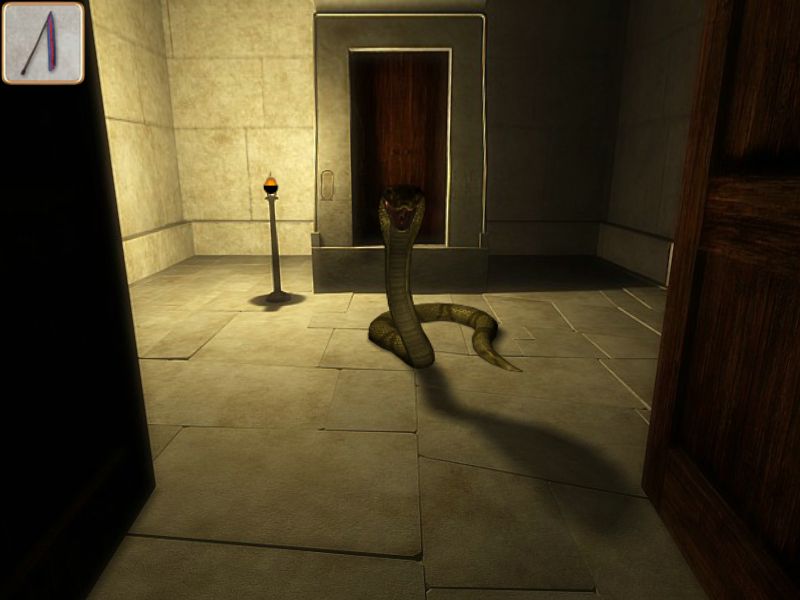 I seem to recall The Egyptian Prophecy (2004) being a halfway decent game at the time, something I can't say for the previous games, particularly the first. Kheops made consistently better games than Cryo overall in my opinion. The above confrontation with the cobra turns into a board game of sorts, which is a nice change of pace that I highly enjoy when it occurs in adventure games.
I quite enjoyed this one.
I'm a sucker for anything with an Egyptian theme. If reincarnation is true I think I know where I came from.
If reincarnation is true I think I know where I came from.
Josh has a thing or two to say about that.

That's a running gag from a hilarious but little known series 'Aaagh! It's the Mr. Hell Show!'
Now playing: Blade Runner (post-CPT) | The Witcher: Enhance Edition (on hold) | Danganronpa: Trigger Happy Havoc (on hold) | Professor Layton and the Azran Legacy (3DS)
Recently finished: Whispers of a Machine (CPT) - 4/5 | Beneath a Steel Sky (CPT) - 3/5 | 3 in Three - 3.5/5 | Puzzle Gallery: At the Carnival - 2.5/5 | The Fool's Errand (replay) - 3.5/5 | The Dig (replay) - 4.5/5 | Return of the Obra Dinn (CPT) - 4/5 | Beavis and Butt-Head in Virtual Stupidity - 3.5/5 | League of Light: The Game (CCPT) - 3/5 | realMyst: Masterpiece Edition - 2.5/5 | Contradiction - 3/5 | Tex Murphy: Mean Streets - 2/5 | The Last Express - 3.5/5 | South Park: The Fractured But Whole - 4/5 | Indiana Jones and the Fate of Atlantis (replay, CPT) - 5/5
Hilarous!
Thanks
I liked this game! I was quite fond of all the Kheops and Cyro games.
Welcome to the Adventure Gamers forums!