Adventure Gamers - Forums
Welcome to Adventure Gamers. Please Sign In or Join Now to post.
You are here: Home → Forum Home → Gaming → Adventure → Thread
Post Marker Legend:
New posts
No new posts
Currently online
Adventure Game Scene of the Day — Sunday 13 October 2013 (NSFW)
WARNING! Graphic imagery follows! Sick Bastich, Inc., shall not be responsible for any damages due to the violent expulsion of stomach contents from viewing the scene below. Proceed with caution!
.
.
.
.
.
.
.
.
.
.
.
.
.
.
.
.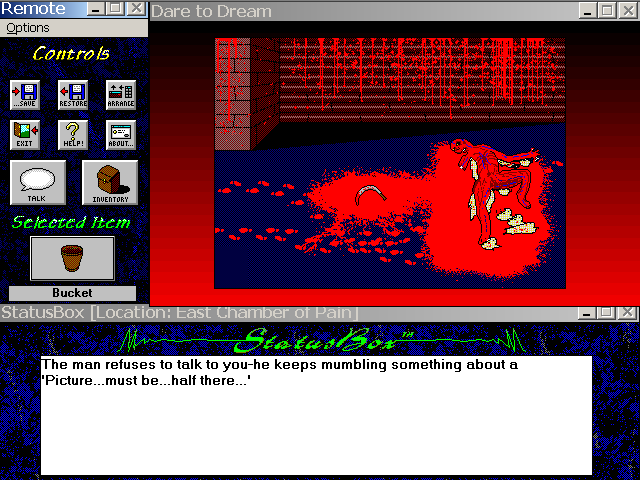 Here we have a skinned man in a puddle of his own blood from Dare to Dream 3: Christian's Lair (1993), a game by Cliff Bleszinski whose career would eventually include the Unreal and Gears of War franchises. It's a good thing his success didn't go to his head, given his humble beginnings. Oh, wait. My bad. It did go to his head and he's now a pompous ass.
It's probably good he moved away from adventure games as his weren't very good. At least this one has some gore…
Cliff Bleszinski's now a pompous ass.
You make it sound like a bad thing.

The human race is doomed to progress.
Tony Clifton
The best thing Bleszinski has ever made is Jazz Jackrabbit. Classic platformer!
Welcome to the Adventure Gamers forums!