Adventure Gamers - Forums
Welcome to Adventure Gamers. Please Sign In or Join Now to post.
You are here: Home → Forum Home → Gaming → Adventure → Thread
Post Marker Legend:
New posts
No new posts
Currently online
Adventure Game Scene of the Day — Wednesday 9 October 2013 (NSFW)
WARNING! Graphic imagery follows! Sick Bastich, Inc., shall not be responsible for any damages due to the violent expulsion of stomach contents from viewing the scene below. Proceed with caution!
.
.
.
.
.
.
.
.
.
.
.
.
.
.
.
.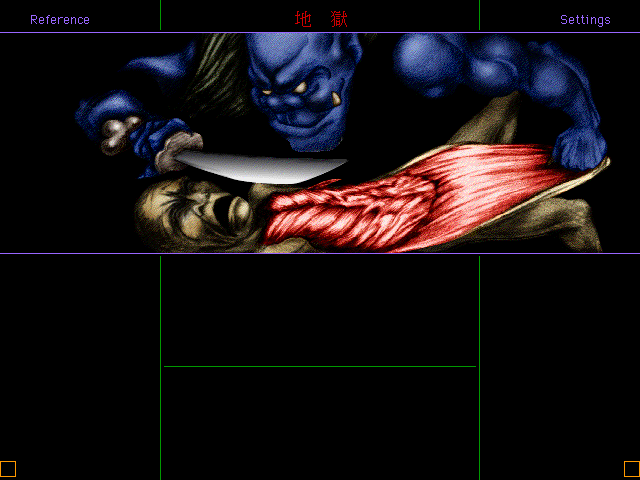 Today's scene is from one of the many hells in Cosmology of Kyoto (1993), a really cool Japanese game and strangely enough, one the very few games that Roger "games can't be art" Ebert liked. You can read his review HERE.
I haven't heard of this game before, but now that I did, I'm impressed. Placed really high in my "next-to-play" list….
..now where could I possibly find it (in English of course) Bastich?...
It's a rare and highly sought after game so you'll have to just keep checking ebay until one eventually pops up. Be prepared for sticker shock. It won't come cheap.
Welcome to the Adventure Gamers forums!