Adventure Gamers - Forums
Welcome to Adventure Gamers. Please Sign In or Join Now to post.
You are here: Home → Forum Home → Gaming → Adventure → Thread
Post Marker Legend:
New posts
No new posts
Adventure Game Scene of the Day — Friday 13 September 2013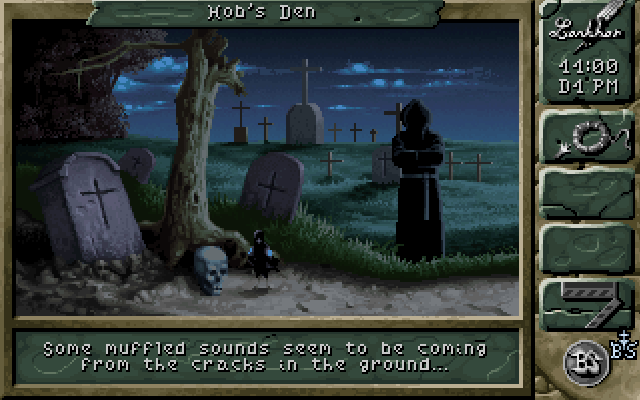 It was right around the time of this game's release that the adventure genre finally started getting its act together. Sadly, this game was on the wrong side of history at that time and has many of the annoyances that I have absolutely no nostalgia for whatsoever. In fact, I think the overwhelming majority of games from the 70s, 80s, and very early 90s sucked. Sure, there were some nice stories, and some memorable characters, but the gameplay itself? Mostly crap. There were exceptions of course, but they don't make the rules…
The game in question is Black Sect (1993). The game has annoying pixel-hunting and is timed, assuring that you will meet many a dead-end. The good news is that someone has remade the game and fixed those issues, so don't let this slam deter you from trying the remake. That said, I didn't particularly think the story was any good either, but I don't really consider my opinions all that valuable and neither should you. On the plus side, it has day/night cycles and a twist ending.
Well at least the title is appropriate for Friday the 13th.
HandsFree (yeah, the same HF that wins the MMFT every year) made a superior remake of this game (no timed gameplay, no dying, no dead ends from the original, smart cursor, more save game slots and even a new music score added).
The human race is doomed to progress.
Tony Clifton
Something about the interface and graphics reminds me of Mortville Manor/Maupiti Island. I think I'll check out the remake, I'm in the mood for a game like this.
Something about the interface and graphics reminds me of Mortville Manor/Maupiti Island.
Probably has to do with the fact that all three were made by Lankhor.
Recently finished: Four Last Things 4/5, Edna & Harvey: The Breakout 5/5, Chains of Satinav 3,95/5, A Vampyre Story 88, Sam Peters 3/5, Broken Sword 1 4,5/5, Broken Sword 2 4,3/5, Broken Sword 3 85, Broken Sword 5 81, Gray Matter 4/5\nCurrently playing: Broken Sword 4, Keepsake (Let\'s Play), Callahan\'s Crosstime Saloon (post-Community Playthrough)\nLooking forward to: A Playwright's Tale
Then I'm surprised by the claim of 'mostly crap' gameplay
Welcome to the Adventure Gamers forums!