Adventure Gamers - Forums
Welcome to Adventure Gamers. Please Sign In or Join Now to post.
You are here: Home → Forum Home → Gaming → Adventure → Thread
Post Marker Legend:
New posts
No new posts
Adventure Game Scene of the Day — Saturday 24 August 2013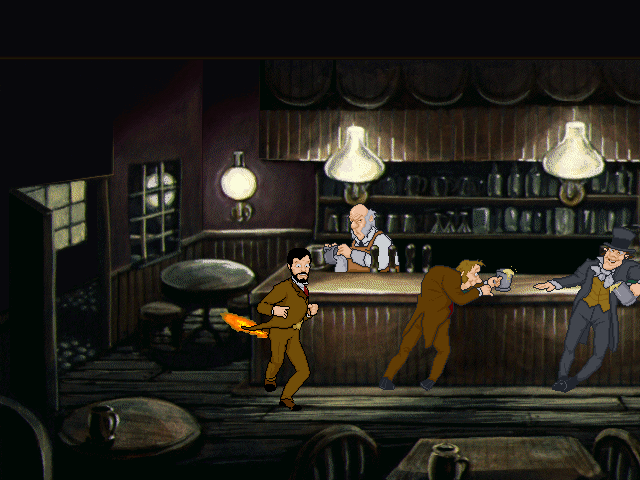 I thought The Gene Machine (1996) was a pretty good game. It's kind of a spoof on the stories of Jules Verne, H.G. Wells, et al., and the English aristocracy. It's not a classic, but definitely worth playing for those that like comedic, cartoon adventure games in my opinion.
The above scene shows the main character's reaction to the pub's special drink for working men, of which he is not…
It look like my style. I've heard of it, but looked into it. I wonder how I can play this.
YouTube: Weird Gaming Adventure
IG: weird_gaming_adventure
I remember struggling to get this game to run many, many years ago. Does it run on win8 in any way?
Duckman: Can you believe it? Five hundred bucks for a parking ticket?
Cornfed Pig: You parked in a handicapped zone.
Duckman: Who cares? Nobody parks there anyway, except for the people who are supposed to park there and, hell, I can outrun them anytime.
The Gene Machine is a DOS game and runs just fine in DOSBox 0.74 (I just checked). Hence, it should work on every platform DOSBox runs on.
Question: Does the drink do that to everyone, or only to people who are not "working men"?
Question: Does the drink do that to everyone, or only to people who are not "working men"?
The game doesn't show anyone else drinking it so I don't know for certain, but the implication seems to be that only "real" men can handle it, so I assume it only affects those who aren't such in that manner. It's described as some sort of fermented cider if I recall correctly.
Welcome to the Adventure Gamers forums!