Adventure Gamers - Forums
Welcome to Adventure Gamers. Please Sign In or Join Now to post.
You are here: Home → Forum Home → Gaming → Adventure → Thread
Post Marker Legend:
New posts
No new posts
Currently online
Adventure Game Scene of the Day — Sunday 18 August 2013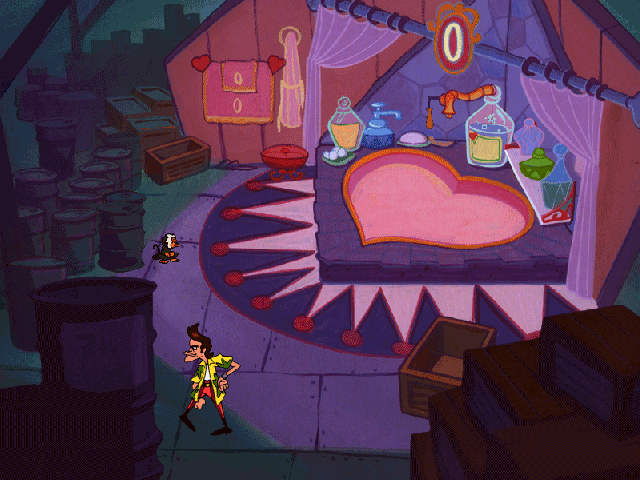 I would have studied harder in evil genius school had I known I would get my own castle and a custom jacuzzi like in Ace Ventura (1996).
Oh my, a 7th Level game! They made some good looking games for their time.
I completely loved this game as a kid. It was amaaaazing back then.
More info? Did it have voice acting? Was it any good?
More info? Did it have voice acting? Was it any good?
Well it had voice acting (not by Jim Carrey of course)
An adventure game is nothing more than a good story set with engaging puzzles that fit seamlessly in with the story and the characters, and looks and sounds beautiful.
Roberta Williams
More info? Did it have voice acting? Was it any good?
I loved this game when it was new. It was released in 1996 and had some of the best graphics I'd seen at the time. The animations are well done, the humor is awesome and the voice acting (despite Ace not being voiced by Jim Carrey) is excellent.
The game is based on the animated show (which in turn was based on the movie) and Ace is voiced by Michael Daingerfield who also did his voice in the animated show. His Jim Carrey/Ace impression is very good and I'm impressed by voice actors who delivers a dynamic performance AND does a great impression at the same time, so not having Jim Carrey on the cast isn't necessarily a con.
As far as gameplay goes, it's your standard inventory based puzzle fare, and there's some minigames here and there. The difficulty is easy on average, but there are a couple tricky puzzles, especially one near the end springs to mind. I replayed it a couple years ago, and though it's not as good as I remembered it, I'd still say it's worth playing if you're into comedy/cartoon adventures.
Duckman: Can you believe it? Five hundred bucks for a parking ticket?
Cornfed Pig: You parked in a handicapped zone.
Duckman: Who cares? Nobody parks there anyway, except for the people who are supposed to park there and, hell, I can outrun them anytime.
Welcome to the Adventure Gamers forums!