Adventure Gamers - Forums
Welcome to Adventure Gamers. Please Sign In or Join Now to post.
You are here: Home → Forum Home → Gaming → Adventure → Thread
Post Marker Legend:
New posts
No new posts
Currently online
Adventure Game Scene of the Day — Tuesday 06 August 2013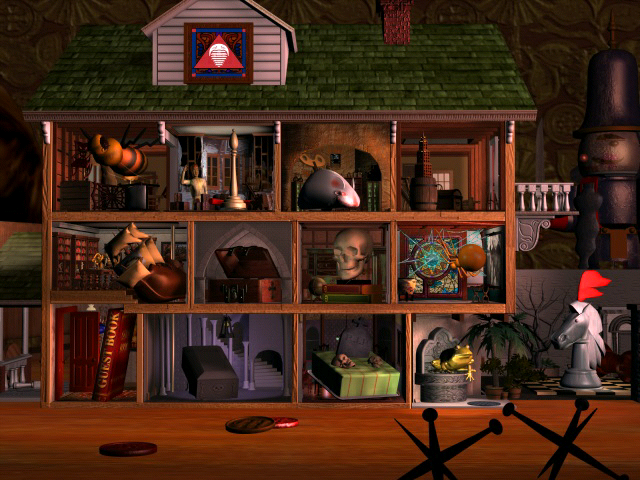 Uncle Henry's Playhouse (1996) is one of the biggest flops in adventure game history, selling fewer than 200 copies if rumors are to be believed, which is pretty embarrassing for the company that brought us The 7th Guest, The 11th Hour, and Clandestiny.
The game itself is nothing more than a compilation of puzzles from the aforementioned games, four puzzles from each and an additional 13th puzzle which is new. What this means is that if you have played those games, then you have already played 92.3% of this one.
The screenshot above is the screen from which you select the puzzles and also where the final puzzle takes place, albeit with some minor alterations. The rest of the gameplay screenshots are indistinguishable from the original three games.
You know Bastich, you made me realize the huge number of adventure games there are.
Someone could spend their whole life playing these things and still not get through the enormous pile.
Yeah, it would definitely be impossible to play them all.
I have a goal of finishing all the 90s graphic adventures though, which is totally achievable.
I think my brother got this for free at some point, as I remember the scene portrayed in the screenshot, but not from my own experience of playing.
Correct me if I'm wrong but isn't there supposed to be an 11th Hour sequel in development, that was announced fairly recently? I'm not talking about the canned game where the trailer was set in a museum by the way.
I'm on a whole new adventure.
Growing a mustache?
No. Bigger than that.
A beard?!?
He's working on something, but I don't know if it's exactly a sequel: http://www.adventuregamers.com/forums/viewthread/773/
That's exactly what I was thinking of, thank you
I'm on a whole new adventure.
Growing a mustache?
No. Bigger than that.
A beard?!?
From what I understand, this game was a "best of" puzzle game from Seventh Guest and Eleventh Hour, and sold only 27 copies. I think this was made at the end of Trilobyte.
Welcome to the Adventure Gamers forums!