Adventure Gamers - Forums
Welcome to Adventure Gamers. Please Sign In or Join Now to post.
You are here: Home → Forum Home → Gaming → Adventure → Thread
Post Marker Legend:
New posts
No new posts
Adventure Game Scene of the Day — Friday 12 July 2013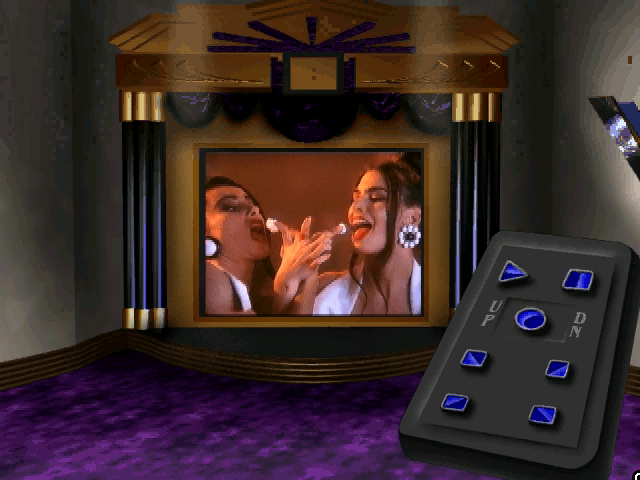 I don't think I need to tell anyone who Prince is, seeing as he is one of the most successful musicians of all time, but today's scene is from his game Prince Interactive (1994).
Unlike yesterday's Alice in Chains game, which had a story, goals to achieve, a conclusion, and didn't contain anything unrelated to the gameplay in it, Prince's game is more of a virtual museum about himself and his oeuvre. It has no narrative or goals and hence has no endgame.
Technically speaking, you are supposed to gather all the pieces that make up his symbol that are hidden throughout the game, but there is no real reward for doing so. It just enables you to quick travel to certain areas of the game world and save your game, but the game world is small and the only thing that gets saved that I noticed is that quick travel function.
Gameplay consists of wandering around a mansion of sorts and consuming various videos, songs and data about Prince's discography and life, some of which are locked behind various puzzles. There are a handful of different puzzle types, like music video based slider puzzles, sound puzzles, and trivia puzzles, but they are all rather simple. You can also do some karaoke or remix his songs.
I can't say I really cared much for the experience. Perhaps I would have liked it more if I was a bigger Prince fan, but the most notable part of the game for me were the dancers in some of his videos.
off topic , but it seem the between the years '94 - '97 you were really busy or lets say entertained .
I remember this one well. It was packaged in a software compilation set that consisted of 15 CD-Roms in one of those long plastic CD wallets that folded out. The music is actually pretty good since it's Prince just at the tail end of his peak before he vanished into his Xanadu-esque Paisley Park studio.
Who's Prince?
The human race is doomed to progress.
Tony Clifton
This guy:
Recently finished: Four Last Things 4/5, Edna & Harvey: The Breakout 5/5, Chains of Satinav 3,95/5, A Vampyre Story 88, Sam Peters 3/5, Broken Sword 1 4,5/5, Broken Sword 2 4,3/5, Broken Sword 3 85, Broken Sword 5 81, Gray Matter 4/5\nCurrently playing: Broken Sword 4, Keepsake (Let\'s Play), Callahan\'s Crosstime Saloon (post-Community Playthrough)\nLooking forward to: A Playwright's Tale
Oh.
I knew the name sounded familiar.
The human race is doomed to progress.
Tony Clifton
where is your Sig Mighty™ ?
i am wondering what you are watching now!
i am wondering what you are watching now!
I'm watching a hilarious topic right now.


The human race is doomed to progress.
Tony Clifton
Welcome to the Adventure Gamers forums!