Adventure Gamers - Forums
Welcome to Adventure Gamers. Please Sign In or Join Now to post.
You are here: Home → Forum Home → Gaming → Adventure → Thread
Post Marker Legend:
New posts
No new posts
Adventure Game Scene of the Day — Sunday 07 July 2013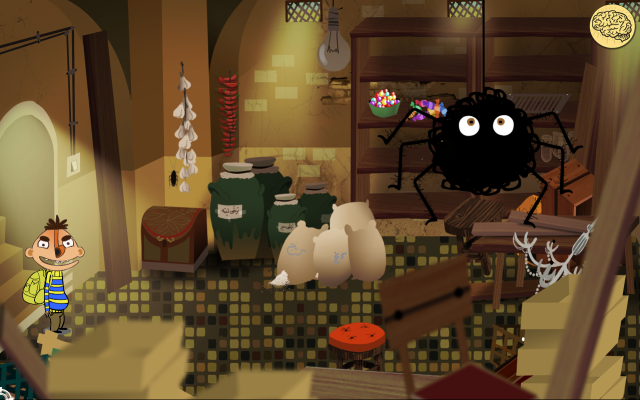 Alimardan's Mischiefs (2011), as you can probably guess by the title, is a didactic tale about a boy who constantly misbehaves. The most interesting thing about it is that it was made by Iranian developers.
The majority of the game is spent vandalizing, playing pranks and generally being a brat. Eventually, his actions cause him to be shunned by everyone and he has to make amends. This was about the point I stopped playing. Not because of the change in attitude, but because I had simply had enough of the gameplay. The game was buggy and crashed on me, the translation was horrible, and it was one of the most annoyingly linear games I've played.
Maybe it was just me though. Anyone else actually play this?
i agree that the game to buggy and above that the Avatar movement is very slow that i considered the greatest test of of patience one player would encounter .
one thing that attracted me to the game that the fact you can read item description in either Persian/Armenian/Arabic/English letters the voices actually acting remains Persian..
waiting for the dev's Murder in Tehran's Alleys 1933 .. (anytime soon) as i 've read that its a kinds of a break-through also with English voice acting (as well).
My first thought was "that character looks like he's up to no good". Then I saw the title.
Makes sense…
Last played: Marvel's Spider-Man - 4.5/5 | Freddi Fish 3: The Case of the Stolen Conch Shell - 3/5 | There Is No Game: Wrong Dimension (CPT) - 4/5 | There Is No Game (replay) - 4/5 | Broken Sword: The Shadow of the Templars (replay) - 3/5 | Lighthouse: The Dark Being (CPT) - 2.5/5 | Anna's Quest (CPT) - 4.5/5 | Simon the Sorcerer II: The Lion, the Wizard and the Wardrobe - 4/5 | Florence - 4/5 | Alice Trapped in Wonderland - 1/5 | The Hunt for the Lost Ship - 1.5/5 | The Talos Principle - 4/5 | Tex Murphy: Martian Memorandum - 3/5 | Danganronpa: Trigger Happy Havoc - 3/5 | Simon the Sorcerer (replay) - 4/5 | Portal 2 - 4/5 | Murder By Numbers - 3.5/5 | Heavy Rain - 3.5/5 | Disco Elysium - 4.5/5 | Freddi Fish 2: The Case of the Haunted Schoolhouse - 3/5
Welcome to the Adventure Gamers forums!