Adventure Gamers - Forums
Welcome to Adventure Gamers. Please Sign In or Join Now to post.
You are here: Home → Forum Home → Gaming → Adventure → Thread
Post Marker Legend:
New posts
No new posts
Adventure Game Scene of the Day — Monday 10 June 2013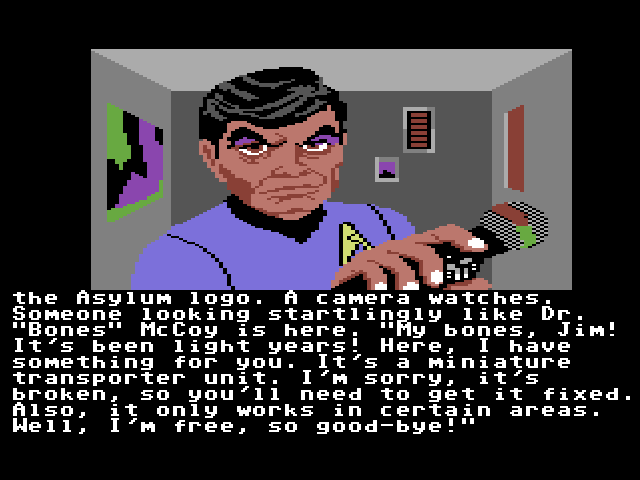 This text adventure for is called Asylum (1982)* (a.k.a Asylum 2) and as an inmate, your goal is to try to escape by finding door keys that allow access to other parts of the asylum and by interacting with the other inmates to acquire items you need to win your freedom.
What makes the game difficult is that the game world is one giant maze that absolutely requires mapping out on graph paper. To make things a little more difficult, parts of the maze are non-Euclidean. If that isn't enough, there are revolving doors that throw you like 20 moves ahead in the maze and that includes all the twists and turns as well, making you truly lost until you find one of the rare areas that is identifiable.
While the maze aspect is obviously tedious, the other inmates are what makes the game interesting. There are hypochondriacs, mad scientists, movie directors, terrorists and more that require puzzle solutions unique to their particular madnesses.
The above scene is one of the more memorable due to the inmate believing he is a character from some obscure TV show called Star Trek.
*Screenshot is from 1985 C64 version
I see an upgrad with your way at describing the Game

looks nice but i wonder i would have the patience to even think about playing it… the last time i used a pen and paper with an adventure was with Aura2 and about a year ago also with my replay nightlong at the last puzzle tho it was only for making/inserting some equation and possibilities not drawing maps ...
also i remember Riven was the most game that had me filling down number of papers that i never even made at any of my high school subjects the last night before the final exam
Ah yes, they've captured Dr McCoy perfectly down to his purple eye shadow.
Welcome to the Adventure Gamers forums!