Adventure Gamers - Forums
Welcome to Adventure Gamers. Please Sign In or Join Now to post.
You are here: Home → Forum Home → Gaming → Adventure → Thread
Post Marker Legend:
New posts
No new posts
Currently online
Adventure Game Scene of the Day — Tuesday 04 June 2013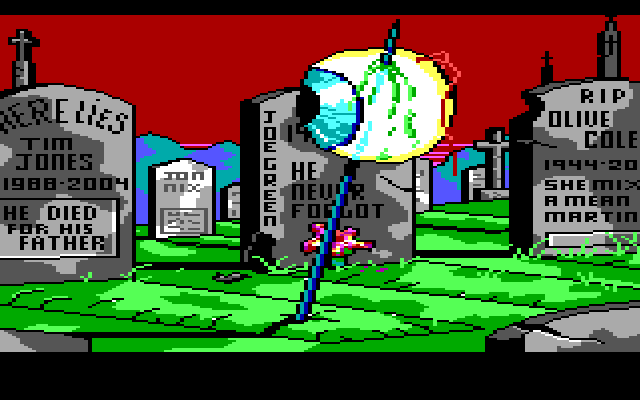 After two days of really obscure games it's time to get back to something a bit more familiar. Today's scene from Manhunter: New York (1988) depicts an Orb kebab in the city cemetery.
It is important to note that this is a hybrid arcade adventure so it isn't really suitable for those who don't like a lot of action/reflex based mini-games in their adventure game experiences.
While I liked the setting, the tedious action sequences and the excessive number of mazes really brings it down for me personally. One thing the game does which is nice though is that rather than force you to reload a saved game when you die, and you will die a lot, the game will automatically put you back in the game just prior to where you failed, allowing you to immediately try again with minimal hassle.
Hated Manhunter. A horrible, horrible game most of the time. The fact that there's arcadey sequences isn't bad in theory, but in reality they're all complete garbage.
Reading the 1st page of our hero's diaries can make anyone excited about manhunter.
MH:SF was much better; many flaws at NY had been updated, this diffently an obscure adventure i don't know what you meant Bastich about it not being that .. the gameplaying is unique not just as it being the one of its kind of all sierra's games but for all the adventures that ever came out, playing your game through MAD (tracking device) is the core of the game, the game is all about tracking the good people, working for the invaders against you own kind , (of course until you join the revolutionaries) is pretty crazy and exciting to start a game playing as the hopeless human who work for the bad people, and tracking/Hunt Man down.. and it is not just a prologue , no you play almost all of NY against your own people until the discovering of hope and will by joining the resistance which happens very slow and dangerously ... again i can understand Kasper hate for MH, i was lucky to start with SF and then play NY which helped my patience a bit .. but yeah the game is very frustrating, but minigames are all adventurous(yes they are!), its not and never about reflexes (only) there is always something smart requires brains with each one ...
anyway i replayed it a year ago both parts and i must say .. no need to try to frustrate yourself with (really) maybe watch a playthrough at the tube before deciding you wanna go through this as i am not responsible for any disappointment , SO i can say easily its not recommend to play at the year 2013 , certainly if ppl say Sierra games were frustrating then this is the most frustrating of all Sierra's .. but STILL i can not deny it holds its own Magic. .. this one (series) really ,definitely and absolutely needs a remake,and a total remake (not like LSL) something that is completely different with new perspectives and new .....everything.
thanks Batich for bringing some good memories
Welcome to the Adventure Gamers forums!