Adventure Gamers - Forums
Welcome to Adventure Gamers. Please Sign In or Join Now to post.
You are here: Home → Forum Home → Gaming → Hint Requests & Technical Problems → Thread
Post Marker Legend:
New posts
No new posts
Currently online
Tex Murphy DOSBox question
I'm playing The Pandora Directive (GOG version) and would like to increase the size of the window when I'm playing in windowed mode vs fullscreen. The window in "windowed mode" is just too small…I'd prefer it to be about 1/3 to 1/2 of my screen. Currently it's about 1/6th. I've read the DOSBox manual but apparently not finding what I'm looking for.
Can anyone provide step-by-step instructions on how to do this? I found the DOSBox folder within the game directory (see screenshot) so I'm part way there!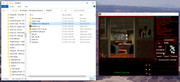 **Click to enlarge**
Life is too short to drink bad wine…
Welcome to the Adventure Gamers forums!