Adventure Gamers - Forums
Welcome to Adventure Gamers. Please Sign In or Join Now to post.
You are here: Home → Forum Home → Gaming → Adventure → Thread
Post Marker Legend:
New posts
No new posts
Boïnihi: The K'i Codex, new Black Cube sequel (ASA, Myha, Catyph)
Hi everyone!
I've been working on this game for a long while now (see my other post below with the "history"). Some of you might be aware of its development already, but this is finally an announcement in due form!
About
Boïnihi is an independant and self-funded game, mainly created by one person. It has been envisaged as a 1st person adventure with an hybrid gameplay (3rd person camera). You will go through an exotic story based on the exploration of a faraway moon and the solving of didactic logical puzzles. This game can remind of the Myst series but also point and click adventures like Syberia, The Longest Journey…
Story
"2065. An astronaut has been wandering through space during 4 years, and finally landed on an uncharted moon, where a mysterious hermit used to live alone. Boïnihi was his name, and he was one of the rare survivors of a terrible event known as "Day Zero", which happened long, long ago…"
More
A game inspired by the Voynich manuscript, with an hybrid gameplay: a large part of Boïnihi is played with your mouse, but moving the character is closer to what you could see in Grim Fandango. Using keyboard is mandatory (arrows or WASD).
Release
- For Windows
- Available somewhere between end of May and mid June
- in English and French
- on Steam and itch.io (DRM-free)
Please wishlist the game on the Steam page if you want to support it:
https://store.steampowered.com/app/1298050/Bonihi_The_Ki_Codex/
It helps and adds a bit of exposure to the project.
"Reveal Trailer"
A bit of history about the game:
Boïnihi was started in 2016 following the Myst Game Jam (which gave birth to Myha), just after the end of development of Catyph.
I had a bit of free time before the final release of Catyph, and some ideas that I wanted to explore. At the same period I also discovered the Voynich manuscript and thought it was really a fascinating thing, and started to wonder how I could use this kind of mysterious book in a game.
I first wanted to make a short game for a change, easier than ASA and Catyph to try to make it accessible to more people. I decided to work with the Adventure Maker game engine, in an old-fashioned style ( = low resolution, 256 colors… something like Riven). I used to love the Adventure Maker engine and I really wanted to play with it again (it is still true today but it's become more complicated technically speaking to release a project with it). It was the engine that gave birth to ASA (before ASA Remastered) and without it I wouldn't be here today.
Project Boïnihi was born, and thought as a new 1st-person adventure in the spirit of ASA and Catyph before. Something that I would create for the fun, on a short period of time.
While working on it, I saw that the game had more potential that I first thought, and, as I was trying new techniques to work on making textures on my 3d models, I decided to try to import them into the Unity 3D engine. Boïnihi was, for a while, my first real-time attempt of a full 3D project (long before Myha: Return to the Lost Island).
But I didn't have the skills necessary to program the puzzles in Unity, it's quite complicated if you are not a confirmed programmer (I'm a 3D creator more than a coder/scripter) and I quickly gave up with the idea of using Unity.
I went back to my first idea of a game in 2D (using prerendered 3d graphics as usual), because I master the tools, but with time passing I didn't want to use Adventure Maker anymore: it was more and more abandoned by its developer, unfortunately (today you can't even buy it). So I decided to go back to Visionaire Studio engine (the engine of ASA Remastered and Catyph), knowing however that the development would take much longer and that I was starting a more ambitious project as a result. But I like to experiment, and I know I took the good decision. Perhaps there will be another time in the future for Unity, we will see.
You can read part of this story in an article I made in the end of 2017:
https://www.indiedb.com/games/bonihi-the-ki-codex/news/evolution-of-the-project
Project BoÏnihi was progressing slowly but well in 2017, but then 2 major things happened in my life.
First, Denis contacted me to work on a full3D remake of Myha, and it was great, so we did the Kickstarter campaign in November 2017, which kept me busy, and we worked on the game until the release in 2019.
And next to this, my father became seriously ill in February 2018 and stayed at the hospital during several weeks, until he was diagnosed with a brain tumor and passed away in the end of 2018.
2018 has been a very though year, both exciting with Myha, and terrible with the desease of my dad. As a result Boïnihi was paused and I didn't work on it before a long long time. All my plans would be changed again! Fate?
One thing led to another and I went back to work on Boïnihi later in 2019 after the release of Myha. In the meantime I had learned how to use 3D characters in Visionaire Studio (you can see Adventure Jam 2019 on GameJolt with my short game My Village is Magical*). Then another short game, Eoin's Quest** (Icehouse Jam 2019 on itchio), confirmed my interest in games where you can control a character, and I've completely redesigned Boïnihi in the last few months, so that you can finally play with the astronaut.
* My Magical Village: https://gamejolt.com/games/mvem_twotio/418477
** Eoin's Quest: https://the-icehouse.itch.io/eoins-quest
However, I love Myst-like adventure, and I didn't want to remove the spirit of it (I'm still a huge fan of Riven and very impressed by it, everytime I look at it). That's how the game became a hybrid project between 1st person (Myst-like) and 3rd person (Syberia for example).
I'm currently satisfied with this result, even if the game is not perfect! And I know that some people will not be happy because playing with the keyboard will be mandatory to move the character (like in Grim Fandango).
We will see what happens at the release and what you think. If you hate it I will of course not reproduce this experience later!
Boïnihi will be different from my previous games, shorter and a little easier, and I know that not everyone will like it, but since my games sales are low in general, I think that I have to try to take it as an opportunity to experiment new things - while trying to please the fans at the same time. And who knows, maybe you'll be pleasantly surprised? That's what I hope!
Anyway, that explains the huge development time over 4 years, for a game that is finally less long and less difficult than ASA and Catyph. But not less ambitious I think.
I hope that the result will make you curious!
You can also take a look at this article, telling how I created the regions of Boïnihi:
https://www.indiedb.com/games/bonih…-the-regions-of-my-myst-like-game-bonihi
Hi everyone!
Finally the Steam page is available:
https://store.steampowered.com/app/1298050/Bonihi_The_Ki_Codex/
Please don't forget to wishlist the game if you like it. It helps and gives a bit of exposure to the project.
If you don't want to open the Steam page, this is the "Reveal Trailer" with the new gameplay:
Let me know what you think, ask me anything, and I'll be happy to reply!
Two questions:
1. How is BoÏnihi pronounced?
2. How is K'i pronounced?
Hi Vehelon,
In the Black Cube series I often say that you should pronounce as you want, since these games take place in scifi worlds that don't exist. The way to pronounce a same word in English and in French is already different, so who knows with aliens?
However the voice actor says:
1. [B o I n I I] with I like in sit
2. [K i:] with i: like in read
You can now listen in free streaming to the original soundtrack of Boinihi on the bandcamp of Yazorius:
https://yazorius.bandcamp.com/album/boinihi-ost
This OST is also included in mp3 as a Bonus in the game's folder.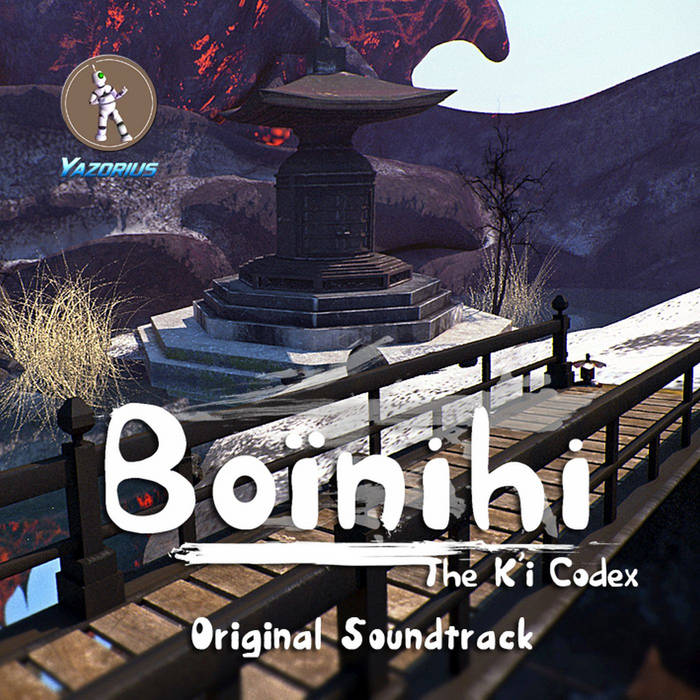 Hey Simon.
The game looks incredible! Congratulations on releasing it! I'm also very interested in the Voynich manuscript especially after playing Broken sword: The Sleeping Dragon So I'll be sure to check it out! Best of luck with the game!
Oh great, I had no idea that the Voynich manuscript was in an episode of Broken Sword! You make me want to play it, this is really interesting!
Thanks for your kind words, I hope you'll find Boinihi interesting. Let me know if you need help!
I just noticed that The Sleeping Dragon is at -50% (2.79€) so I'll go ahead and try to find some time to discover it. I loved Broken Sword 1 but iddn't have much opportunities to play the others. Can't wait!
Ooh, free download as well as streaming on the bandcamp page? Nice, thanks!
I'm way behind on games but look forward to playing this one one day!
Thanks Phlebas! With the music composer we did our best to include as many bonuses as possible with the game. I hope you like them! Looking forward to know what you think after playing some day! Thanks for your message
As an aside: I really appreciate it when developers make the soundtrack available as a separate download - when it's likely to be a while before I can play the game it's great to be able to listen to the music without having to download and install the whole thing!
Hi guys! As anyone around tried Boinihi yet?
I'd like to share with you the "review" of one of my loyal Italian fans of the Black Cube series, that I have received by email yesterday. I was really touched when I read it. She accepted that I publish it on the forums, as she was happy at the idea to share her thoughts with you, to tell you how much she loved the journey.
Dear Simon,


I write to tell you a story. A story about an enchanting journey in a beautiful and somehow other worldly environment, unfolding alternating feelings as wonder, surprise, joy, compassion and profoundness.


During my journey I learned how on an oddly shaped planet time may flow through unthinkable patterns and I acquired an awful lot of notions about the marvels of the vegetable kingdom on fascinating, beautifully illustrated papers. I learned as well to work out the geography of an unknown world.


I also witnessed how the sentient living beings' lack of wisdom may lead to ruin wherever in the Universe. And I had the chance to see and listen to beautiful movies.


All of this surrounded by touching and utterly atmospheric music and sounds.


My first arrival on the Moon was impressive; the opening video was still running and… wow… I've never seen anyone so thirsty! I almost could sense the freshness of the crystal clear waters of Peibin Lake! Even if I had already seen them in more than one trailer, my first contact with the statues was thrilling. Their look is so far away and bizarre… so different!


When I reached the Library I was immediately attracted by a friendly looking statue, but even more by a peculiar sundial with the extrusion of the four islands and a weird clock inside the building!


What an emotion when I gathered all I needed to translate the K'i Codex and sat at the desk, ready to face the challenge of an alien language!


The third place I visited was Hydra Crest, beautiful and fairly disquieting. I loved the contrast between the snow, the fiery rock formation and the blooming thyme fields… I could almost smell their magical scent…


Then I landed on Ailhon Woods with its amazing sculptures and its awesome radiant tree. I enjoyed so much the intriguing marionette theatre and its hidden treasure!


The ending was great, as all your endings, woven with beauty, poetry… and wisdom! The final movie was touching!


I loved Boïnihi from the very start, smiling happily while admiring the way you enrich your games with your beautiful handmade drawings and watercolors. Just one more word: THANKS!!!!


Your friend struzzo
Did you know? You can already save -15% on Boinihi if you buy it with the Black Cube bundle https://bit.ly/2UP4CMv
Cindy K. from ex-Just Adventure enjoyed playing it!
https://twitter.com/CkyserMax/status/1268035292830806018
Here's also a review of Boinihi by the italian Steam Curator Calavera Cafè https://bit.ly/calaveracurator.
This is the (unofficial) English translation:
Boinihi: The K'i Codex is an incredible adventure.
Not just for the plot or for any particular enigma, although both are very successful.
It was especially the almost perfect balance between the high challenge rate and the relaxation that the whole experience suggests.
Almost an oxymoron, when you read it like that.

Yet, mouse (and keyboard) in hand, the game gives an almost contemplative calm, favouring an attentive and meticulous exploration of its scenario, as well as a meticulous reading of the many pieces of information.
All this is necessary to solve the puzzles, accompanied by a good dose of commitment and a certain old-fashioned ′′ way of playing.

However, the point is not so much how legible the game is - which it is, after a thread of intermittent machismo - but rather how well one approaches the complex puzzle that constitutes its essence.

The reason lies in a combination of factors: from the eccentric aesthetics, which clearly separates the time outside the game from the inside, dilating it, to the reward that accompanies the resolution of each puzzle.
From the intense soundtrack to the existential themes of an intrigue that aims more to go deeper than to extend the narrative universe of The Black Cube series.

Everything invites one to take one's time, calmly observing each environment, making the given knowledge one's own and patiently putting it to the test. Avoiding frustration.

A remarkable balancing act, which has given birth to a playful-narrative universe created to welcome the player while testing him, instead of rejecting him, trying to challenge him properly"
Hi! I wanted to say that I am very happy of the review recently posted on AG:
https://adventuregamers.com/articles/view/boinihi-the-ki-codex
Thank you for playing it and enjoying it!
I was waiting to read it with quite a lot of stress, as I can never know in advance if the reviewer will like the puzzles and the story. If you read this, thanks a lot Mr Parkinson! (I will try to send you a message soon if Jackal thinks it's not a bad idea).
Every review of my games has an impact on myself, on my series, my work and my motivation. And because I'm a very small indie dev, it also has a strong impact on my personal life. That explains why it is so important to my eyes (and also why I always try to do my best in my games, even if they are not perfect and not for all tastes).
It rewards all of my efforts and I'm very moved by it! I hope that some of you will like Boinihi as much when you decide to play the game.
I'll keep an eye on this thread in case you have questions regarding the review, the puzzles, or the game itself. Don't hesitate to ask me anything! In case I don't reply, you can send me an email at any time: https://www.theblackcube.fr/contact.html
I'm sure that a walkthrough will be posted on AG sooner or later in case some of you would be a little scare at the idea of solving the puzzles of this new game
Welcome to the Adventure Gamers forums!