Adventure Gamers - Forums
Welcome to Adventure Gamers. Please Sign In or Join Now to post.
You are here: Home → Forum Home → Gaming → Adventure → Thread
Post Marker Legend:
New posts
No new posts
Currently online
Joe Kowalski Chronicles - neo noir point and click adventure

Hi everyone,
this is my first post here and I hope it's not against forum rules. I'm working on a game and I want to share it with the world of adventure gamers (my friends aren't so interested in genre).
It's my own indie - neo noir - point and click adventure game called Joe Kowalski Chronicles. There is no real studio or anything yet just me and sometimes my pal helps with some 3d models… As a kid I played pretty much all good or bad adventure games that came out during 90's/early 2000's, so I wanted create something that I'd like playing, in recent years "Face Noir" was nice and quite similar to what I want to do. These days it's "Blacksad" where I already saw many of my scenes from "Joe Kowalski Chronicles: Chapter 2" which will look quite a bit better than prequel but can't expect same visuals as pro titles.
Screenshot: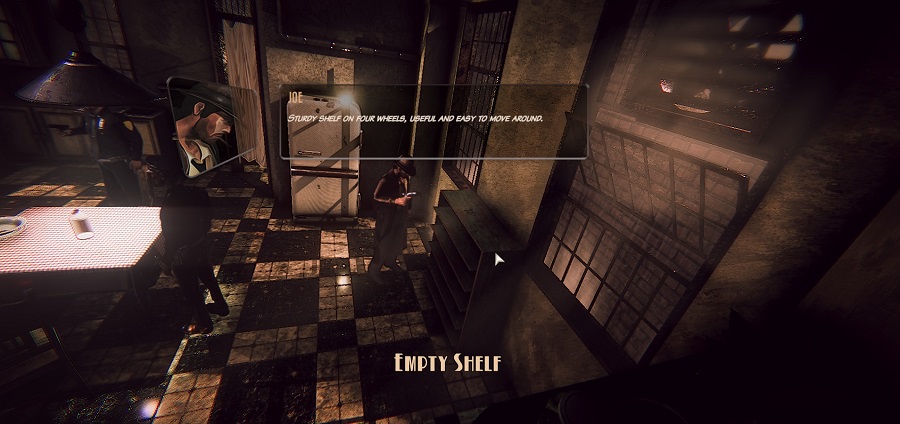 Idea
Idea started in 2014. when I gave some freelancer (forgot his name, would have given him some credit otherwise) to create Joe character - so now he looks bit outdated but we're working on improving him. Same year my buddy (he still consults a bit on the game) gave me his written screenplay of his "detective story" which was basis for creating Joe Kowalski Chronicles (Joe's character). Over the years I've been learning/switching game engines, frameworks, gameplay, story, even abandoned project for a while due to not having free time…until I finally agreed with myself about everything and managed to create short 10-15min demo now at 30-45min which will actually be prequel to game. I can't say you can expect much in prequel but will try to give you good feel for the atmosphere and show something that will maybe have potential in future, I assume if you like trailer you will like the game.
It is very simple - one big apartment/building floor - one crime, one killer…or is it?
SPOILER: It all ties to the other chapters and grand scheme of things in future full chapters.

Inspiration
This game is greatly inspired by Blade Runner game I played more than 20 years ago and I still think it is one of the best adventure games ever made. I really liked the action part of the adventure - pulling out gun with right click was amazing novelty of that time same as so many multiple endings (ways to finish the game). During that time there was another great inspiration - Discworld Noir which I really liked as well.
So all that mixed with my love for Humprey Bogart and old noir movies you get Joe Kowalski Chronicles. I'd really like to have really nice cinematics in game as well, but animations tend to be very time consuming and expensive, will do my best to do as many as I can and as good as I can.

So about the game…
Will be quite a few chapters with short gameplay each (around 60min - one or two crime per chapter) - from Joe's cop days - to beat up private detective. Gameplay is standard point and click, object interaction - opens up action menu. Joe can pull out gun and sometimes can shoot stuff around (yeah exactly like in Blade Runner), also rare are action scenes that will work similar to Fahrenheit Indigo Prophecy (another gem from the past) just not that hard - they will be basic choices…and will be skippable - don't want to annoy people like I was in Fahrenheit because of my bad keyboard.

Our team and news…huh??
Well I managed to open some basic website:
http://joekowalskichronicles.com
for newsletter - will work on improving website and making real thing, I have twitter, facebook and I've put the trailer on youtube.
I wanted to check in here with adventure gamers will this be something of interest to you? If someone would like to play it?
Oh yeah almost forgot, for the patient guys that read through all of my bs above, here's the trailer, you would be my first "real audience":
Joe Kowalski Chronicles - Murder in a flat TRAILER
Cheers,
Joe
Welcome to the Adventure Gamers forums!