Adventure Gamers - Forums
Welcome to Adventure Gamers. Please Sign In or Join Now to post.
Splittown (oldskool style point-n-click)
Hey all! I'm new here and so I wanted to start by telling a bit about this game we're working on. It's called Splittown.
Splittown is a comedic, spy-themed point-and-click game. Our big influences are Sam & Max, Day of the Tentacle, Secret of the Monkey Island, etc. We love those old games and the memories of playing them growing up. We wanted to make something that allows players to revisit that place. Thematically, it's very much James Bond meets Naked Gun.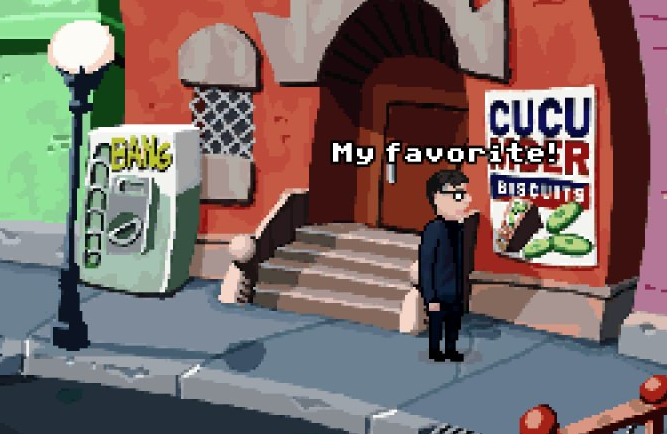 We started back in 2017 but the development was on a hiatus for a while. But we're working on it again and it's exciting to see how much our perspective has changed along the way. Everything is starting to shape out way better than a couple of years ago.
We're not in a huge hurry to get this released. We want to get it right. That being said, most of the areas and character animations are already done. The story is constantly shaping and taking big leaps forward. I've been in the game development scene for a very long time and it's always exciting when a project takes a life of its own. And here it really seems like that's happening.
There is a playable demo for Splittown from two years ago. If you are interested in trying it out, reach out to me on our Discord http://discord.gg/ghk2KjD. It's just a handful of puzzles, but we got a lot of good feedback for it.
I leave you with a couple of screenshots.
https://i.imgur.com/ztlrDrS.jpg
https://i.imgur.com/X3OGO9b.jpg
https://i.imgur.com/lbItuqB.jpg
will it be voiced or is it just text based

Looks very much like Sam & Max: Hit the Road!
https://i.imgur.com/ztlrDrS.jpg
https://i.imgur.com/X3OGO9b.jpg
https://i.imgur.com/lbItuqB.jpg
And these look very much like Day of the Tentacle.
The LucasArts inspiration is unmistakable.
Now playing: Blade Runner (CPT) | The Witcher: Enhance Edition (on hold) | Danganronpa: Trigger Happy Havoc (on hold) | Professor Layton and the Azran Legacy (3DS)
Recently finished: Whispers of a Machine (CPT) - 4/5 | Beneath a Steel Sky (CPT) - 3/5 | 3 in Three - 3.5/5 | Puzzle Gallery: At the Carnival - 2.5/5 | The Fool's Errand (replay) - 3.5/5 | The Dig (replay) - 4.5/5 | Return of the Obra Dinn (CPT) - 4/5 | Beavis and Butt-Head in Virtual Stupidity - 3.5/5 | League of Light: The Game (CCPT) - 3/5 | realMyst: Masterpiece Edition - 2.5/5 | Contradiction - 3/5 | Tex Murphy: Mean Streets - 2/5 | The Last Express - 3.5/5 | South Park: The Fractured But Whole - 4/5 | Indiana Jones and the Fate of Atlantis (replay, CPT) - 5/5
will it be voiced or is it just text based
Hey Jdawg445. Nothing final on this. We'd love to have it voiced, but that won't be possible with our current budget. However, anything can happen.
I tried the demo a while back and it was great!
Story rich DRM-free games for Windows, Mac and linux for direct download - https://fireflowergames.com/. Half the profit goes to projects that benefit the environment and game related projects.
Hey FireFlower! That's awesome. I'm so happy that you liked it. We are changing and honing a lot of stuff. Makes the demo feel a bit outdated, haha.
In case any of you are interested, I'm painting new room backgrounds and talking about the game live on Twitch.
https://www.twitch.tv/ianuarius
See you there!
I was able to finish this little piece today…
Welcome to the Adventure Gamers forums!