Welcome to Adventure Gamers. Please Sign In or Join Now to post.
2018 Spring into Summer Tourney Guidelines, Info & Chat
Something Adventurous This Way Comes
Welcome to the 2018 Spring into Summer Adventure Game Tournament! After much ado, everything is ready for your perusal and edification along with a bit of hair pulling. Please take the time to familiarize yourself with these guidelines before participating.
 
The tourney will run for 5 weeks beginning on Friday, June 1 and ending on Saturday, July 7.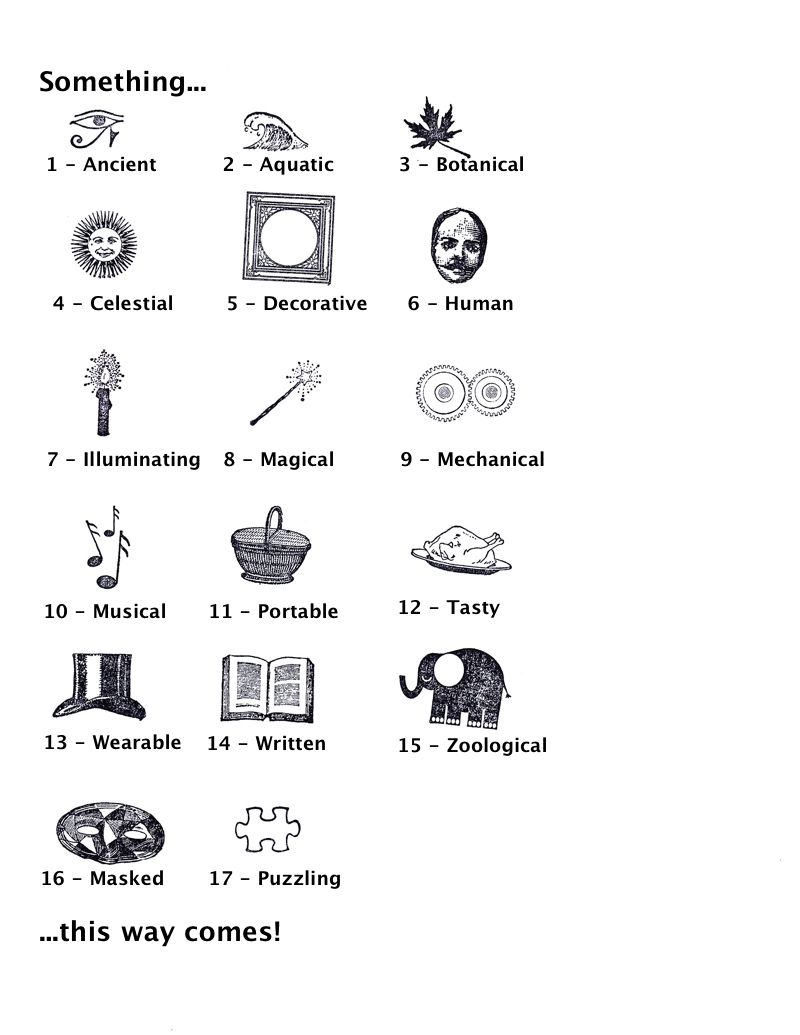 The format will be a bit different than in previous tourneys. Each week you will have to identify one screenshot in the first 15 categories shown above, and the last 2 categories will be a masked screenshot with some areas revealed (16) and a rebus puzzle (17).
Each of the first 15 will be worth 10 points for a total of 150. Numbers 16 and 17 are worth 15 points each, which brings the maximum weekly score to 180.
Please submit your answers to me via PM only. You may send me as many PMs as you like, but each answer you list in a PM should have only one guess for a particular number.
The deadline for each week's answers will be at midnight Greenwich Mean Time each Saturday, and the new puzzles will be posted soon after along with the cumulative scores.
When submitting your answers, please put the number of the week in the subject line. You don't have to write in the name of each category, but make sure you give me the correct number for each item. Also, make sure your answers are complete, especially if the games are part of a series.
 
All types of adventure games are fodder for the puzzles, including text adventures, indie and freeware games, kids' games, and hybrids with some action or RPG elements. Hidden object games are not included.
Please be careful not to post any hints nor answers in the threads. If you have a question or problem, send it to me via PM. If I have to correct something, I'll post a notice for all in this thread, so make sure to check it regularly. Also, feel free to use this thread for discussion throughout the 5 weeks.
Prizes will be awarded to the top 3 players, and one consolation prize will be given via a drawing. As long as you make the effort each week, you will qualify for the drawing.
I acted my age once. It was boring.
This looks very nice, Lady Kestrel! The most interesting thing is image #16. Last year I was working on quiz very very similar to this: 5-8 small images (from full screenshot)all of different shapes. But I never finished it.
Thanks, DarkEye. These aren't new ideas, but I was ready for something a bit different this time. I hope everyone has fun with it.
I acted my age once. It was boring.
I like the addition of a rebus puzzle, always enjoyed those since I was a kid
The rebuses put my rubber stamp collection to good use.
I acted my age once. It was boring.
I made a change to the week 1 thread's title for consistency's sake. Thanks for the suggestion, Jackal!
I acted my age once. It was boring.
I can't read what it says, DarkEye, but it would be a shame if they closed down. They had screenshots for some games that nobody else had.
I acted my age once. It was boring.
After translating the site it seems they had to shut down because of the EU GDPR that went into effect May 25th. They are currently looking for 3rd party solutions and don't plan on losing the database. So hopefully they will get it sorted out.
Fingers crossed that they get it running again.
I acted my age once. It was boring.
So you've sliced the cake down instead of across this time, and we get a little bit of each theme in every round? Interesting - let's see how it goes!
Nice analogy, Phlebas! I hope you get some sweet bites out of it.
I acted my age once. It was boring.
When week 1 is over I'm going to be slapping myself in the face! I recognize several other screenshots but can't remember or find the game to save my life. That bull, for example, taunts me!!!
Lol. None the less I'm having fun and looking forward to next weeks challenge.
It is frustrating when a picture is so familiar, but you still have until tomorrow night to find the answer.
I acted my age once. It was boring.
That bull has been haunting my dreams.
Oh yes, that bull is bad.