Adventure Gamers - Forums
Welcome to Adventure Gamers. Please Sign In or Join Now to post.
I just read the sad news that Terry Pratchett died today. The world of fantasy and comedy will never be the same.
Difficult roads often lead to beautiful destinations.
Oh wow that's pretty sad. We should do a Discworld CPT in his memory.
Ignorance + Poverty = Crime, Ignorance + Wealth = Corruption, Ignorance + Freedom = Chaos, Ignorance + Authority = Tyranny, Ignorance + Religion = Terrorism
Replace Ignorance with Knowledge:
Knowledge + Poverty = Satisfaction, Knowledge + Wealth = Civilization, Knowledge + Freedom = Creativity, Knowledge + Authority = Justice, Knowledge + Religion = Integrity
Sad news indeed - I am a big fan of his work, and have read almost all of his books.
You have to play the game, to find out why you are playing the game! - eXistenZ
Was just reading this, Loved the Discworld universe. A great author. RIP
His Twitter account said: AT LAST, SIR TERRY, WE MUST WALK TOGETHER.
He was one of the best authors out there, with a mind of steel (his words). Rest in peace, Sir Terry. May Death bring you to a happy place.
Very sad news.Rest in peace Terry!
Having been introduced to Discworld universe by adventure games only, but I can sense what a great author he was. Discworld 2 is the only one without a playthrough, and the one I've wanted to play for a long time.
Recently finished: Four Last Things 4/5, Edna & Harvey: The Breakout 5/5, Chains of Satinav 3,95/5, A Vampyre Story 88, Sam Peters 3/5, Broken Sword 1 4,5/5, Broken Sword 2 4,3/5, Broken Sword 3 85, Broken Sword 5 81, Gray Matter 4/5\nCurrently playing: Broken Sword 4, Keepsake (Let\'s Play), Callahan\'s Crosstime Saloon (post-Community Playthrough)\nLooking forward to: A Playwright's Tale
Terry Pratchet's death scene:

"I would like my pudding now nurse. And then I think I'd like to… write… something… I don't remember what."
Standing in the corner, he waits. The sand slowly flows, but it nears it's end. The old man still glows, as thousands of threads spread away from him.
SQUEAK.
I AGREE. IT IS A SHAME TO SEE HIM THIS WAY.
SQUEAK.
NO. I DO NOT KNOW WHAT WILL HAPPEN…. BUT I CANNOT WAIT TO ASK HIM HOW IT ALL ENDS.
The old man looks up, through them at first… and then he sees them. For once, the smile on the hooded figure's skull is genuine.
"I… I remember you. The anth… ant…"
ANTHROPOMORPHIC PERSONIFICATION.
"Yes, that. We knew each other?"
ONCE. AND WILL AGAIN, SIR.
He so rarely said it, and these feelings… remembering his young aprentice, and beloved daughter. The beautiful child they have.
"There… is a girl, yes?"
SHE IS SPEAKING TO THE AUDITORS, SIR. THEY ARE UNWILLING TO LISTEN.
"Well then. You know what they say, two things you cannot avoid. Taxes and…" He looks into the firey blue eyes, and becomes aware.
SQUEAK.
"Quite right. Is it time already? I have so much left to do."
YOU HAVE GIVEN ALL YOU CAN SIR.
"No, not cancer. Alzheimers."
I AM AWARE.
"So, where is the boy? I remember a boy."
CARRIAGE ACCIDENT.
"Ahh. Never much trusted cars. Or horses."
THEY GET YOU WHERE YOU WANT TO GO.
"Must I?"
SOON. BUT WE MAY SIT HERE AWHILE.
SQUEAK
DO YOU HAVE ANY BISCUITS?
"No. Shame really."
YES.
"Is it truely turtles?"
ALL THE WAY DOWN. I HAVE SEEN THEM.
"Ahh. I would love to see it. Perhaps a small trip before?"
IT WOULD BE MY PLEASURE.
"The light is slower there… and there's a monkey…."
ORANGUTAN. SAME PRINCIPLE.
"Yes… will they remember me?"
SQUEAK.
"What was that? I could not hear you."
HE SAYS WE WILL, SIR.
"I never much liked the trouble people had with you. You seem like a nice fellow."
I HAVE MY DAYS.
"Don't we all?"
SOME LESS THAN OTHERS.
"Is it quick?"
YES. AND I BROUGHT THE SWORD. CEREMONY DICTATES IT.
"Ahh. How about a cup of tea?"
I WOULD ENJOY IT. DO YOU PLAY CHESS?
"No. how about checkers?"
And so they sat, two old friends regaling each other, though the old man could not remember all of the details, the cloaked man and his rat filled him in, when it was needed.
.
.
.
.
Time to stop crying now….
You will be forever missed Sir Terry Pratchet…..
P.S: I'm really glad we had that Discworld AGCP just 3-4 months ago…..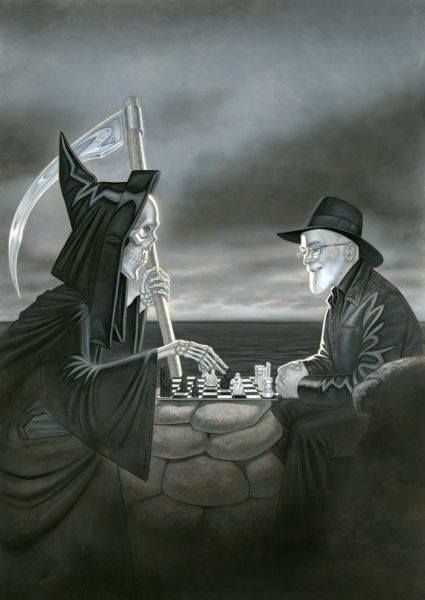 Rest in Peace Terry.
An adventure game is nothing more than a good story set with engaging puzzles that fit seamlessly in with the story and the characters, and looks and sounds beautiful.
Roberta Williams
Oh, i made the thread too in AG forum, mods delete that if you may.
He died before Alzheimer erased all his characters that he created and loved from his mind so maybe it`s better this way. Terrible disease. Rest in Peace !
Women come and go… a highscore lasts forever
'Tis truly a sad day. Rest in peace, Sir Terry, and thanks for your legacy!



Oh, i made the thread too in AG forum, mods delete that if you may.
Not everyone that reads the AG forum reads Chit-Chat. With three very beloved adventure games based on his work, Sir Terry deserves two threads honouring him.
Now playing: Blade Runner (post-CPT) | The Witcher: Enhance Edition (on hold) | Danganronpa: Trigger Happy Havoc (on hold) | Professor Layton and the Azran Legacy (3DS)
Recently finished: Whispers of a Machine (CPT) - 4/5 | Beneath a Steel Sky (CPT) - 3/5 | 3 in Three - 3.5/5 | Puzzle Gallery: At the Carnival - 2.5/5 | The Fool's Errand (replay) - 3.5/5 | The Dig (replay) - 4.5/5 | Return of the Obra Dinn (CPT) - 4/5 | Beavis and Butt-Head in Virtual Stupidity - 3.5/5 | League of Light: The Game (CCPT) - 3/5 | realMyst: Masterpiece Edition - 2.5/5 | Contradiction - 3/5 | Tex Murphy: Mean Streets - 2/5 | The Last Express - 3.5/5 | South Park: The Fractured But Whole - 4/5 | Indiana Jones and the Fate of Atlantis (replay, CPT) - 5/5
RIP
Recently completed: Game of Thrones (decent), Tales from the borderlands (great!), Life is Strange (great!), Stasis (good), Annas Quest (great!); Broken Age (poor)
It's funny because the Discworld adventure games were what first introduced me to his work. I played them, then I saw the Hogfather in a supermarket one year and thought "hey, that's the same as in my game!" so I bought it and started to get hooked.
I haven't read nearly enough of his books yet, mostly due to constraints on my time, but he always seemed like a man who had so many more stories to tell.
What's funny in another way is that I introduced my father to his works, and he contracted Parkinson's Disease around the same time as Terry discovered he had alzheimers, so they were both living with incurable brain disorders.
It's so sad to hear of his passing, but he left a great legacy, and in a way he's probably more at peace now than when he was battling the steady erosion of his mind.
Welcome to the Adventure Gamers forums!