Adventure Gamers - Forums
Welcome to Adventure Gamers. Please Sign In or Join Now to post.
https://www.bbc.co.uk/news/entertainment-arts-46186552
No more Marvel Cameos.
An adventure game is nothing more than a good story set with engaging puzzles that fit seamlessly in with the story and the characters, and looks and sounds beautiful.
Roberta Williams
R.I.P., Stan.
You provided many generations with adventure and inspiration through the power of imagination! Thank you!!!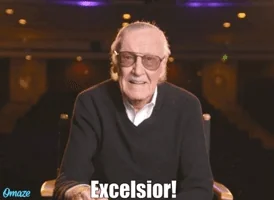 No more Marvel Cameos.
Didn't they film several in advance, specifically for this? I don't know how many they have in the archives, but we may still see a few cameos.
Last played: Portal 2 - 4/5 | Murder By Numbers - 3.5/5 | Heavy Rain - 3.5/5 | Disco Elysium - 4.5/5 | The Witcher: Enhanced Edition - abandoned | Whispers of a Machine (CPT) - 4/5 | Beneath a Steel Sky (CPT) - 3/5 | 3 in Three - 3.5/5 | Puzzle Gallery: At the Carnival - 2.5/5 | The Fool's Errand (replay) - 3.5/5 | The Dig (replay) - 4.5/5 | Return of the Obra Dinn (CPT) - 4/5 | Beavis and Butt-Head in Virtual Stupidity - 3.5/5 | League of Light: The Game (CCPT) - 3/5 | realMyst: Masterpiece Edition - 2.5/5 | Contradiction - 3/5 | Tex Murphy: Mean Streets - 2/5 | The Last Express - 3.5/5 | South Park: The Fractured But Whole - 4/5 | Indiana Jones and the Fate of Atlantis (replay, CPT) - 5/5
Excelsior, Stan!
Lee had a surprisingly significant impact on my childhood (and still today from that foundation), as I'm sure he did on so many others. What a tremendous legacy.
At 95, it was a helluva run and a helluva life!
Not sure how far in advance they planned his movie cameos, but I'd think Captain Marvel and Avengers 4 are at least very possible.
Editor-in-Chief, some obscure little site called Adventure Gamers
He had an amazing legacy that has changed how people look at and perceive comics, from a children hobby to a worldwide all-age phenomenon.
I think this video captures most how I remember him. Always positive, always spreading joy till the very end:
Ignorance + Poverty = Crime, Ignorance + Wealth = Corruption, Ignorance + Freedom = Chaos, Ignorance + Authority = Tyranny, Ignorance + Religion = Terrorism
Replace Ignorance with Knowledge:
Knowledge + Poverty = Satisfaction, Knowledge + Wealth = Civilization, Knowledge + Freedom = Creativity, Knowledge + Authority = Justice, Knowledge + Religion = Integrity
Welcome to the Adventure Gamers forums!