Adventure Gamers - Forums
Welcome to Adventure Gamers. Please Sign In or Join Now to post.
You are here: Home → Forum Home → Other → Chit Chat → Thread
Post Marker Legend:
New posts
No new posts
Currently online
Happy Birthday, Jelena!
Here's an Eiffel Tower cake!
Last played: Anna's Quest (CPT) - 4.5/5 | Simon the Sorcerer II: The Lion, the Wizard and the Wardrobe - 4/5 | Florence - 4/5 | Alice Trapped in Wonderland - 1/5 | The Hunt for the Lost Ship - 1.5/5 | The Talos Principle - 4/5 | Tex Murphy: Martian Memorandum - 3/5 | Danganronpa: Trigger Happy Havoc - 3/5 | Simon the Sorcerer (replay) - 4/5 | Portal 2 - 4/5 | Murder By Numbers - 3.5/5 | Heavy Rain - 3.5/5 | Disco Elysium - 4.5/5 | Freddi Fish 2: The Case of the Haunted Schoolhouse - 3/5 | Freddi Fish and the Case of the Missing Kelp Seeds - 3/5 | Whispers of a Machine (CPT) - 4/5 | Beneath a Steel Sky (CPT) - 3/5 | 3 in Three - 3.5/5 | Puzzle Gallery: At the Carnival - 2.5/5 | The Fool's Errand (replay) - 3/5 | The Dig (replay) - 4.5/5
Hi, just sneaking in again.

(Novemberites are the best! I should know…
)
Happy Birthday, Jelena!!!
As always, here is your special birthday okonomiyaki, grilled and topped the way you like it, served with a glass of chilled Niagara icewine to wash it down. Enjoy!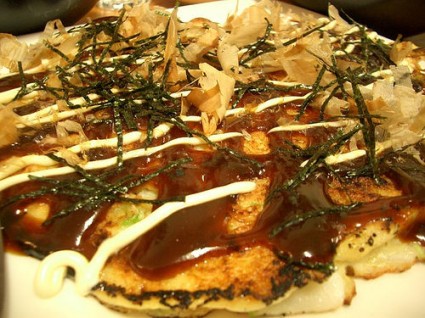 Diabolus ex Machina since 1993
Happy Birthday Jelena!
To compliment Trunkyo's dish, here's a dish from my homeland-
Shrimp & Grits

Honk if you see someone texting while driving!
Oh, thanks a lot dear friends!

Love the fish tsa. You're so talented. Eiffeltower cake, yummy!
Aw, makes me want to go back to Paris. Woot, favourite chinese and southern food! Good thing there's a glass of chilled white wine in there too.
Lazy Bee
Temporary guest in your life.
An adventure game is nothing more than a good story set with engaging puzzles that fit seamlessly in with the story and the characters, and looks and sounds beautiful.
Roberta Williams
Aww, Lady Kestrel and Lucien, thank you!
Lazy Bee
Temporary guest in your life.
Happy Birthday sweetie, I hope you had a great day
Lord make my words as sweet as honey, for tomorrow I may have to eat them.
Happy birthday!
Sorry I'm not being funny now, I'm too drained from writing my thesis
Jag fick dig en fantastisk närvarande, men den blev stulen av en giraff i en luftballong.
Grattis på födelsedagen ändå, Jelena.
I still can't believe tsa shot a fish. He's always seemed such a gentle chap.
No Nonsense Nonsonnets 44
Quest for Knowledge
I'm hoping to find name for game that I played long ago
The people here so well-informed, someone is sure to know
A time machine, grandfather clock, I give it to myself
Oh never mind, the box is sitting there upon my shelf
For real retro gaming nerds, name that game.
Not sure how I missed this but…
HAPPY BIRTHDAY JELENA!
Hope you had a great day!
3.5 time winner of the "Really Annoying Caption Contest Saboteur" Award!
Happy birthday to you…
have a good time
Thank you all!
Lazy Bee
Temporary guest in your life.
Welcome to the Adventure Gamers forums!