Adventure Gamers - Forums
Welcome to Adventure Gamers. Please Sign In or Join Now to post.
KARASKI Release: Open-ended Who-Dun-It Mystery where Suspicion Can Turn on YOU!
Hey guys! Just wanted to share that my game I've been working on for over two years now is finally out woo
It's a first-person adventure with a lot of things you can change and influence as you go along so figured you may like it. Here's the announcement if it's alright to post here:

Comrades!
May I personally invite you to uncover the open-ended who-dun-it mystery onboard the world's first airship?
Do be careful in your investigation, however, lest you wish the passengers suspect YOU!
...or maybe it was you all along? There is no single answer; this is Your Story to tell!
BUY ON STEAM or CHECK OUR WEBSITE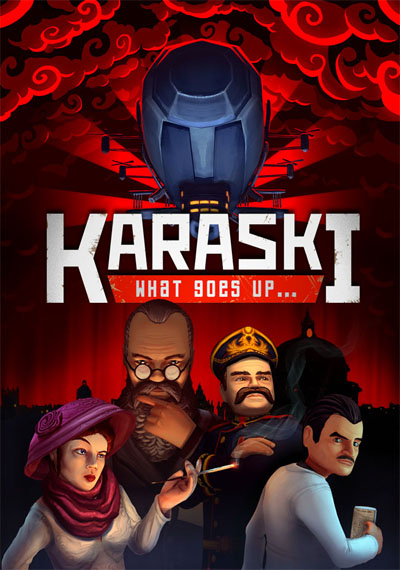 Each suspect has a secret and unique personality you can uncover in a nonlinear manner via dialogue, stealth, breaking into their rooms, or getting them drunk! Customize your playstyle with a number of tools but don't get spotted snooping – others will call you out on it and start suspecting you as well. Who knows, maybe it really was you all along? Multiple endings and solutions can lead to different results.
Who is the saboteur? Who can be saved?
Your actions and dialogue define the back story as well as future outcomes.
You are the storyteller.
HIGHLIGHTS
Open-ended, Engrossing Story
Multiple Endings
Complex Characters & Rich Dialogue
Social Stealth
Nonlinear Exploration
Multiple Approaches & Solutions
Various Tools to Fit Your Playstyle
… Gluten-Free!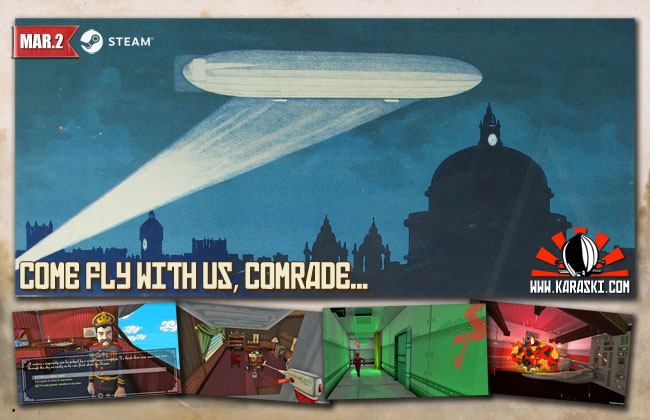 Hi again K, if you remember me - we exchanged couple posts on RockPaperShotgun
(to remind you, I compared this to my beloved Pathologic and yadda…).
I hope it's all well with the game!?
Ya I remember
Our game already released March 2nd, you can grab it at our website (http://karaski.com) or Steam ( http://store.steampowered.com/app/424640)
A nonlinear first-person game set in a parallel universe where you try to solve a mystery aboard a highly advanced airship and have to be careful or the other characters will suspect it was you?
This sounds appealingly similar to Consortium - consider me interested!
Hehe, when Consortium came out I thought "oh my god, this is just like my game!" ;p But after playing Consortium I can safely say it's a very different experience, even if the premise sounds similar. And different setting too, Karaski is a 1920s pseudo-Russian and steampunky one
This intriguing game is currently available in a bundle from Groupees alongside some other games of varying intriguingness:
Looks like a great deal just for Karaski even if the other games aren't as interesting!
haha, thanks for the compliment
Welcome to the Adventure Gamers forums!