Adventure Gamers - Forums
Welcome to Adventure Gamers. Please Sign In or Join Now to post.
You are here: Home → Forum Home → Gaming → General → Thread
Post Marker Legend:
New posts
No new posts
Interesting non-adventure games on Steam Greenlight?
It's often hard to seperate the wheat from the chaff on Steam Greenlight, simply because there are so many survival horrors, first person shooters and Slender-clones.
I thought this might be a good thread to put some interesting-looking games (that haven't been done to death yet, or that could use a little more exposure) in the spotlight.
So, if you spot something on Steam Greenlight that you think deserves to be voted up, this might be the thread to let us know…
And of course, if it's an adventure game, then this is the thread you're looking for...





I'll start by praising Tennis Elbow 2013. Sports games seem to struggle on Greenlight, but this one deserves to be on there, imo.
I've always liked tennis games, and I've practically played every single one that's gotten a PC release (and also a couple of console tennis games). Of all those tennis games I've played, personally I feel that Tennis Elbow is BY FAR the best of them.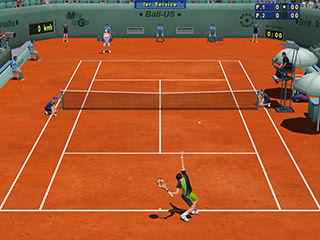 Graphically it lacks the polish of a Virtua Tennis or Top Spin game, heck, Tennis Elbow is only 40 MB large, so don't expect high end graphics. But as for the things that matter (realistic career modes, challenging online play and especially fun and addictive gameplay), Tennis Elbow in unsurpassed!
A gameplay vid of the 'vanilla' edition.
Here's a game that uses the actual ATP, WTA and ITF calculations for world ranking points, it contains a few thousand real-life players from the last 20 years, letting you start a career in present-day (taking on Djokovic, Federer and Murray) or as far back as the mid-90s (taking on Lendl, Sampras or Agassi). But the beauty is that you can start a career as far back as the 1000th spot on the ranking, needing to build up points in minor ITF Futures tournaments before you get to compete in ATP tournies.
The realism is unlike anything that's ever featured in a tennis game.
And the same is true for the gameplay. In terms of gameplay, this is the most realistic tennis game I've ever played (not even the Top Spin series comes close). That's why the designer - it's a one-man project - refers to it as a "simulation". And the game's extremely fun and addictive too! This is the game I've spent the most time on these last three years (the 2013 edition is only a minor update from the 2011 edition - the next real overhaul for the series is planned for 2015).
If you don't like to play against an AI, there's a pretty good online community for this game as well, and unless you're playing at 4am on a weekday in Europe, it'll rarely take a longer wait than 5-10 minutes before having an opponent to play.
As for the graphics, the options are limited, but there's a decent modding community that is constantly churning out mods that make the game look better (with more types of strokes added to resemble those of real players, player's faces and outfits added, scoreboards, courts, you name it). The game is extremely moddable, and the game's designer is actively helping his community by teaching them how to mod his game, and by frequently updating any part of the game that poses a problem for some players.
A gameplay vid of a modded game, and here's a forum post with a bunch of screenshots of mods for the game.
Oh yeah, and there's a Mac version of this game, too!
Vote for it on Steam Greenlight!
And as long as it's not on Steam, you can get it here.


Wow, this feels like a shameless plug…
Last played: There Is No Game: Wrong Dimension (CPT) - 4/5 | There Is No Game (replay) - 4/5 | Broken Sword: The Shadow of the Templars (replay) - 3/5 | Lighthouse: The Dark Being (CPT) - 2.5/5 | Anna's Quest (CPT) - 4.5/5 | Simon the Sorcerer II: The Lion, the Wizard and the Wardrobe - 4/5 | Florence - 4/5 | Alice Trapped in Wonderland - 1/5 | The Hunt for the Lost Ship - 1.5/5 | The Talos Principle - 4/5 | Tex Murphy: Martian Memorandum - 3/5 | Danganronpa: Trigger Happy Havoc - 3/5 | Simon the Sorcerer (replay) - 4/5 | Portal 2 - 4/5 | Murder By Numbers - 3.5/5 | Heavy Rain - 3.5/5 | Disco Elysium - 4.5/5 | Freddi Fish 2: The Case of the Haunted Schoolhouse - 3/5 | Freddi Fish and the Case of the Missing Kelp Seeds - 3/5 | Whispers of a Machine (CPT) - 4/5
Welcome to the Adventure Gamers forums!