Adventure Gamers - Forums
Welcome to Adventure Gamers. Please Sign In or Join Now to post.
You are here: Home → Forum Home → Other → Chit Chat → Thread
Post Marker Legend:
New posts
No new posts
Currently online
Happy Birthday, Fantasysci5!
The Birthday Demon is finally back from his home planet (not that anyone missed him around here!)
Happy Birthday, Fantsie dear!
I hope you have a Brit-tastic day!
As always, here's your special b-day okonomiyaki, grilled the way you like it. Enjoy! Now who's bringing the cake or the tea and crumpets?
Diabolus ex Machina since 1993
Happy Birthday Fantasy!
Have a Union Flag (as we now have to call it) Cake!
Hope you have a wonderful day!
3.5 time winner of the "Really Annoying Caption Contest Saboteur" Award!
Yay, happy birthday, Mrs. Louie!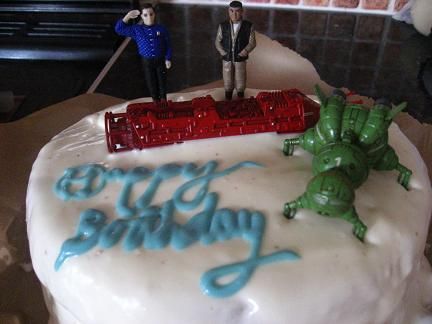 Wishing you another wonderful year of happiness and joy. Happy Birthday Fantasysci!
Even spammers are wishing you a happy birthday!!!

Happy Birthday, kiddo!
Have some more Union Jack Cake - perfect with tea!
Last played: Marvel's Spider-Man - 4.5/5 | Freddi Fish 3: The Case of the Stolen Conch Shell - 3/5 | There Is No Game: Wrong Dimension (CPT) - 4/5 | There Is No Game (replay) - 4/5 | Broken Sword: The Shadow of the Templars (replay) - 3/5 | Lighthouse: The Dark Being (CPT) - 2.5/5 | Anna's Quest (CPT) - 4.5/5 | Simon the Sorcerer II: The Lion, the Wizard and the Wardrobe - 4/5 | Florence - 4/5 | Alice Trapped in Wonderland - 1/5 | The Hunt for the Lost Ship - 1.5/5 | The Talos Principle - 4/5 | Tex Murphy: Martian Memorandum - 3/5 | Danganronpa: Trigger Happy Havoc - 3/5 | Simon the Sorcerer (replay) - 4/5 | Portal 2 - 4/5 | Murder By Numbers - 3.5/5 | Heavy Rain - 3.5/5 | Disco Elysium - 4.5/5 | Freddi Fish 2: The Case of the Haunted Schoolhouse - 3/5
Happy Birthday!!!!!!!!!!!!!!!!!!!!!!!!!!!!!!!!!!!!!!!!!!!!!!!!!!!!!!!!!!!!!!!!!!!!!!!!!!!!!!!!!!!!!!!!!!!!!!!!!!!!!!!
Happy birthday Fantasy!
Have a Tardis cake:

Hi Fantasie! I wish you a smashing birthday! Have a cauldron!

Gaa, so much cake already… And the gifts are getting weird! Okay, here, have an old boot in addition to the earlier cake!

Happy Birthday Fantasy!
Have some afternoon tea. So very English!
Lazy Bee
Temporary guest in your life.
Happy Birthday Fantasy.
An adventure game is nothing more than a good story set with engaging puzzles that fit seamlessly in with the story and the characters, and looks and sounds beautiful.
Roberta Williams
Awwwww! Thanks everyone, I feel loved.
Seriously, the highlight of my birthdays are always these threads. It wasn't anything amazing, just had lunch with my friends, went to work, and my coworker baked me cupcakes. Louie wrecked his car running into a dear, so birthday was subdued. But it made my day seeing this thread, it really did.
Thanks so much Trunkyo, you always remember.
Intense-I love the Union Jack cake! It's too pretty to eat. What's all this about having to call it a Union Flag now?!
Uptimist-Red Dwarf cake!! I love it, I don't want to eat it eit Ther.
Thanks so much! The newest series was pretty good, still my favorite tv show.

Timovieman- Thanks for the Union Jack cake. I just love the Union Jack, I wish I had a cake like that in real life. And what's with all this "kiddo"?
I like it.
Hammerite- Thanks!!!!!!!
Gray Pierce- Thanks! That police box looks great! I wonder if the cake is bigger on the inside, too?
Tsa- Thanks! I'll have to brew up something.
SweetDaliah- Cupcakes! Brit cupcakes! Thanks! And I love that Myst lot!!! Too bad I don't have all the extensions to make it work. But that's really cool.
Jelena-Thanks for the tea and birthday wishes!
Lady Kestrel- Thanks!
Lucien21-Thanks!
Thank you everyone for making my day so special.
Favorite Adventure Games-Lost Crown, Longest Journey, Dark Fall 1&2, Barrow Hill, Black Mirror, Blackwell games, Riven, Myst
Favorite Other Games-Kings Bounty, FTL
Currently Playing-Barrow Hill:The Dark Path
Looking Forward To-Last Crown/Braken Tor
Welcome to the Adventure Gamers forums!