Adventure Gamers - Forums
Welcome to Adventure Gamers. Please Sign In or Join Now to post.
You are here: Home → Forum Home → Gaming → Adventure → Thread
Post Marker Legend:
New posts
No new posts
Currently online
Phantomery Interactive - Phobos 1953 - Out Now
I'm not sure if anyone had this on their radar, but after Outcry/Subulstrum I certainly did. It is the most recent game from the now defunct (I think) Phantomery Interactive of Russia. Truly a shame they're no more, but the game has been released into the English market. I was browsing Zodiac (a digital download platform like Steam) and saw the game listed as "1953 - Kgb Unleashed" and I knew right away it was Phobos. If you enjoyed the previous game, you should really check it out. It costs $19.99. Here are some screenshots: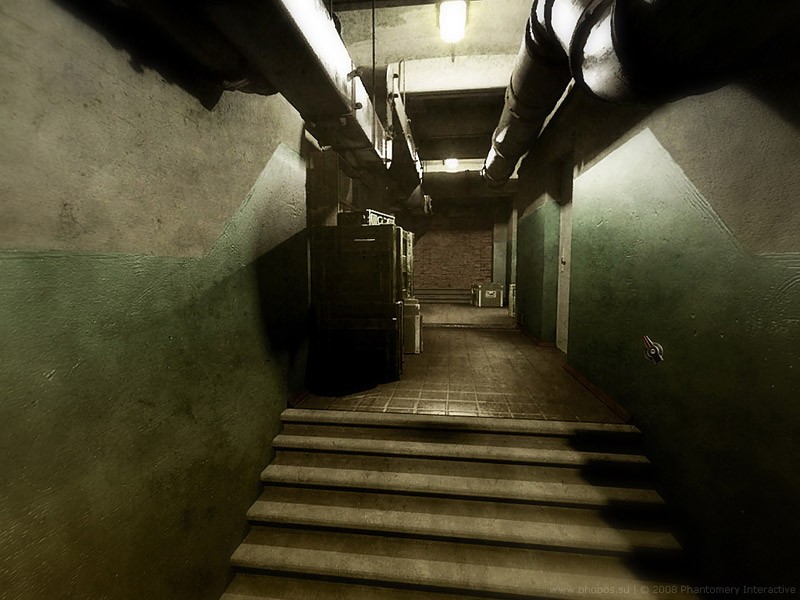 I was so disappointed with this game. Sublustrum wasn't a classic but it had a lot of very interesting elements - enough to make me anticipate this game. But, i'm sorry to say, I thought it was awful. And as a qualifier to that, i'm a huge fan of serious 1st person adventure games; it's not as if i don't like the genre.
The game design was simply awful. The interface was cumbersome and awkward, the puzzle design was frankly shocking; in fact, it felt like it hadn't been play-tested. They were either illogical or too vague / obscure, or dull, or a combination of all three.
The story never amounted to anything; you never really found out anything substantial about the facility you were trapped in and it had no real relevance to or lasting effect upon the player character's life. The ending was a weak, surreal cop out, and came totally out of the blue.
On top of this the game was incredibly short (mercifully so, as it turned out). In fact, given the very short playing time and nonsensical, abrupt ending, I left with the impression that the game was unfinished and rushed out with a tacked on ending. This would also explain the lack of adequate testing of the gameplay (I just cannot believe testers gave the thumbs up to them; not wanting to hark on, but i've played a lot of Myst type games and rarely have I seen puzzle after puzzle so poorly conceived and executed).
I hope if Phantomery produce any more games in the future (and I regarded them as a developer with a lot of potential after Sublustrum) they really take the time to make sure they get it right and leave themselves enough room during the design phase to change things, so that they don't get irrevocably stuck with ill conceived gameplay, as I have the feeling happened here. I can't imagine anyone other than a hardcore 1st person point and click fan having the patience to play this game and even they, I suspect, will be glad when the premature ending comes, like a bolt from the blue.

Edit: one final point: $20?!?! Ridiculous for a game of this length. I would estimate, from memory, that there is about 30 nodes in this game and little over half a dozen puzzles, not counting basic inventory work. The playing time is only lengthened because the puzzle design is so poor you'll probably get stuck. I've played many games three or four times the size of this one that retailed for about $12. In fact, you can get the entire Penumbra trilogy for less.
One more edit: I have just noticed that the OP believes Phantomery to be defunct: this would certainly explain why this seemingly unfinished game was possibly rush released.
Pretty sure Phantomery has been dissolved, so there's that. I didn't realize the length of the game, and I'm still at the beginning. I'm not sure if you've forgot that Outcry had some vague puzzles in it; it also could be finished in a few hours if you know the game. I understand your complaints though. I disagree because the game has a great style to it, and from what I've experienced has a lot of interesting information in it.
$20 for a game that most likely just barely got the go-ahead to be localized? By a team that is now dead? That's fine by me, I don't mind supporting efforts like this. I get more mad when a team like Pendulo puts out a 4 hour game in YESTERDAY and charges $30 for it. My guess is you're right, this is probably a game for the hardcore fan of the specific genre.
I was one of the people who didn't find Outcry all that great, despite being a huge fan of those type of games. The story seemed to meander all the way through and if was frustrating seeing so many things around me that I wanted to play with, and the game not letting me or deciding when I would get to play with them. Vague is a good description for the puzzles, as I couldn't seem to determine what I had to do or when I had to do it. Most of the time I was walking around randomly clicking on things.
I watched a bit of a youtube playthrough of 1953 and it seemed to have the same problems from the very start. If you're going to have such an ugly setting then the puzzles and story better be pretty damn fascinating, and they just aren't.
Thanks for this info. I had placed a pre-order (Aug. 10 release) for the box version from a seller on ebay. Thankfully the seller allowed me to cancel the order and reimbursed my pp account.
Give a man a fish and he will eat for a day.
Give a man a rod and he will sit on a boat and drink beer all day. - USA Network
Welcome to the Adventure Gamers forums!