Adventure Gamers - Forums
Welcome to Adventure Gamers. Please Sign In or Join Now to post.
You are here: Home → Forum Home → Gaming → Adventure → Thread
Post Marker Legend:
New posts
No new posts
Currently online
GRUNND | dark adventure game
Good day to you!
My name is Olafs and I am here to present to you an adventure game we are working on - GRUNND. It is a game with overall dark narrative and permanent choices. You will be visiting a parallel universe and sometimes it's inspired dreams.
A bit from our holy Game Design Document..
Lynchian dark adventure game about the protagonist, who tries to find his way back home from a parallel universe.
This is a narrative heavy point and click adventure game in which our hero meets various less or more bizarre characters in order to figure out where he actually is and how to get back home. Sometimes world's inhabitants will induce dreams, which our Hero will be able to complete only once. Also the game will have multiple choice system and some of those choices would be impossible to undo.
The present universe, which it's inhabitants call Tyr, things are pretty similar to ours. Main differences are in the fact, that religious systems are almost non-present, but now and again our hero learns bits and pieces about unknown deities that govern the world.
All story unveils in the town of Bytown, where our hero arrives by train after he falls asleep on the way home after work.
Mood and Inspiration
Well, yes, this game will have a dark mood, with desperation and hardship thrown in into the mix. Think of bleak Southern Gothic inspired landscapes and Lynch worldbuilding. Also throw in your own thoughts and feelings - they have their place in the world of Tyr as well.
Technicalities
For now GRUNND is will be PC only. It will have multiple control choices: Keyboard and mouse, Point and Click, controller. One save slot per playthrough.
Selling points, everybody needs them

RICH STORY
Branching dialogues with different outcomes and stories with multiple endings. Permanent choices.
100% HANDCRAFTED
All what your eyes will see is 100% handcrafted for GRUNND, we do not use 3rd party assets.

FULLY VOICED
Fully voiced English version of the game. Hear the characters.

ORIGINAL SOUNDTRACK
Soundtrack written specifically for GRUNND. Listen it within game or wherever you like.
And we are…
So we are not incognito here. I am Olafs - I do the story and development. I am a journalist by education, who worked in the field, then became a photoshop professional and a photographer. I am here to answer all your questions [Oh, I do hope you will have them] and will do, at one point, marketing things, of which I am sincerely afraid of. Also we are making a Demo funded from my pockets so far and we better finish soon.
Then there's Sindija - graphic artist I have a pleasure to have known before we started the game. I am very happy she agreed to participate in this project and bring in ger view on things as well.
And then there's Ed - an already accomplished video game composer, who will create an amazing soundrack for GRUNND [as well as some extra audio assets].
What I can say is… what excites me the most - we are all on the same page. I cannot be happier and luckier.
You can read some extra on our TEAM page here: https://grunnd.com/meet-the-team/
GIVE US SOMETHING PRETTY ALREADY!
Yes! Of course! No demo or trailer yet. We are closing in, though.
A bit from a concept art [it has a massive spoiler, but how could you know, right?]:
Here's one from sketches. I love them so much even if Sindija says, they are not good..
And here's an actual screenshot [granted, without protagonist in it]:

So here you go
Our socials are here, if you care to check them out:
GRUNND @ Facebook
GRUNND Webpage with some pretty wallpapers and things
Discord Channel - freshly created and ready to be filled in
Oh, and our Twitter: GRUNND Twitter
I have a hectic regime, as I am very often with my 18 months old son, so I do apologize, if I am not answering right away
Looks amazing Olafs! can't wait to hear more about it
You are the first person in our Discord - for that you have a special place in my heart!
I'm honoured! Thank you. I'm happy to be a part of your discord and looking forward to finding out more about the game. I'll also be happy to mention the game on the next episode of the Adventure Games Podcast.
You can also feel free to join us Discord on the link below:
Best of luck with the game!
Actually slightly surprising, how long it takes for us to get the Hero right. This is about fifth iteration of him and now we're on ninth. But we're getting damn close.
Thank you, Jack, for giving GRUNND a small spotlight!
I would like elaborate a bit on the term "multiple endings". When I just now read it myself, it sounded so much, at least 28!
Thus I hurry in here just to say, that we are now planned three major endings with possible fourth, but not more.
For a bit closer view on this I'll post an couple sentences from "LORE 1: On multiple endings" post on our web:
"Of course, there will not be tens of different endings. As for now – three. Other things are just permutations. Ending is when XXXX XXXX XXXXXXX XXX, XXXXXXX, XXXXXX XXXXXXXX, XXXXXX XXXX XXXXXXX XXXXXX.
One note on those permutations, though. Grunnd will have dream sequences. These are like little hubs, that are triggered by interaction with certain NPC's. During the playthrough you can do them only once and have to stick with the decisions."
X'es are spoilers. No spoilers here.
Olafs
Station. [in-game]
Dear Adventurers!
It's DEMO time! We would like you to check out GRUNND demo and maybe drop a line back. All you have to do is to follow us on Twitter or join our Discord channel.
I know, I know, but the thing is, we really would appreciate some feedback. To be honest, I am afraid and feel intimidated by this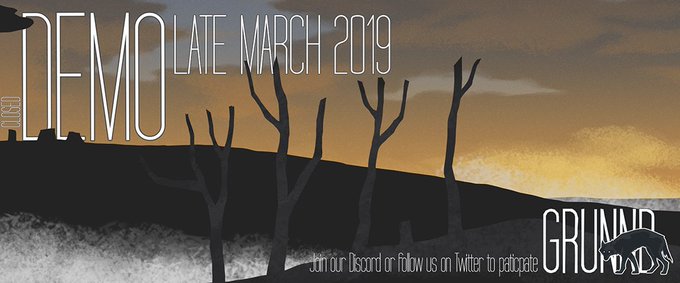 Oh, hey, me again!

It's beginning of March and we just got into Beta. Well, as we call it at least.

Main work on game's demo/trailer Hub is finished – dialogue is in place, hub is built, camera mechanics, triggers and particle systems are working. From tomorrow, or a day after tomorrow – maybe a day off would be nice – main attention will switch to animation and sound.
Why this particular milestone is important? Mainly because in this version all the systems were built to last. Not just to present the way game will behave, but to have a foundation on which the rest of the game will be made. Of course, more polish will come, but now more focus can be switched to content. The core is here.
It's not happiness. But a damn nice feeling
Oh, yesterday was great. Not only oficially [for ourselves] in Beta, we finally are set on the look of our protagonist. In the end he turned out pretty badass.
Are you sure it's dark enough? there appears to be too much white in the title font…
I used last rays of hope to get that white. Not much left.
Finally we have settled on our protagonist's look.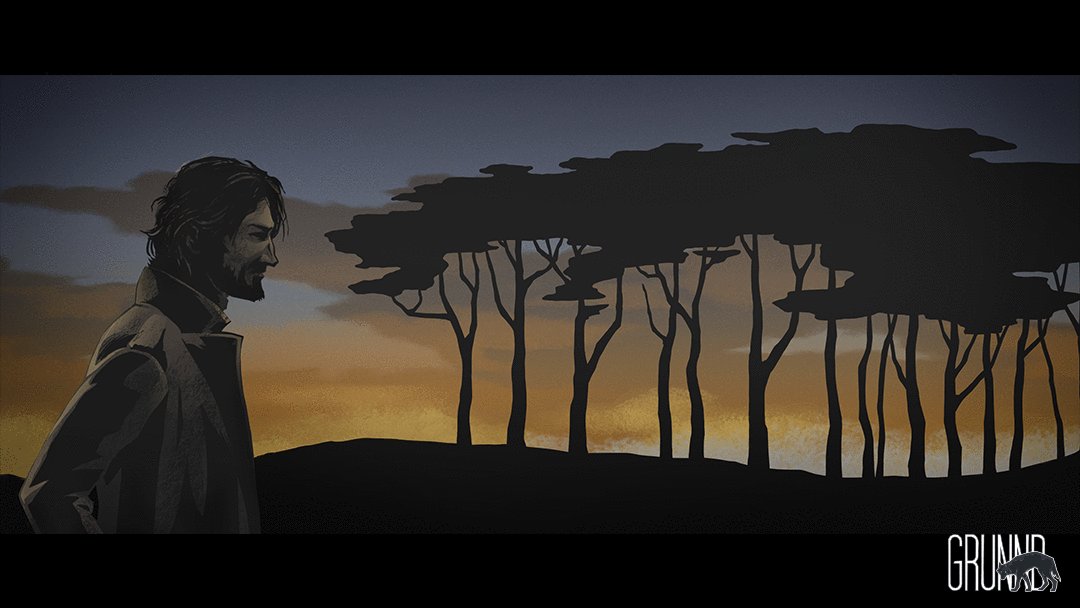 I am so happy to present you a teaser of GRUNND's Title Menu theme.
I did try to embed Soundcloud right here, but without success, thus please do visit GRUNND's Journal entry to listen. And share your thoughts!
https://grunnd.com/title-menu-teaser/
Nice track. It definitely fits with the theme you are going for.
Thank you! Will def pass this on!
Welcome to the Adventure Gamers forums!