Adventure Gamers - Forums
Welcome to Adventure Gamers. Please Sign In or Join Now to post.
What game have you just finished?
Lorelai is certainly a worthy game to play - not quite as good (my opinion only!
)
To get a little more background on the place & a couple of characters it's worth trying
Downfall.
Lorelai is certainly a worthy game to play - not quite as good (my opinion only! )
To get a little more background on the place & a couple of characters it's worth trying
Downfall.
I actually played the original Downfall, but it was so long ago. And it seems like Harvester made some significant changes to the remake so that it would feel like a sequel to The Cat Lady. So I probably should play it as well, thanks!
PC means personal computer
Agatha Christie - The ABC Murders :
Not a "real" adventure game imo, but rather a visual novel with interaction and some part hidden-object-game.
Mostly easy puzzles, but some of the object-based puzzles were tricky and fun. You can't really do anything wrong in this game, and it dosen't seem to matter what questions you ask the suspects. Some lazy repetetive game mechanics, cluncy controls and uninspiring story (although I suspect the book to be much better) adds upp to quite a dull gaming experience. But I did finish it though, witch I guess counts for something.
There are far better "murder investigation" games out there, and I would not recommend this one.
Final score: 4/10
Just finished "What remains of Edith Finch" on the ps4, and wow. Just wow. What a smooth and streamlined game. I feel like this is the closest the game medium has ever gotten to getting the whole "interactive movie/book/whatnot" right. Alot of dialogue/verbal exposition in adventure gamers are usually exhausting to me (f.ex. in TLJ), but here it's so expertly intergrated into the whole of the presentation that it's just a joy.
I couldn't put it away until I was done, just like with a good book/movie. At no part did I feel like the game tried to hold on to me longer than necessary, it had actual pacing and respect for my time. Loved it.
Rinji Shuden (The Extra Last Train): G-Mode was one of the major publishers of games on Japanese feature phones (before smart phones) and they have finally been releasing ports of those games on the Switch starting this year, a fantastic move as many of these feature phone games have never been made available on other systems and are lost now. Rinji Shuden is a horror novel game originally published in 2011 (well into the smart phone era) and the third and final in the so-called Senbazuru series (all horror novel games, but no connection in story/characters). The game opens with the protagonist waking up in a train with five others: he remembers he had initially missed the last train, but that an extra train arrived, and they all got on. He and the other passengers then slowly realize they all fell asleep and that they have been moving for a long time without stopping at stations, and they can't even see outside due to the darkness. The game starts as they decide what to do.
This game uses a card system for the choices that influence how the story branches off into the various storylines: each branching point offers three choices (A, B and C) and at the start of each playthrough, you're given a limited number of all ABC cards. If you have used up all your B cards for example, you won't be able to pick the "B" branching paths anymore later in the game. It's therefore not possible to get the best ending in one go (as you have too few cards of each kind), but once you have seen a few different types of endings, you'll be given more cards at the start of the game, allowing you to find new branches and endings, etc. It's not a very long game, but fun enough as a horror novel game and even with the flowchart function it can be tricky to find the best ending/all other endings because you need to be pretty precise with what story flags you activate or don't activate. The story is mostly spooky horror, though there are also endings/branching storylines that are a bit more lighthearted/funny/emotional.
"Rationality, that was it. No esoteric mumbo jumbo could fool that fellow. Lord, no! His two feet were planted solidly on God's good earth" - Ellery Queen, The Lamp of God
Thank you for the mini review of What remains of Edith Finch. I'll have to pick it up and play it now, too many 5 star reviews to ignore.
I enjoy playing adventure games on handheld systems- PS VITA, Nintendo DS and ipad mini.
Last one I finished was INMOST. It's a cinematic platform metroidvania, with action segments and some others that resembles adventure games.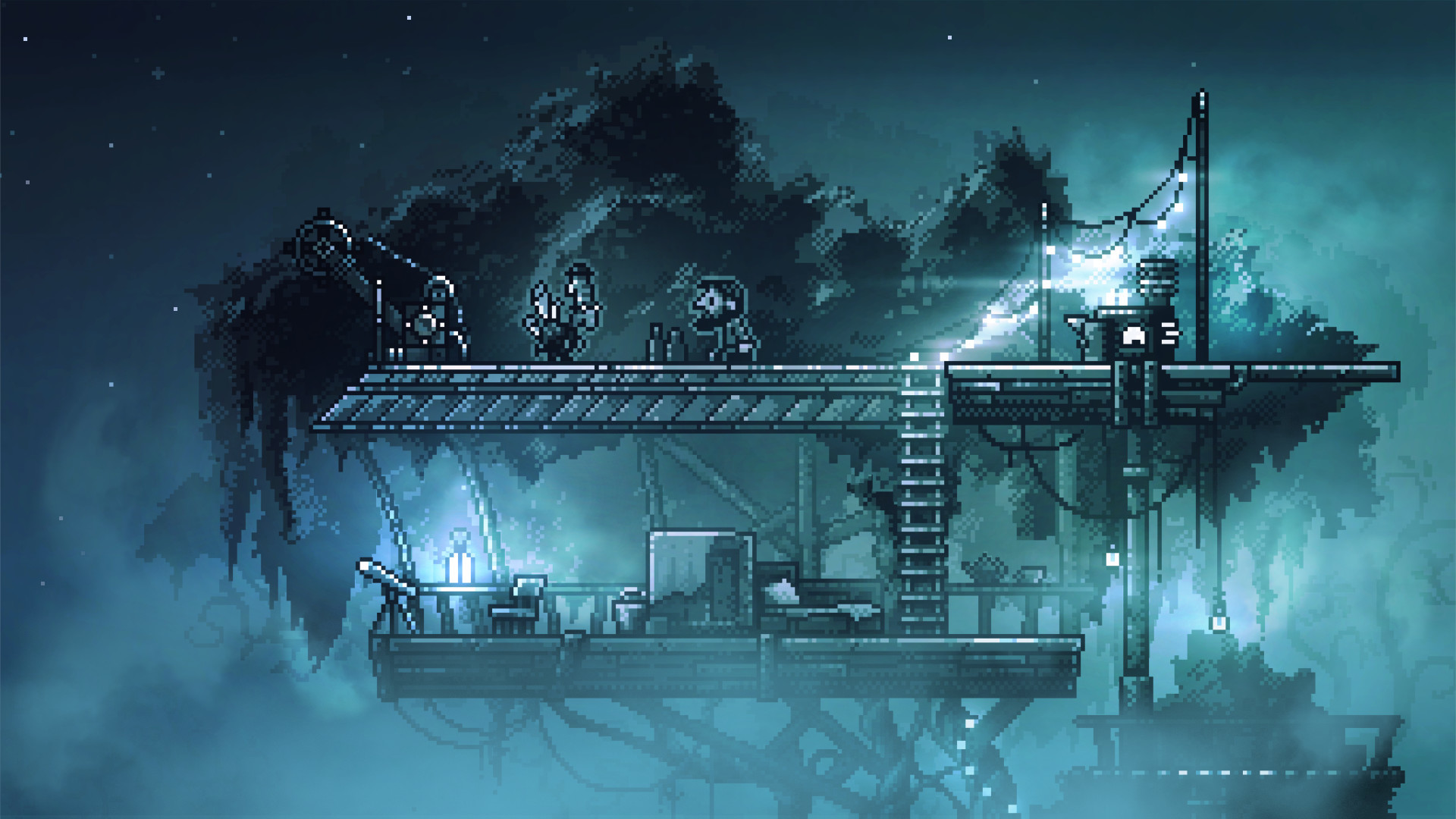 I actually completed this one a while back but ended up blogging about the game only now. Duckman: The Graphic Adventures of a Private Dick is a game I'd call one of those lost gems of the 90s. A point and click adventure with solid production values, good voice acting and solid puzzle design, but which has somehow fallen under the cracks as you can't buy it from anywhere.
It's based on an animated series, following the misadventures of a boozing and womanizing anamorphic duck detective. It's well worth playing if you can find it from somewhere. And it runs on ScummVM as well.
My blog entry: https://bit.ly/3lJz7zF
Duckman seems to be on a wishlist at GOG at the moment so you never know.
I was intrigued by the screenshots of Ghetto Conspiracy posted by DCast in
Adventure game scene… uh, game (continued) so I bought it (£4.00) & gave it a go!
I'm so glad I did as I found a very well thought-out story along with very competent puzzles & game-play which flowed along but took me over 7 hours to complete.
I very much liked the artwork - I'm not a great fan of pixel art but in this case I found the backgrounds & colours very pleasing & I didn't feel that I was playing it viewed through frosted glass!
The game is for the most part inventory-based but there is one 'platforming' sequence & also a couple of 'simon says' 'button bashing' sequences to beat.
I managed to do it but I always find these kind of inclusions in an otherwise action-free game to be annoying & not fair!!!!!
The downside of the game though I have to warn you about is the content as it is very adult in nature & potentially if not actually very offensive.
It includes some pretty awful rap lyrics (which in hindsight are probably more of a veiled 'p**s-take` of genuine rap artists that spout all that disgusting spiel), there are references to incest & paedophilia & some sexually based puzzles & dialogue which I'm sure would make Larry Laffer cringe. There's also a lot of 'gore' !
But if you can get over that the game's a lot of fun & I did between cringing myself laugh a lot too!

The mystery adventure Wakaido Makoto's Case Files: "Executioner's Wedge" (iOS/Android) was released today and I saw it mentioned a lot on Japanese SNS, so I tried it myself. You play a cop investigating a murder on a man who has been decapitated. The visual presentation was very nice, as was the music.
It's also very short (an hour or so) and simple. You're mostly questioning people for clues (the game tells you how many clues you need to find in that particular section) and occasionally you'll have to answer some questions in the 'deduction' segments. Funny is that you'll only see ads in this game whenever you get a question wrong, so if you never make any mistake, it's completley ad-free :P Questioning people is a lot more troublesome than should be: you have to "set" one of the memo's in your inventory, then start a conversation with a character: if the character has something to say about that memo, a new conversation topic will be added, and if not, there's nothing. So you have to constantly "set" new memo's and begin a new conversation with a character to check whether that particular memo will trigger a new conversation topic or not.
"Rationality, that was it. No esoteric mumbo jumbo could fool that fellow. Lord, no! His two feet were planted solidly on God's good earth" - Ellery Queen, The Lamp of God
i think i ve read someone saying at these forums that Beyond Steel Sky didn't rely that on the hacking feature, hell no, there nothing at this game but the nice story, animations, and the hacking gameplay over and over, and of course a lot of bugs and crashes. I wouldn't rate it more than 3-3.5/5.
Thank you for the mini review of What remains of Edith Finch. I'll have to pick it up and play it now, too many 5 star reviews to ignore.
Dude please play it. It's SO good. I didnt even own a ps4 at the time, I went to a gaming center, and asked them to let me buy it on their PS4. My only regret is that place is gone and I can't play it again.
***
Consider it a mini-review
I just finished "Close to the Sun" by Storm in a Cup on Nintendo switch last night!
If you like other walking sim games, then I think you will like this as well, as long as you don't mind a touch of horror and scifi.
So you have been invited by your sister to come aboard a ship called the Helios which is a ship in international waters owned and operated by Nikola Tesla to let scientists live and work without being bothered by the little things in life like what they will eat next or if their research is detrimental to the human-kind. If you are sensing a bioshock vibe, it seems to be very intentional. The art style throughout is caught between a classic art-deco style (I think? I hate this artsy crap) and a parallel future.
The game has only a few different experiences. Mostly you walk around and explore an enormous ship. It handles well enough, although a bit slow. Eventually something will block your path and you need to solve a puzzle to continue. The puzzles tend to stay on the easy side, although you may need a pen and paper to keep things straight or to work them out. Sometimes they would be considered logic puzzles, but most times you just need to go find the solution somewhere in the environment.
The last thing that happens is chase sequences! This is where the horror part comes in besides the copious jump scares. So if you've played Silent Hill Shattered Memories on wii/psp, it's kind of reminiscent of that. You run away and figure out how to evade someone and if you get caught then you get gruesomely murdered, and you have to start the chase sequence over. They don't over stay their welcome. And if you are a bit of a weakling when it comes to horror, then I think you could probably handle this. Sometimes it's quite freaky. Despite the bioshock comparison, there are no guns and there is no shooting. So thank god for that.
The graphics are kind of shit for the Nintendo switch (I think Europe only for physical with other regions digital), I have to be honest. I would really recommend getting in on PC if possible if just for improved performance. The textures show up when they feel like it, things pop in to existence some times. The text is too small throughout the whole experience (for what reason?) there is resolution and framerate problems all over the place. You have to be willing to forgive quite a bit to play this on switch. I did so because I bought a physical edition published by Wired Productions and distributed by limited run. The physical edition came with a certificate, a letter, a pin, a steel book, physical game, art book, soundtrack on vinyl and some code for an EPIC game store that I don't understand what it's for.
Basically if you want to play horrific walking sim/exploration type game then this a good time. There are 10 chapters overall and it might take you a few nights of gaming to finish. Not every chapter has puzzles and chase sequences really
Comparisons to something like FireWatch would make sense.
Whether or not this is recommended would depend on your taste. If this sounds like "not enough game" then I would fully understand, but as it stands, I have to recommend this game because I know there are some other horror, scifi, and walking sim fans around here.
Just finished the last episode of Casebook, a series of games from about ten years ago that I bought on release but never played until now. The gameplay consists of taking photographs of crime scenes and other places, examine photographed evidence and watch the story unfold through video clips. Kind of an FMV/casual/HOG game hybrid.
There were only three episodes released; Kidnapped!, The Watcher and Snake in the Grass. And a short demo/tutorial game called The Missing Urn.
The basic premise for these games is odd. You actually examine evidence (such as lifting finger prints, analyzing substances etc.) through the photographs, not by actually picking the physical evidence up… Realistic, right? And the camera's memory is full after eight (!) photos, after which you need to go back to an "evidence van" to unload and analyze the stuff in the pictures via a simple computer interface (and very easy minigames). It's generally much harder to link things you've found to other evidence, but unfortunately that's mostly because of a pretty confusing interface. But the game offers in game help if you're stuck, which I was several times at these stages of the investigations.
Although I'm usually not a fan of casual/HOG adventure games I still kind of enjoyed playing these. They have a certain low budget/cheesy charm and some quirky characters. Each can be completed in one sitting.
Cayne – PC
A mature isometric thriller/horror point and click game. Was free on GoG so I thought I would give it a go. Felt like it had taken about 2 or so hours to complete the game (kinda of what I was looking for at the time). Only once did I get stuck with any of the puzzles.
I enjoyed the point and click aspect of this game. Anything interactable or can be used in conjunction with the inventory, comes up with a hand icon. Other objects in the environment come up with a eye icon and just add information. Don't have to try and use the items from the inventory on every object in the environment. Makes the game easier and streamlined (less time getting stuck on a puzzle solution). One draw back, there is no button to show all the objects in the environment.
Voice acting is great. Setting/scenery/graphics were good. Ending was confusing. Main menu is bland, manual is very basic (both come across as low effort).
Now interested in another game set in the same universe, Stasis (may add some context to the ending hopefully).
7.5/10
I just finished Kathy Rain, which became available in Gamepass recently.
I really liked it. I was craving something exactly like this, a GK'esque mystery with intriguing story and great characters. I really like the story and puzzle design. For me it hit the right spot of difficulty, not too easy but no crazy puzzles that bogs down the pacing. I also liked the ending, which I believe was kind of the weak part for some people, it has the right kind of ambiguity that I can get behind. I hate when games/stories start grounded and set up this mysteries but then if the paranormal stuff takes over or everything gets some crazy explanation, to me it immediately loses its magic. I was also surprised how big of an influence Lynch and Twin Peaks had on this.
The last sequence reminded me a lot of the Black Lodge, including doppelgangers and entities that want to feed on the human soul
By the way, I went and check the CP for this game from a couple of years ago and was kind of disappointed on the lack of discussion and mention of these Lynchian influences and how much it informed the story and themes and was also disappointed to see that the author Joel didn't want to mention anything related to plot. I understand not wanting to discuss plot and meanings, just like Lynch doesn't like to discuss his movies, but he could at least have given his version of "10 clues to Understanding Mulholland Drive". It would have been great to see some of his input regarding the story and discuss and speculate on that.
Overall I really enjoyed it and I'm thinking in playing Whispers of a Machine next since it comes from the same author. How does it generally measure against Kathy Rain?
Welcome to the Adventure Gamers forums!