Adventure Gamers - Forums
Welcome to Adventure Gamers. Please Sign In or Join Now to post.
Hello, Adventure Gamers!
We're Caligari Games, a Moscow-based indie studio making adventure games. We just recently realized that forums like these are one of the best ways to find people passionate (or at the very least curious) about adventure games. So, here we are!
A year ago we released our first project, a time-travel adventure "The Great Perhaps". It was a bumpy ride, and we made a lot of mistakes during the development of that game. Still, we love it and are proud of finishing it despite many issues that we had. And while it's far from perfect, we learned a lot from it and are ready to make our next project better.
About two years ago we started developing "Whateverland", a hand-painted point-n-click adventure game with a branching dialogue system, non-linear gameplay, various endings, and unique in-game turn-based strategy sports simulator. And a lot of hyphens, it seems. It tells the story of Vincent, a skilled thief who pissed off an ancient witch by trying to steal her necklace, so she trapped him in her magical prison. Together with Nick, his newly acquired sidekick, Vincent tries to get out of Whateverland, where nobody has ever escaped from. Yet.
At first, it was a side-project that was supposed to become a quirky small-scale point'n'click about a thief, who steals from an ancient witch, gets sent to a parallel world created by her, and then tries to get out. But as we were working on it, the idea started growing into something else. While the premise still stands, the scope of the game has increased greatly.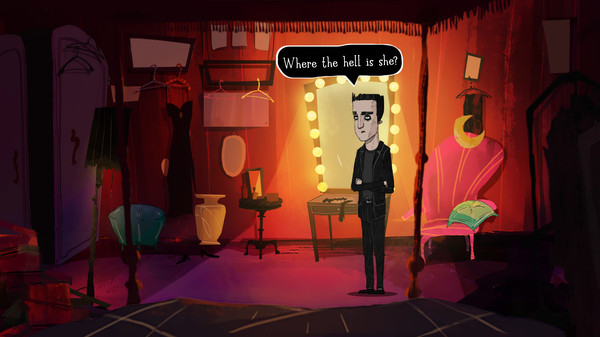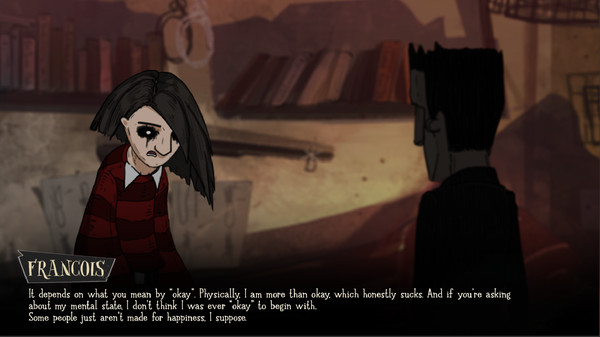 For example, at one of the early stages of development, we decided to add a board game to Whateverland, and that idea grew into "Bell & Bones". We can't reveal all the details about it just yet, but in short, B&B is the lovechild of Rugby and Quidditch that really wants to become Chess.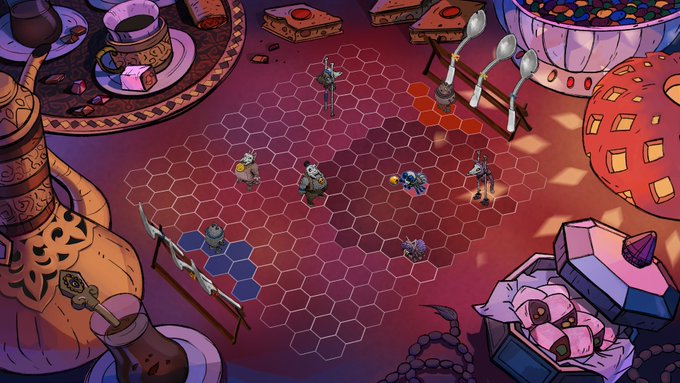 Also, the game will feature a path system, which allows the player to complete each section of the story in two different ways – either by being helpful and dealing with people's problems or taking a shortcut and stealing from them whatever it is you need to move the plot forward. You won't have to choose your "side" at the beginning and stick to it for the rest of the game – every chapter can be completed through either path and each of the paths offers a unique gameplay experience, that can't be accessed otherwise. Your choices throughout the game will affect the ending, as well as your relationship with Nick. You'll also be able to complete these sections in any order you like.
We've released a free Prologue of Whateverland on Steam. So, if you're interested in the game you can check out the beginning. It doesn't show all of the mechanics just yet but gives an understanding of the tone and atmosphere of Whateverland and its world. All opinions and comments are more than welcome!
Also, Whateverland is live on Kickstarter right now, so you can check out our page there and learn more about the game.
Join our Discord Server as well.
As you may have noticed, a little more than two weeks ago we released a free demo of Whateverland, which features the beginning of Vincent's journey. The response from players has been great, we never thought it would be so rewarding to release our prologue.
We received a lot of valuable feedback from the players, fixed many bugs, and made some changes to UI and controls. And we will keep working in order to make your experience with our game as enjoyable as possible not only by regularly updating the demo but also on the release of the full game. We've already fixed many issues in the latest update of the Prologue, and will continue to improve it!
Creating a community around our game has been a very rewarding process as well. Thanks to our Kickstarter campaign, we met a lot of wonderful people, some of which have generously helped us with translating the Prologue into several languages. We've already added Chinese localization, as well as German.
While Kickstarter has been taking a lot of our time (no, really, we never expected it to be that demanding) and effort, the majority of our team is actively working on the game itself, and soon we'll have a lot of new stuff to tease you with. It is impossible not to mention how much the support from the players means to us. It is a pleasure to work in this new environment because we know that there is someone waiting for our game. It motivates us to do better and strive for perfection, even when our working routines are far from getting back to normal anytime soon.
Actually, there is something new that we'd like to show you today. Right now we're actively working on one of the chapters of Whateverland, where Vincent will have to deal with an insufferable Russian aristocrat, Van, and his disobedient servant, Zachary.
As always, you will have the opportunity to get Van's piece of the spell in two different ways. We can't tell you what you'll have to do without spoiling all the fun, of course, but we can show you a half-backed part of the location you're going to explore while figuring it out. Please note that everything you see is a work-in-progress version of the characters and backgrounds subject to change.
By the way, can you spot a familiar face in this living room? If you can, let us know
We're waiting for your feedback so we can improve the game and make it as perfect as possible!
Music is an essential part of an adventure game's atmosphere, don't you agree? The performance of Animal Crossing musicians inspired us to record our own music video from quarantine.
Love the artwork, I've played similar games and really enjoyed them.
I enjoy playing adventure games on handheld systems- PS VITA, Nintendo DS and ipad mini.
The Joys and Pains of Worldbuilding.
So, you wanted to know how Whateverland came to look the way it does, isn't that right? Well, you didn't actually ask for it, but we're going to tell you anyway. And it's a great story, by the way, so get yourself a glass of ice tea (or ice-cold vodka, no judgment on our part), sit back and tune in, for we're going to talk about the excruciatingly fun process of worldbuilding for "Whateverland".
First of all, the origin. Because every story has to start somewhere, and this one starts at a literal junkyard. We mentioned before that for Beatrice this world is a sort of bottomless dumpster, where the witch throws whatever she likes or rather whoever she doesn't like. But the world of Whateverland lies beyond an ordinary junkyard, there's actually a whole city out there waiting to be explored. But who built this city, you ask? It certainly wasn't anyone from the merry band of misfits that got there first, we can tell you that. All of them were completely useless then, and nothing really changed since. Sure, the inhabitants of the city have greatly influenced its appearance, but they weren't the ones who built it from scratch.
Today we're not going to talk about the lore as much, but rather dive into the inspiration behind the visual style of the city and its architecture. Since technically the world was built by magical beings that exist outside the traditional framework of time, we could make the city itself look any way we wanted. The idea was that all the buildings would be designed roughly in the same style, and then we'd gradually add a variety of details, which would make the appearance of the city more vivid and lived in. The people of Whateverland come from many different countries and time periods, and each of them has something to bring to the image of the city.
But before getting started with the architecture and all the other good stuff, we had to create a map, through which the player (that's you!) is going to navigate the story.
Alexandra Kert, lead background artist:
"The first challenge was to determine the overall shape of the map – what kind of city Whateverland could be. I wanted it to show at least some history of its origin, so I started thinking about what surrounded the city (like a river, for example) and most importantly, how it developed through time. Most likely, Whateverland was never strictly planned by anyone, unlike cities like New York or Barcelona. So, it had to be designed as an old European city like Rome, which grew organically on its own. This is why Whateverland is centered around the building with a square in front of it that later became the Casino, a key location of the whole game.
Then there was a question of perspective and the depiction of the map itself. As a reference, I used both the maps of medieval cities with a weird angle and modern plans of cities, including in-game ones. At first, the idea of drawing an entire city by hand scared the shit out of me by its magnitude, so I decided to at least prepare the base by creating a 3D model. At some point, I even wanted to make the whole map in 3D, but in the end, I decided against it.
However, in the process of 3D-modeling came the understanding that I needed more creative freedom. I wanted to experiment with the angle of view, without being strictly bound to isometry or a more realistic view from above, and here we are, drawing a whole damn city by hand."
So yeah, we kind of made a map. But what about the architecture, the "feel" of the city? In our opinion (or rather in the opinion of the game's author), there is no architectural style more mysterious and bewitching than Art Nouveau. This is why it was decided early on in the development that most buildings would be designed in this style, or at least have some of its visual features. During initial sketching, many buildings ended up looking very Haussmannian, that's why Whateverland may remind you of Paris from time to time. But the vibe of an old European city mixes with whatever it is that the residents of Whateverland have to offer, so don't be surprised to find an authentic ramen shop or an actual souq in the midst of some rococo houses.
In the end, the look that we want to achieve for Whateverland is that of a mysterious city where anything can happen, populated by some very weird people, each one more bizarre than the other. Obviously, our work on worldbuilding is far from complete, but we're trying really hard out here, so… well, you get the idea.
If you have any questions – good. You can ask us whatever questions you want here or by reaching out to us through our Discord server, even if they're about your very own existential crisis.
Love the artwork, I've played similar games and really enjoyed them.
TY ♥
Could you name those games, please?
Totally forgot to share the trailer of our Kickstarter campaign with you here.
I've recently discovered that there's a new adventure game project in the works called Whateverland by Caligari Games, it has a really bizarre feel and atmosphere, and I especially dig that it's going to have a multipath walkthrough. I really hope they succeed with the Kickstarter campaign!
https://www.kickstarter.com/projects/caligari/whateverland-a-grotesque-burton-style-adventure
Welcome to the Adventure Gamers forums!