Adventure Gamers - Forums
Welcome to Adventure Gamers. Please Sign In or Join Now to post.
I've recently gotten back into RTS games but been craving to play classics rather than new ones. I know about the WarCraft/Starcraft series so am looking for something else.
So far I've come across these which I've liked:
Black & White
Amazon & Aliens
Tzar
Battle Realms 1 an 2, my fav.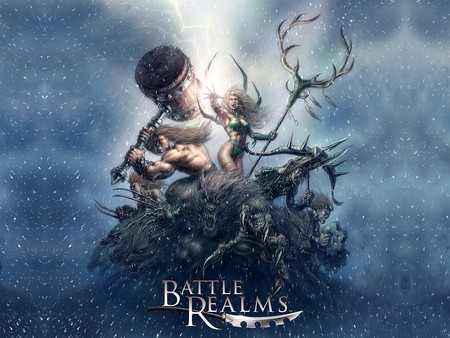 Giant: Citizen Kabuto

Needs Sequel badly, would be great to see a Nextgen sequel.
Back when it was first announced, the trailer floored me, the concept, graphics.

PC RTS scene went downhill in creativity after that.
Giants was great, also hilarious game.
You probably already played them but Command and Conquer/Red Alert until number 2 are classics.
Also Dark Reign, KKND, Total Annihilation for typical RTS.
Sacrifice is a great hybrid.
More modern, but great IMO: Company of Heroes 1 and Warhammer 40k - the first games from each series from Relic
I'm not a fan of RTS games (preferring turn-based instead), but I did get quite a lot of enjoyment out of Cossacks: European Wars.
Best RTS game, imo (out of the few I played, at least).
Last played: Alice Trapped in Wonderland - 1/5 | The Hunt for the Lost Ship - 1.5/5 | The Talos Principle - 4/5 | Tex Murphy: Martian Memorandum - 3/5 | Danganronpa: Trigger Happy Havoc - 3/5 | Simon the Sorcerer (replay) - 4/5 | Portal 2 - 4/5 | Murder By Numbers - 3.5/5 | Heavy Rain - 3.5/5 | Disco Elysium - 4.5/5 | Freddi Fish 2: The Case of the Haunted Schoolhouse - 3/5 | Freddi Fish and the Case of the Missing Kelp Seeds - 3/5 | Whispers of a Machine (CPT) - 4/5 | Beneath a Steel Sky (CPT) - 3/5 | 3 in Three - 3.5/5 | Puzzle Gallery: At the Carnival - 2.5/5 | The Fool's Errand (replay) - 3/5 | The Dig (replay) - 4.5/5 | Return of the Obra Dinn (CPT) - 4/5 | Beavis and Butt-Head in Virtual Stupidity - 3.5/5 | League of Light: The Game (CCPT) - 3/5
One of the best strategies and medieval games overall is Lords of the Realm 2 - it is a very unique in a sense that it combines turn-based management with a real-time battles.
It is known to feature some of the best voice acting of your units - here's an easter egg song mixing those sounds
.
And here's the intro movie.
Recently finished: Four Last Things 4/5, Edna & Harvey: The Breakout 5/5, Chains of Satinav 3,95/5, A Vampyre Story 88, Sam Peters 3/5, Broken Sword 1 4,5/5, Broken Sword 2 4,3/5, Broken Sword 3 85, Broken Sword 5 81, Gray Matter 4/5\nCurrently playing: Broken Sword 4, Keepsake (Let\'s Play), Callahan\'s Crosstime Saloon (post-Community Playthrough)\nLooking forward to: A Playwright's Tale
I really like the first Age of Empires. It is just so cozy and nice-looking, not to mention easy to get into. Populous: The Beginning is also a great mix between RTS and God Sim. Nice use of early 3D too.
PC means personal computer
I really like the first Age of Empires…
Seconded all the way to the bank!
The original command and conquer is still a great game, although the control scheme is old (i.e. you can't select groups and assign them numbers to re-select them)
If you like city building with some combat then I would recommend Pharaoh although it does start slowly.
3.5 time winner of the "Really Annoying Caption Contest Saboteur" Award!
I really like the first Age of Empires…

Seconded all the way to the bank!
Thirded! Though, in my opinion, Age of Mythology is the best in the series.
Warhammer 40,000: Dawn of War is very good too.
Duckman: Can you believe it? Five hundred bucks for a parking ticket?
Cornfed Pig: You parked in a handicapped zone.
Duckman: Who cares? Nobody parks there anyway, except for the people who are supposed to park there and, hell, I can outrun them anytime.
Go back to the golden oldie - Dune 2000 , the remake of Dune 2. Will never get sick of that game.
I love Red Alert 1. Maybe because I'm a bit of a history geek and the whole alternate timeline is just awesome. The atmosphere is amazing, sounds of firing tanks, German shepherds barking, machine guns+mission clips. Stalin was creepy, Allies were worried… All in all, really great! And just enough of sci-fi weeapons to still pass as "realistic".
Age of Empires 2 is also always fun.
Centurion:Defender of Rome.
Carthage.

In addition to those already suggested (many good ones, and many I've played - like Red Alert (must-play classic), Giants (a hybrid), Age of Mythology (the only one of those I've played, unfortunately - I'm sure the rest are good too)).
Also, though it's quite obvious, Shogun: Total War. I still think it's very possibly the most enjoyable in the series (I say that because I haven't played Shogun 2 yet) - it has a nice amount of features, and most importantly the map is just the right size. In any future games the map got just way too big.
Oh, and one that hasn't been mentioned: Battlezone (or Battlezone 2). It's a kind of RTS-FPS-hybrid, though (a bit like Giants), you build a base and fly around in space-tanks
They were great games.
Welcome to the Adventure Gamers forums!