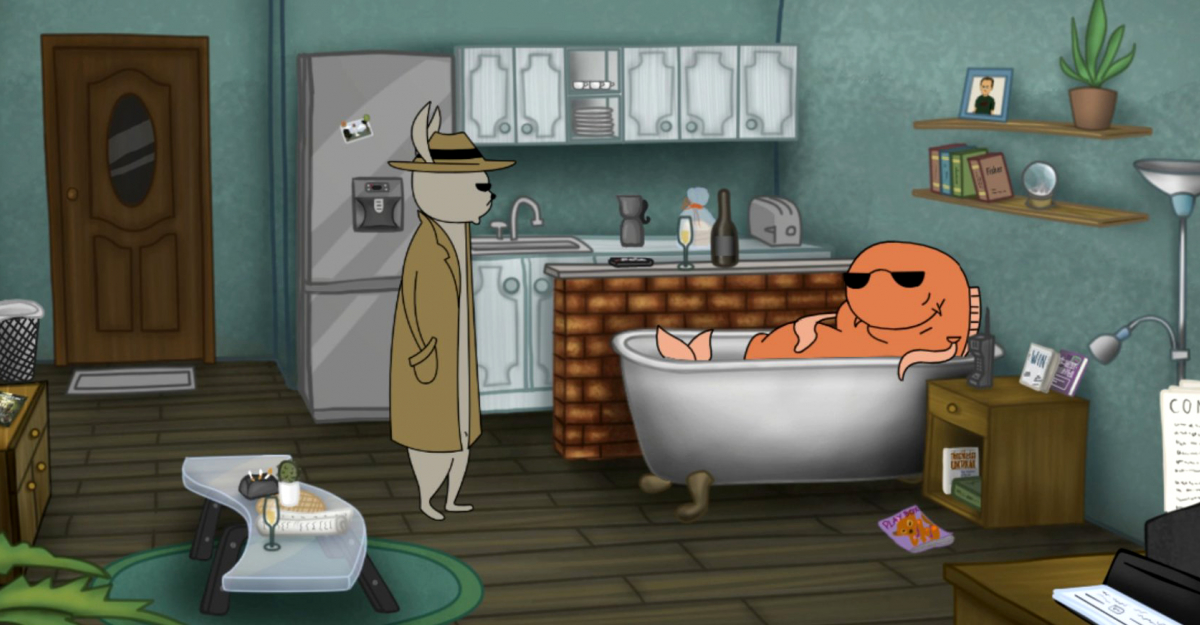 Game information
You might also like these adventure games
Advertisement
Adventure games by Likely Games
BITMAP BOOKS
There seems to be a dearth of traditional point-and-click adventures these days, especially those with interesting characters, locations, and a mystery to solve. Rarer still is one that reacts to the actions you take and changes the gameplay and offers different paths to multiple endings. To the rescue comes Falcon City, the latest release from Hungarian-based independent studio Likely Games with an established pedigree of "choose your own" style games. While there is a distinct lack of polish in certain areas, and you will need to get past the grating voices of many of the characters, the fun variety of ways you play to achieve the different endings makes it worth the effort.
You play as Kurt Tracker, a man-sized rabbit detective complete with trench coat, sunglasses and fedora. A woman has been kidnapped in a back alley of the eponymous city, and you must track down and arrest the perpetrators, and hopefully free the kidnap victim. Falcon City begins with a reminder that some of your decisions will affect the story. Having previously played many games that have made this claim and not delivered, I was skeptical. However, this one indeed follows through on its promise, with several branching points that not only determine the ending you get, but the way in which you'll get there.
There is a very brief tutorial explaining the interface and game mechanics, but if you've played a traditional point-and-click game before, this is unnecessary. You use the left mouse button for all interactions, and really the only other things you need to know are the various icons to interact with the environment and characters. The most important is the notification indicator that the action you just took will impact the rest of the game. There are six save game slots, plus one for the autosave that is triggered by location. You cannot name the save slots, but they show a thumbnail and are date- and time-stamped to help you figure out which one to load if necessary.
The inventory is just as basic, with items displayed in a scrollable window as part of a dropdown menu at the top of the screen. If you hover your mouse over an acquired object you will see its name, but there is no description and hence no clue as to how you might use it. Most of the time it is obvious – a key to open a door, a membership card to gain access to a club – but in some cases not so much. Also, items do not disappear once used, which tends to add clutter and the need to scroll back and forth unnecessarily. There are some rare instances when you will combine items or manipulate an object within the inventory, such as piecing together a torn note, but for the most part they are static.
One helpful feature you will access frequently is the notepad, which includes a task list (each one is crossed off as you complete it), a dossier on all the characters you meet that provides the occasional tip ("Jenny has a real knack for computers. If you need any info contact her.") as well as a hint button you can use if you get stuck. As most of the puzzles are very easy to solve you will likely not have to use the latter, but if you do it will simply tell you what to do next. There is no tier of progressively suggestive hints, so only use it as a last resort. As you browse through the dossier (new characters are added as you encounter them), you'll get an early indication of the game's lack of polish, due mainly, I am guessing, to translation issues. There are several typos ("tipycal") and even an incomplete description of one of the characters.
Speaking of characters, you will meet a lot of them in the course of your investigation, almost all of whom are interesting and have things to say. You will be working with Tanja (a rabbit), your partner for years; Jenny (a squirrel) the squad room receptionist; and Mr. Willow (a bird), your boss and sometimes pain in your backside. There are also two fellow officers (Kevin, a hippopotamus; and Max, a panda) that you have limited interaction with and appear to be just background flavour. Others you will encounter are Frank (a cat addicted to catnip), the kidnap victim Daisie and her brother Philip (both rats), and more. You even have a conversation with a sentient cactus! All the characters are anthropomorphic, a curious but merely cosmetic choice as none of them seem to have any "animal" powers with the exception of a camel bartender who stores liquor in his hump and is therefore perpetually drunk. I thought the developers would have exploited this angle more by, say, having the main character hop into places otherwise not accessible, or use his keen hearing to detect a clue.
Every character is fully voiced, but unfortunately the voice acting is almost universally bad – particularly the protagonist, who speaks in monotone with an eastern European accent. Most of the characters sound as if they are just reading lines from the script, and since there is a lot of dialog, this becomes quite grating over time. Compounding the problem, the spoken dialog rarely matches the subtitles, which I found somewhat jarring. In many instances the differences are minor, but sometimes they are considerable. The meaning is always the same, but the way the message is communicated can make it difficult to follow along. The subtitles better describe what is happening, and since it's not possible to disable them, the obvious solution would be to turn off the voices, eliminating two problems in one fell swoop.
Puzzles in Falcon City are for the most part pretty easy, but they can be fun to solve once you understand a key game mechanic. In order to obtain the items needed to reveal potential evidence, such as retrieving a purse perched in an inaccessible fire escape, or illuminating darkened areas for hidden clues, you must click on certain hotspots several times until something different happens. The first few times you will only get a vague comment such as "the wall must be crumbling somewhere" when you click on some bricks. This is not obvious, so I was stumped a few times early on thinking I had examined all items in a location. Only when I resorted to clicking randomly on everything I could did I discover the trick. From then on I had no problems. Most puzzles are of the "use this on that" type, but you will also need to piece together parts of a torn note and pick a lock with a piece of wire, among other tasks. Some require more thought than others. The most challenging for me was figuring out mathematical clues to discover the combination to a briefcase. In all cases the puzzles are fair and well-clued, so most players should have little trouble solving them.
During your investigation you will unlock many interesting locales to search for clues and interrogate witnesses or other characters. You are only able to walk left and right within a given scene, some of which will scroll to reveal more of the room. In the police station, however, you can use the elevator to go from the squad room to your boss's office on the fourth floor, or descend to the garage. When navigating between external destinations, an isometric view of the city is presented with areas you can visit highlighted and labelled, with new destinations added as you discover them. The first is an alley where the crime took place, but you'll also make your way to the apartment of a talent agent, a trailer park, the victim's home, a nightclub, and of course, like any good detective story, a deserted warehouse. While some locations must be visited more than once, the quick travel map system is very efficient so there is very little lag time getting from place to place.
Music is done well. Fittingly for a noir detective mystery, a distinctive jazz tone greets you at the main menu screen. Some in-game locations have their own unique music, but most have a recurring track which is snappy and varied enough not to get boring or repetitive. Sound effects are a bit on the sparse side, but there are enough of them to set the stage and include such things as background traffic noise and the elevator door opening and closing.
Graphically, Falcon City is nicely illustrated with cartoony hand-drawn graphics, which are more than adequate to portray the detail required. Each scene is filled with items to examine that are seamlessly integrated into the background. While there is no hotspot highlighter (that I could find), it isn't needed as it does not take long to reveal active items with the mouse. Often all you get is a humourous comment from Kurt, but occasionally an action will occur, such as collecting something as inventory or opening a hidden panel. Animations are fairly sparse but again do the job, depicting things like characters working on their computers, filing papers, a ceiling fan swirling overhead in the squad room, traffic in the background, and so on. There are only a few cutscenes, but they are stylishly done via comic book panels that move the story along at key points.
The plot itself is very straightforward, and I never actually felt like I was doing real detective work, but that doesn't mean no player input is involved. What separates Falcon City from similar story arcs is that the way you solve the case depends on the decisions you make during key parts of the game. And the differences are not trivial. One choice only changes the way you interrogate a witness, but another path will reveal a significant plot twist that you would not be aware of until the very end if your decisions led you in a different direction. Yet another will prevent you from obtaining an important inventory item, which in turn will keep you from accessing a location you could otherwise visit, again altering the course of your investigation.
There are more than a few choices that will influence how things play out, and while all the combinations and permutations could lead to many possible endings, I discovered four, three of which could be considered "bad" if you wind up not achieving anything or only resolving either half of your two main objectives, and just one that is "good." You'll know which outcome you reached by the way your boss (Willow) debriefs you in the final cutscene and by patiently waiting for the credits to finish to see the summary results of your investigation. This is a great help if you plan to replay the game to experience alternate story branches and see the endings you missed, which I highly recommend. While there is a fair bit of repetition required (most of the puzzles are the same), there is enough new content and gameplay to make a replay worth your time. Since each playthrough can be completed in less than two hours, depending on your puzzle-solving skills, it really doesn't take that long.
Falcon City certainly has some issues with voice-overs and lack of polish in places, and some might wish for more challenging gameplay, but all these can be forgiven on the strength of the charming art style and meaningful differences in narrative paths and even ultimate outcomes based on the decisions you make throughout the game. Initially I doubted whether trying different approaches would change anything relevant, and I was delighted when I was proved wrong. If you can put up with its few shortcomings, you will find a rewarding adventure awaits, particularly if you make special note of all the branching points and experiment to uncover what you may have missed the first time around.
Our Verdict:
Despite its lack of polish and hard-to-listen-to voiced characters, if you are a fan of pure point-and-click adventures and/or detective mysteries, you will likely enjoy the replayable Falcon City.
What our readers think of Falcon City
Want to share your own thoughts about this game? Share your personal score, or better yet, leave your own review!

review
Other articles you might enjoy